Documents that could reveal the extent of any lobbying by Prince Andrew on behalf of the sex offender Jeffrey Epstein are being kept out of the public eye after the millionaire financier obtained a court order declaring any such material confidential.
Lawyers acting for a woman who claims that she was forced to sleep with the Duke of York when she was a teenager alleged that he vouched for Epstein while the billionaire financier was negotiating a plea bargain with US prosecutors about an investigation into sex with underage girls.
In a highly unusual media counter-offensive, Buckingham Palace has twice issued denials that the Prince slept with Virginia Roberts on three occasions between 1999 and 2002 in London, New York and on a private Caribbean island during an orgy.
Royal aides have also denied any involvement by the Prince in the second element of the allegations made in court documents filed in Florida last week – that Epstein used his "significant social and political connections" to exert pressure for the plea deal which eventually saw him jailed for soliciting underage prostitutes under state law. More serious federal offences were dropped.
Prince Andrew: Life in pictures
Prince Andrew: Life in pictures
1/15 Prince Andrew

Prince Andrew, Duke of York arrives at the Royal Albert Hall on 8 November 2014 in London

2/15 Prince Andrew

Prince Andrew, the Duke of York (L) speaks to Queen Elizabeth II on the Queens stand during Derby day at the Epsom Derby Festival, in Surrey on 1 June 2013

3/15 Prince Andrew

Prince Andrew with his daughters Princess Eugenie and Princess Beatrice on the Balcony at Buckingham Palace, 2013

4/15 Prince Andrew

Princess Beatrice (C) poses for photograph with her parents, Britain's Prince Andrew, the Duke York (L) and Sarah Ferguson following her graduation ceremony at Goldsmiths College, in London, 2011

5/15 Prince Andrew

Prince Andrew's 'pointless plunge' down the Shard was the moment to take stock of his usefulness

Getty Images

6/15 Prince Andrew

Prince Andrew is the first royal to take and tweet a selfie

7/15 Prince Andrew

Prince Andrew with Bahrain's Crown Prince Salman bin Al-Khalifa at Royal Ascot in 2010

Getty

8/15 Prince Andrew

Prince Andrew with Ilham Aliyev, president of Azerbaijan in 2009

Rex Features

9/15 Prince Andrew

Prince Andrew with Indonesian President Susilo Bambang Yudhoyono on the first day of his state visit to London

Getty Images

10/15 Prince Andrew

Duke of York in his uniform

REX FEATURES

11/15 Prince Andrew

Britain's Prince Andrew speaks to the press during a meeting with Turkish Businessmen at Ciragan Palace in Istanbul on 26 May 2004

12/15 Prince Andrew

Wearing a traditional Guatemalan ceremonial jacket, Britains Prince Andrew, the Duke of York, turns on the tap innaugurating an irrigation system sponsored by the European community on 7 March 2002 in Nevaj, Guatemala

13/15 Prince Andrew

The newly wed Prince Andrew, the Duke of York and his wife Sarah Ferguson, the Duchess of York, wave to crowds on 23 July 1986 from the balcony of Buckingham Palace in London while Queen Elizabeth II and Queen Mother look on

14/15 Prince Andrew

Prince Andrew and Prince Edward with their governess, Lavinia Keppel, at the Children's Book Show in Westminster, London on 7 November 1969

15/15 Prince Andrew

Prince Andrew (bottom left) with his parents Queen Elizabeth II and Prince Philip and siblings, Prince Charles, Princess Anne, and little Prince Edward at Windsor Castle, 1965

Getty Images
A royal official said: "The Duke of York would never interfere in an active legal case and did not do so in this case."
Lawyers acting for Ms Roberts and three other women, who claim their right to be consulted on the non-prosecution deal was infringed by US prosecutors, believe that documentation exists to show that a number of public figures, including Prince Andrew and the former Harvard law professor Alan Dershowitz, lobbied on Epstein's behalf during the case. Mr Dershowitz also strongly denies the claim.
Legal documents seen by The Independent said the material potentially includes "letters of recommendation or similar communication to any [US] government official vouching for or providing support for Jeffrey Epstein".
In May last year, prosecutors surrendered 541 pages of correspondence with Epstein's lawyers leading up to the 2008 non-prosecution agreement as part of an ongoing process by the alleged victims seeking access to almost 15,000 pages of documentation.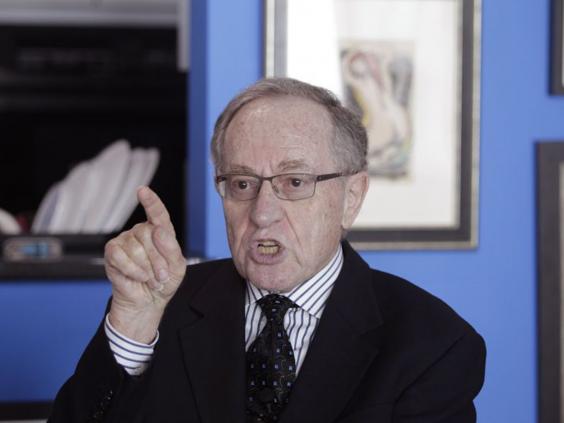 But under an unpublicised ruling obtained by lawyers for Epstein, the details of the documents cannot be disclosed after it was argued that the negotiations over his plea deal were confidential and should not automatically enter the public domain.
Instead, lawyers for the women must redact any references to the correspondence in their public filings after a judge ruled that Mr Epstein had "shown good cause to prevent potential dissemination... to the press for the purposes of generating publicity".
The so-called protective confidentiality order was fiercely opposed by those representing Ms Roberts, now 31, who has three children and is living in America. They argued that it risked impeding public scrutiny of the Epstein case.
In a legal paper opposing the order, Brad Edwards and Paul Cassell, the lawyers for Ms Roberts, said: "There is an overriding interest in having these matters exposed to public light.
"There is considerable public interest in the question of how a serial child molester could arrange such a lenient plea agreement."
Reuse content