The soaring use of so-called "legal highs" in prisons has fuelled growing levels of violence and bullying behind bars, the Chief Inspector of Prisons warned in his annual report today.
He said inmates are increasingly resorting to staging "one person riots" by climbing on the netting or rails between wing landings in a bid to be transferred to a safer prison.
In a bleak picture of deteriorating conditions in English and Welsh prisons, Nick Hardwick said jails were 99 per cent full, while the suicide rate had reached a 10-year high and numbers of serious assaults rose 38 per cent.
He pointed to the widespread use of legal highs as a key factor behind the increased instability in prisons. Chemical compounds designed to mimic banned substances – and which are not detected in routine testing – are now the most commonly used drug in some jails, Mr Hardwick said.
He said: "The increased availability in prisons of 'new psychoactive substances' was a source of debt and associated bullying and a threat to health."
He said the prevalence of Spice and Black Mamba, chemical alternatives to cannabis, presented particular "cause for concern" in more than one third of the jails inspected.
The inspector raised the alarm over a dramatic increase in "incidents of height", when inmates clamber on to netting or railings in the hope they will be taken to segregation units and then "shipped out" of the prison to a safer jail.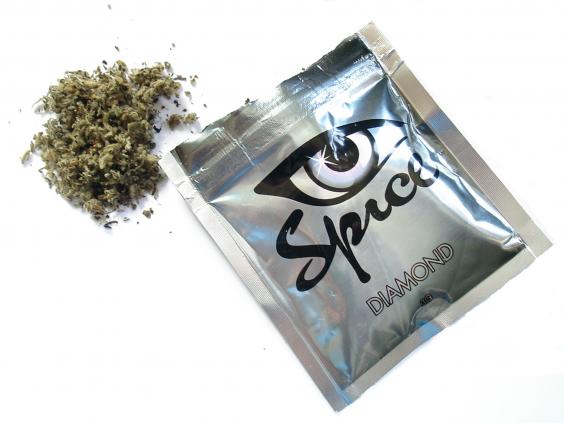 The number nearly doubled in from 591 in 2012-13 to 1,007 this year. Mr Hardwick said: "This should be regarded as a major concern."
He disclosed that the safety standards of just 42 per cent of the prisons and young offender institutions inspected this year had been rated "good" or "reasonably good" – half of the proportion three years earlier.
A combination of budget cuts, the increase in the prison population and policy changes was a "very significant factor for the rapid deterioration in safety and other outcomes we found as the year progressed", Mr Hardwick said. "The rise in the number of self-inflicted deaths was the most unacceptable feature of this."
Numbers of suicides rose by 69 per cent to 88 in 2013-14, which was the highest figure for 10 years, and instances of serious assaults went up by 38 per cent.
Mr Hardwick said the prison population rose over the period from 84,083 (96 per cent of usable operational capacity) in March 2013, to 85,252 this March  (99 per cent of usable operational capacity).
Mr Hardwick warned ministers: "We have to be careful about managing the pressures and resources we make available over the next year. It's not my job to say how many people should be in prison but we need to match the population to the resources available."
The shadow Justice Secretary Sadiq Khan said : "This damning report lays bare the deteriorating conditions in our jails under David Cameron's Government. It shows ministers are burying their heads in the sand rather than facing up to the growing levels of overcrowding, staff cuts, violence and suicide."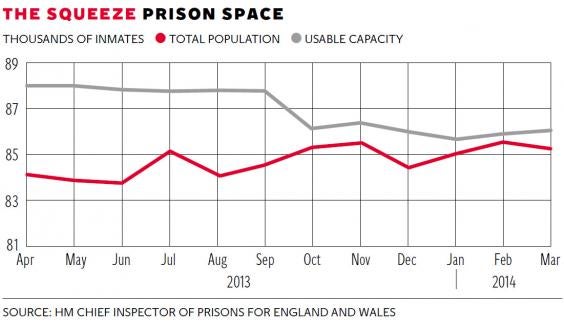 Andrew Selous, the Prisons Minister, said: "The last year has seen the Prison Service manage major organisational change to create significant savings for the taxpayer - it has been challenging for staff and I thank them for their hard work and dedication.
"During this time we have always had enough staff to deliver decent and safe prison regimes, and this will continue to be our top priority.
"We remain committed to reducing violence and understanding the reasons for the recent rise in self-inflicted deaths. But this is a complex issue and the Chief Inspector has failed to provide any evidence to support his assertion that this is linked to the reforms made under this Government."
Juliet Lyon, the director of the Prison Reform Trust, said: "Safe and decent prisons are a mark of a civilised society. From the Chief Inspector's shattering, incisive overview it's clear that our deteriorating prisons are less safe and less decent than even a year ago."
Reuse content