Every year when the Travellers return from overseas to their spiritual home of Rathkeale, the streets of the small Irish town become clogged with expensive cars and the pubs filled with free-spending drinkers recounting their tales of success.
The notoriety of the town – the home to the eponymous Rovers crime group – is unmatched by its population of 1,500. That number is swollen by several thousand more of the returning entrepreneurs who use their funds to buy property and increase the already stark divide between the Travellers and the settled community of the town.
Fifteen years ago, they travelled predominantly to Britain for work. Now in a global "starburst" of activity from Rathkeale, they go to Europe, Canada and Australia, before returning to the town in Co Limerick. "They come back to enjoy themselves and see their parents after being out in wilderness places," Richard 'Kerry' O'Brien Snr, told The Irish Times last year.
The level of their success is marked by the size of the dowries during wedding season, the luxury of fittings in the new homes and the make of the new cars that drive through the streets, according to one resident, who declined to be named. "This is what people can't understand: how can they fund those houses," they said. "The best of stuff goes into them. There's a lot of showmanship."
At the height of the museum raids in Britain in 2012, property was changing hands in the town at a rate not seen during the era of the property bubble of the Celtic Tiger years, according to one councillor. A motion to the Limerick county council detailed "dubious cash transactions by nameless and faceless tycoons".
UK news in pictures
UK news in pictures
1/17 22 June 2017

Cosplay fans (L-R) George Massingham, Abbey Forbes and Karolina Goralik travel by tube dressed in Harry Potter themed costumes, after a visit to one the literary franchise's movie filming locations at Leadenhall Market in London, Britain

Reuters

2/17 22 June 2017

Racegoers cheer on their horse on Ladies Day at the Royal Ascot horse racing meet, in Ascot, west of London

Getty

3/17 21 June 2017

A reveller walks among the tipi tents at the Glastonbury Festival of Music and Performing Arts on Worthy Farm near the village of Pilton in Somerset, South West England

Getty

4/17 20 June 2017

A police officer lays some flowers passed over by a member of the public, close to Finsbury Park Mosque in north London, after one man died and eight people were taken to hospital and a person arrested after a rental van struck pedestrian

PA

5/17

The Borough Market bell is seen in Borough Market in central London following its re-opening after the June 3 terror attack

Getty Images

6/17

Two women embrace in Borough Market, which officially re-opens today following the recent attack, in central London

REUTERS/Hannah McKay

7/17

Mayor of London Sadiq Khan attends the re-opening of Borough market in central London following the June 3 terror attack

Getty Images

8/17

People walk through Borough Market in central London following its re-opening after the June 3 terror attack

Getty Images

9/17

News Corp CEO Rupert Murdoch, with one of his daughters, visit Borough Market, which officially re-opened today following the recent attack

REUTERS

10/17

A woman reacts in front of a wall of messages in Borough Market, which officially re-opened today following the recent attack, in central London

REUTERS/Hannah Mckay

11/17

Vivenne Westwood walks the runway at the Vivenne Westwood show during the London Fashion Week Men's June 2017 collections

Getty Images

12/17

Millwall fan and London Bridge hero Roy Larner on 'Good Morning Britain'

Rex

13/17

Richard Arnold, Roy Larner, Piers Morgan and Susanna Reid on 'Good Morning Britain'

Rex

14/17 11 June 2017

England players celebrate after defeating Venezuela 1-0 to win the final of the FIFA U-20 World Cup Korea 2017 at Suwon World Cup Stadium in Suwon, South Korea

AP

15/17 11 June 2017

England players celebrate with the trophy after the final match of the FIFA U-20 World Cup 2017 between Venezuela and England at Suwon World Cup Stadium in Suwon, South Korea

EPA

16/17 11 June 2017

Great Britain's Alistair Brownlee celebrates winning the Elite Men Columbia Threadneedle World Triathlon Leeds

Danny Lawson/PA Wire

17/17 11 June 2017

Two men drink beer outside the Southwark Tavern which reopened for business today next to an entrance to Borough Market which remains closed in London

Getty Images
A level of understanding of the source of some of those funds is provided in a policy briefing assessment by the European policing agency, Europol, about an "Irish mobile OCG" [organised crime group]. While members of the group specialise in stealing and trading rhino horn, their criminal talents are diverse and include involvement in drugs trafficking, tarmac fraud, counterfeit power tools, robbery and money laundering, according to the 2011 document.
The town itself, say residents, is largely crime free. Community workers say it will be 100 per cent Traveller in a decade because nobody else wants to live or do business there. The town's community co-ordinator told a forum 80 per cent of private property in the town was owned by the Travelling community.
The gang
Richard 'Kerry' O'Brien snr,  arrested but never charged
The man described in court as the head of the O'Brien family is a self-proclaimed successful businessman and was the "largest distributor of cast-iron fireplaces" in Ireland during the building boom. He was arrested during the 2013 police operation to round up members of the Rathkeale Rovers but was never charged. He claims he is the victim of harassment by the Irish Gardaí and is suing Bloomberg Businessweek in the US over a story which he says falsely portrayed him as a "criminal mastermind". Bloomberg declined to comment.
---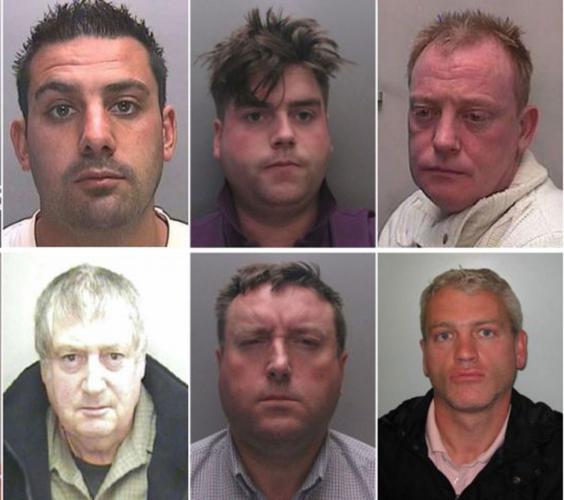 John 'Cash' O'Brien, 68, convicted
Richard Snr's brother and described by police as a top-tier international criminal with a conviction for a multi-million pound tobacco smuggling racket. O'Brien, from Wolverhampton, recruited the burglary team who raided the Durham Oriental Museum. Although he sought to stand aloof from the crime, he was included during the round of panicked phone calls after the burglars "lost" the multi-million pound haul they stashed on waste ground.
---
Daniel 'Turkey' O'Brien, 45, convicted
Richard Snr's brother-in-law. In 2013 he was jailed for 16 months for stealing a rhino horn from an antiques dealer in Nottinghamshire.
He had agreed to buy the horn from the dealer in a McDonald's car park in Newark, but instead snatched it and fled in a 4x4. The dealer, who was clinging to the car, was left with head injuries. While on bail – and a day after the Fitzwilliam raid – O'Brien cut off his electronic tag and fled the country for  18 months.
He spent time in Canada and Spain before he was arrested and returned to Britain.
---
Richard Kerry O'Brien Jnr, 31, convicted
The son of Richard Snr is considered a high-ranking figure in the organisation. He was one of two men jailed for  six months in the US in 2011 after being caught in an undercover sting operation in Colorado trying to export four black rhino horns to Ireland.
---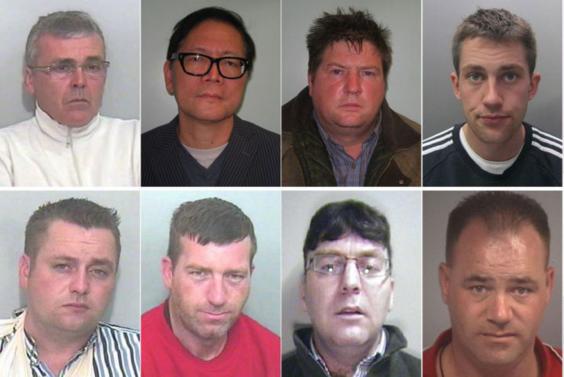 John 'Kerry' O'Brien, 26, convicted
Another son of Richard Snr. When he was arrested in 2013, police found a black notebook with his fingerprint on the back of the last page. The book itself contained a number of references to museums around the world, including Durham's Oriental museum. He had also telephoned the Hong Kong middleman Donald Wong in the immediate aftermath of the raid on the Durham museum.
---
Michael Hegarty, 46,  convicted
Married to Richard O'Brien Snr's daughter, Kathleen. He was jailed along with Richard O'Brien Jnr for the Colorado rhino smuggling plot.
The police operation to track phones showed that Hegarty was at the centre of operation planning.
---
Richard Sheridan, 47,  convicted 
John "Cash" O'Brien's son. The spokesman for the Dale Farm eviction protests and, along with his father, a convicted multi-million pound tobacco smuggler. He was jailed for a year in 2006 for the £9m duty evasion. When the conviction was brought up during his high-profile campaigning role, he told the Mail on Sunday: "I've already been punished for my crimes. I've done my time – this doesn't need to be brought up."
Reuse content