Rolf Harris, one of the towering figures of children's television and light entertainment, is facing jail after being found guilty of abusing four girls in a string of sex attacks dating back more than 40 years.
The 84-year-old Australian believed his celebrity status made him untouchable as he destroyed the lives of his victims including his daughter's former best friend carrying out his high-risk crimes in "plain sight", police and prosecutors said.
Officers from Operation Yewtree, the national inquiry set up in the wake of the Jimmy Savile scandal, said they would continue to investigate allegations as it emerged that a further 13 women had contacted the children's charity the NSPCC claiming they too were abused by Harris.
The guilty verdicts have completed the destruction of the reputation of one of the once trusted children's entertainer and defender of their interests who appeared in a video intended for education in schools in 1985 to warn children of the dangers of being molested by adults.
It can also be reported for the first time that Harris was accused of brazenly attacking a prominent television celebrity during a television interview.
He faces a raft of new claims of sex assaults including against high-profile figures in both Britain and Australia that emerged during his two-month trial. Some were alleged to have occurred when he was surrounded by crowds of admiring fans.
The star had vehemently denied any wrongdoing throughout, forcing his victims to relive their ordeals in court. He had earlier battled for five months to keep news of his arrest being made public.
A jury at Southwark Crown Court took nearly 38 hours of deliberations to find the artist and musician unanimously guilty of all 12 indecent assault charges against him including one against a girl aged seven or eight.
One of his victims, Tonya Lee, who has waived her right to anonymity, described how she suffered alcoholic abuse, an eating disorder and attempted suicide after being molested by Harris when she was a teenage actress.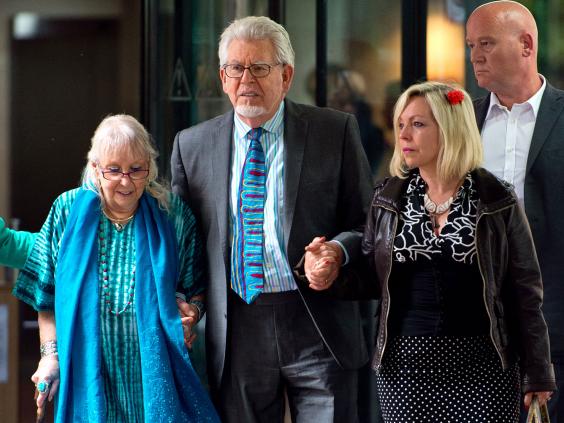 The jury was not told about six other women who said they too were groped and subjected to inappropriate sexual behaviour by the star of some of the most popular television shows of the past six decades.
The first attack was said have occurred in 1969 at the home of a family friend involving an 11 or 12-year-old victim who claims she was assaulted whilst off sick from school.
Among the alleged incidents ruled as inadmissible by the Judge Mr Justice Sweeney was one said to have taken place at a party in a pub for the chat show host Michael Parkinson when Harris kissed the neck of a young woman in front of his wife.
Another involved an alleged assault on a 14-year-old at a Sydney motel when he told her: "Rolfie deserves a cuddle". One woman said he stuck his tongue into her mouth at an art class in Belfast whilst a make-up artist said she had been groped "two dozen times" in a single day.
Harris, a onetime portrait artist of the Queen, appeared a broken figure as he left court accompanied by his wife Alwen, daughter Bindi and a large entourage of security and advisors.
His dysfunctional relationship with his only child - his chief defence witness - and her inquiries over whether she was to inherit his £11m estate provided one of the central features of the trial.
Harris will be sentenced on Friday but was warned he faces an "inevitable" prison sentence. As well as jail he could be stripped of his CBE which was awarded in 2006 on top of an OBE and an MBE. He was already told he would have his BAFTA Fellowship annulled.
Detective Chief Inspector Mick Orchard of Scotland Yard's Operation Yewtree praised the bravery of the women that had come forward. "He committed many offences in plain sight of people as he thought his celebrity status placed him above the law," he said.
Jenny Hopkins, deputy chief crown prosecutor in London, said victims had suffered in silence for years but each told a similar story.
"Rolf Harris used his status and position as a world-famous children's entertainer to sexually assault young girls over a period spanning 18 years," she said. "Each victim, unknown to the others, described a similar pattern of behaviour; that of a man acting without fear of the consequences," she added.
The verdicts are a major victory for police and prosecutors which have faced accusations of leading a "celebrity witch hunt" into allegations of historic sex abuse by famous people.
Harris is the second person after publicist Max Clifford to be convicted in relation to the claims. Eight of the 17 suspects that form part of the inquiry so far have been told they will face no charges whilst proceedings remain active in relation to the others.
Witnesses at the Harris trial gave evidence about attacks in Australia, Malta and New Zealand but the entertainer was only charged with crimes relating to four victims – aged from seven to 19 at the time of the attacks – that were committed in Britain.
As well as being accused of groping a celebrity during an interview in which it was claimed he touched her thigh and buttocks resulting in the interview being terminated, two Australian radio presenters have also gone public alleging that Harris groped them.
Jane Marwick told radio station 6PR that he grabbed her breast during a photo opportunity after an interview. She said that she put it down at the time to inappropriate behaviour by a "grubby old man".
"Had I realised that there were allegedly people of very tender years involved I would have done something about that," she told the station of the assault which she said was witnessed by a co-host. "I can't comment on anyone else's allegations but it's time for me to say that I know that this man, in my case was capable of very inappropriate behaviour in a public place, in extraordinarily enough, in the company of others."
Her comments prompted another former presenter, Verity James, to tell the same network that he also groped her and a producer following an interview. "He kind of pushes you up against a wall in a big hug, grabbing at the buttocks and rubbing on your breasts," she said.
One victim, the former friend of Harris' daughter, said she was "very relieved" by the verdict. Another said: "justice has finally been done".
Reuse content