Senior officials implicated in the Rotherham child abuse scandal are facing new demands to quit after the embattled police and crime commissioner Shaun Wright finally resigned following weeks of criticism.
Mr Wright said in his resignation statement that he was leaving for the "sake of those victims" after three weeks in which he resisted calls from the Prime Minister, Home Secretary and his former party to leave his £85,000 a year job.
The resignation led to new calls for Joyce Thacker, the £130,000-a-year director of children's services, also to quit over the scandal after she admitted that more should have been done to protect young people in the town during an appearance before MPs last week.
Rotherham council's leader and chief executive have both resigned following the publication of Professor Alexis Jay's report, which revealed that some 1,400 children were abused over a 16-year period. However, senior officials involved at the time of the blatant failures identified by Professor Jay continue to work in child protection posts in Rotherham and elsewhere in the country.
In his statement, Mr Wright said that speculation over his position was "detracting from the important issue, which should be everybody's focus - the 1,400 victims outlined in the report - and in providing support to victims and bringing to justice the criminals responsible for the atrocious crimes committed against them".
He added: "With this in mind, I feel that it is now right to step down from the position of police and crime commissioner for South Yorkshire, for the sake of those victims, for the sake of the public of South Yorkshire and to ensure that the important issues outlined in the report about tackling child sexual exploitation can be discussed and considered in full and without distraction."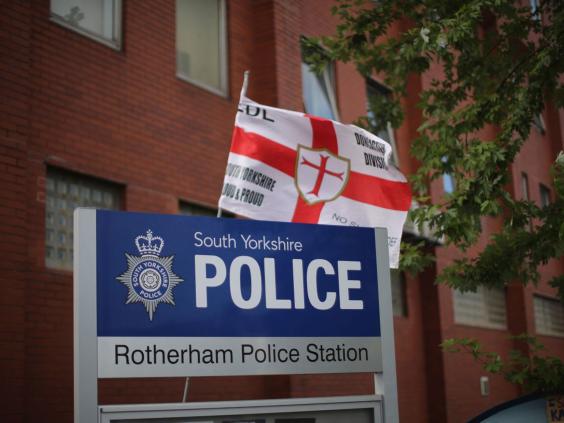 His failure to accept blame for the failure in his statement was described as "distasteful" by Rotherham MP Sarah Champion. The departure of Mr Wright, who was councillor with responsibility for children's services from 2005 to 2010, was welcomed by the Home Secretary, victims of abuse and the body which represents police and crime commissioners.
His unwillingness to quit prompted Theresa May call for a debate into whether police and crime commissioners could be sacked more easily. "I am pleased that Shaun Wright has heeded the calls from his local community for him to resign," she said. "It is right that where people failed in their duty they should take responsibility."
The mother of one of the alleged victims who said she was groomed and raped by a group of men, said he was an "easy target" and called for others to go. "There are a lot more people below him that have covered up and all decided not to say anything," she said. "They've all colluded and I think it's disgusting."
His position will be taken by someone from within his office. Mr Wright's deputy, Tracey Cheetham, who quit last month and called on Mr Wright to do the same, could be considered as an interim if she is still serving notice, said the head of the panel who will make the decision. A successor will be chosen at an election at a future date.
Mr Wright faced angry scenes when he appeared in public before the panel last week when relatives of some of the victims shouted abuse. He has also cancelled a number of surgeries. "Shaun Wright has done the right thing," said Keith Vaz, chairman of the Home Affairs select committee. "The victims need a fresh start and his presence would have impeded on that. I hope that the director of children's services, Joyce Thacker, will now heed the committee's advice to step down."
Ms Champion said there was evidence that concerns were passed on by frontline workers but were blocked and not passed to senior officials. She said staff were still scared to talk because officials involved in the council still worked there. "I have spoken to an awful lot of frontline staff, police and local authority, who can provide evidence that they reported up to their managers the complexity and scale of this problem. I want to know why and who was it that stopped that information being acted on."
Timeline: Wright's downfall
26 August: Shaun Wright apologises after release of the Jay report but declines  to quit as police and crime  commissioner.
27 August: Labour threatens to expel Mr Wright, who was elected on a Labour ticket, if he does not resign. He quits the party but refuses to leave the job. Theresa May calls on him to go.
28 August: Mr Wright's deputy resigns and calls on Mr Wright to do the same. David Cameron supports calls for his resignation.
3 September: Rotherham Council's ruling cabinet passes a vote of no confidence.
9 September: Mr Wright faces down demands from MPs to go during a select committee grilling.
12 September: The police watchdog confirms it has  received two complaints about Mr Wright.
16 September: Mr Wright resigns.
Reuse content