A security guard is in hospital with 'potentially life-changing injuries' after confronting a gang of axe-wielding robbers who attempted to smash their way into a central London shop, police have said.
Shoppers and staff at the exclusive New Bond Street shop were sprayed with a noxious liquid, believed to be ammonia.
Staff managed to operate shutters and the gang of six men left without stealing anything.
Scotland Yard said the attempted raid took place at Watches of Switzerland in New Bond Street in  London's West End on Monday.
At about 11.05am, six men on three mopeds rode at speed from Oxford Street towards the store.
One of the mopeds rode on the pavement towards the shop, while the other two crossed on to the pavement when they reached the junction with Derring Street, scattering passers-by.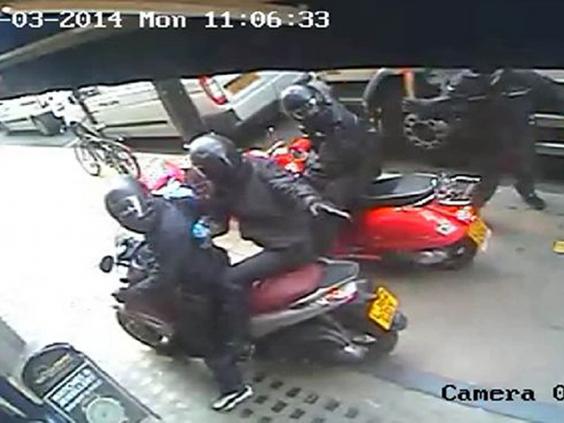 The raiders rammed the door of the shop with a moped before hitting it with an an axe. Another of the would-be robbers sprayed a noxious liquid at anyone who came close. All the men were wearing helmets and at least one of the men was armed with a handgun, police have said.
No property was stolen; however damage estimated at several thousand pounds was caused and the security guard remains in hospital. His injuries are potentially life-changing. The whole incident was captured in a series of dramatic CCTV images released by police today.
The incident is now being investigated by Flying Squad officers based at Putney, south west London.
Anyone with information is asked to call police on 020 8785 8655 or, to remain anonymous, Crimestoppers on 0800 555 111.
Reuse content