Former murder suspect Shrien Dewani made his way through a media scrum of reporters, photographers and camera crews as he left Cape Town today after being cleared of plotting the murder of his wife on their honeymoon four years ago.
The British businessman, from Bristol, was faced with chaotic scenes as he walked hurriedly through Cape Town International Airport towards his flight this morning.
He made no comment as he came under a barrage of questions from reporters while making his way straight to the boarding gate, flanked by an entourage and media.
Dewani, 34, is believed to be flying to Dubai, rather than taking a 12-hour direct flight to the UK.
Dewani is free to return home, from where he was extradited in April, after he was cleared by Judge Jeanette Traverso, who ruled that the prosecution case that Dewani arranged the death of his wife Anni was flawed.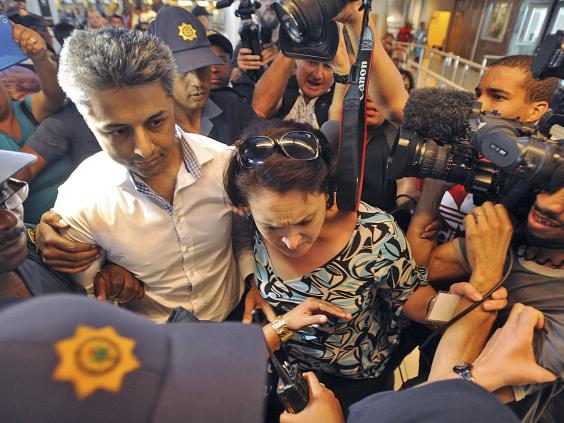 The ruling prompted an angry response from Anni's family, who are now considering launching a civil action against her husband in the UK.
Dismissing the case against Dewani, Judge Traverso described evidence from a key prosecution witness as "riddled with contradictions".
Anni's family has said many questions have been left unanswered as the decision meant Dewani would not have to give evidence or face cross-examination.
The businessman had been accused of staging a carjacking in which his wife was gunned down.
Honeymoon crime: Shrien and Anni Dewani
Honeymoon crime: Shrien and Anni Dewani
1/8 Honeymoon crime

Shrien Dewani and wife Anni on their wedding day

PA

2/8 Honeymoon crime

The couple pictured together

3/8 Honeymoon crime

Mrs Dewani is believed to have been shot three times

4/8 Honeymoon crime

Xolile Mngeni was sentenced to life after being convicted for the murder of Mrs Dewani in November 2012

Rex

5/8 Honeymoon crime

Mngeni, convicted of killing Anni Dewani, had a brain tumour and died in prison in October

Getty Images

6/8 Honeymoon crime

Mr Dewani, who has consistently maintained his innocence, broke down in tears as graphic footage and images of his wife's dead body were shown in a South African court

7/8 Honeymoon crime

Vinod Hindocha, left, the father of murdered Mrs Dewani, has said he was not aware of his son-in-law's sexuality prior to his daughter's marriage to the British businessman

AFP

8/8 Honeymoon crime

Here, Mr Hindocha, breaks down at a news conference on the eve of the murder trial's start

AP
Anni Dewani's uncle Ashok Hindocha said there were "holes to be filled" in the story about his niece's final days.
He told BBC Radio 4's Today programme: "We want to know the truth, what happened to Anni."
Responding to evidence that Dewani had secret relationships with gay men in the months before his marriage, Mr Hindocha said: "Shrien Dewani has lied to us from day one."
Three men - Zola Tongo, Mziwamadoda Qwabe and gunman Xolile Mngeni - have been convicted for their parts in Anni's murder.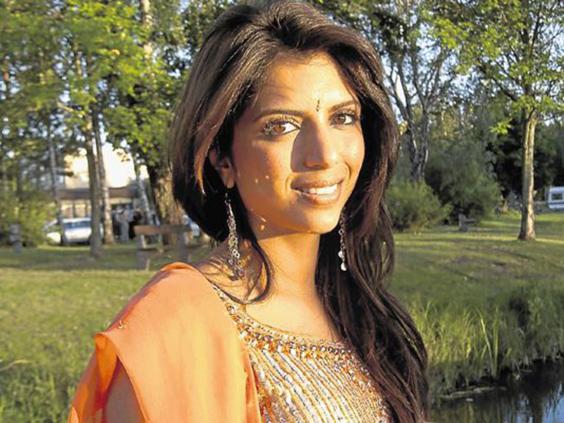 The incident took place when the Dewanis' chauffeur-driven late-night tour of a township was hijacked.
Self-confessed "middle man" Monde Mbolombo, who set up the murder, may now also face justice. He has previously been granted immunity by the state.
Prosecutors claimed Dewani had long planned to get out of the relationship to Anni, 28, and arranged the carjacking on their honeymoon in Cape Town in November 2010 in which he would escape unharmed and Anni would be killed.
But Judge Traverso said chief prosecution witness cab driver Tongo's claims about the murder were "riddled with contradictions" and "highly debatable".
Additional reporting by PA
Reuse content