Shrien Dewani broke down in tears today as graphic footage and images of his wife's dead body were shown in a South African court.
The 34-year-old is standing trial at Western Cape High Court, in Cape Town, accused of arranging the murder of Anni Dewani in a fake carjacking.
Her parents were in court for today's hearing, wearing smiling picture of her pinned to their jackets, and left the room when distressing images of her injuries were shown.
A pathology report found gunshot wounds to her hand and neck, as well as finger marks and bruises that suggested she may have resisted her attackers.
The fatal shot was delivered "at close range", with a suggestion that Mrs Dewani could have been grabbing on to "someone or something" when she died, the court heard.
Her husband appeared to bow his head and cry as forensics officers were seen opening a taxi door to reveal her body in a video shown to the court.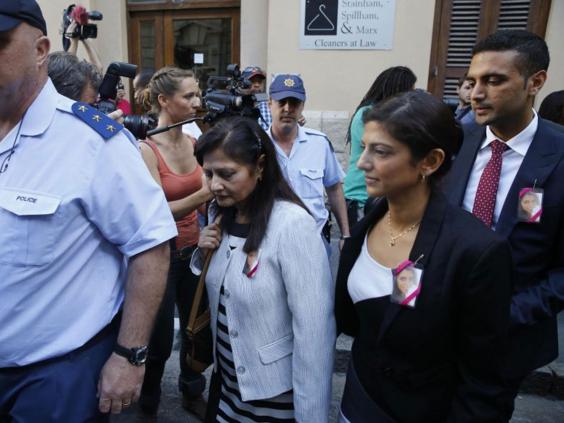 Dewani, a millionaire businessman from Bristol, has continuously denied paying three hitmen to kill his wife on their honeymoon in November 2010.
He claims they were held at gunpoint at they rode in a taxi through Gugulethu, in Cape Town, on the way to a romantic dinner and denies any involvement in her death.
Dewani was released unharmed but his wife's body was later found in the abandoned car.
Prosecutors argue that Dewani conspired with Cape Town residents Zola Tongo, Mziwamadoda Qwabe and Xolile Mngeni to kill his wife.
They are expected to present evidence of texts between Tongo, who is already serving a prison sentence for his role, and Dewani over a large payment but the defence claims the money was for a surprise helicopter ride he was trying to organise for his wife. In a statement read to the court by his lawyer, Francois van Zyl, he said the attack started as they drove off the motorway and towards a township.
He said: "The next thing I remember was banging noises coming from the front and right-hand side of the car. There was a lot of shouting in a language I did not understand.
"The next thing I recall is somebody next to me, who told me to lie down. The person had a gun in his hand.
"He was waving the gun in the air."
Mr van Zyl, reading from Dewani's hour-long witness statement, said the gunman told the defendant to "Look down! Lie down!"
It continued: "We were both terrified and immediately complied with his demands. I was lying half on top of Anni. Another person was behind the steering wheel. I do not know where Tongo was at that stage."
Dewani said he pleaded with the attackers to set him and Anni free, but they demanded his phone.
The defendant said: "He searched me and found my phone in my trousers. He got angry. He placed the gun against my left ear and said words to the effect that I should not lie to him or he would shoot me.
"I heard a clicking noise from the gun which scared me even more. I have never been close to a real gun before."
They returned to the motorway with another man driving, the statement said, passing a police car unaware of what was happening.
Dewani said his wife was screaming and he was ordered to keep her quiet as they drove on to another side road.
"The last thing I had said to Anni was to be quiet and not to say anything," he added.
"The driver said that they were not going to hurt us, they just wanted the car and they were going to let us go separately. I begged them to let us go together."
The statement said Dewani was ordered to leave the car with a gun to his head and tried to raise the alarm by knocking on nearby homes but police were unable to understand his accent.
Video: Shrien Dewani's April extradition
He was told the next day that his wife had been found dead.
As the trial opened, Dewani's solicitor told the court he was bisexual ahead of evidence from a German male prostitute.
Leopold Leisser is expected to tell the court that Dewani paid him for sex in the months leading up to the shooting, telling him he regretted his engagement but was too ashamed to back out.
In a witness statement read by Mr van Zyl, Dewani said: "My sexual interactions with males were mostly physical experiences or email chats with people I met online or in clubs, including prostitutes."
The trial continues.
Additional reporting by PA
Reuse content