The 'silent bomber' Mohammed Rehman and his ex-wife Sana Ahmed Khan have been sentenced to life in prison for their foiled plot to stage a terror attack on a Westfield shopping centre in London. 
The couple were found guilty of  preparing an act of terrorism at the Old Bailey yesterday.
Rehman, 25, was sentenced to serve a minimum of 27 years and Khan, 24, will spend a minimum of 25 years behind bars. 
Rehman was also convicted of possessing an article for terrorist purposes.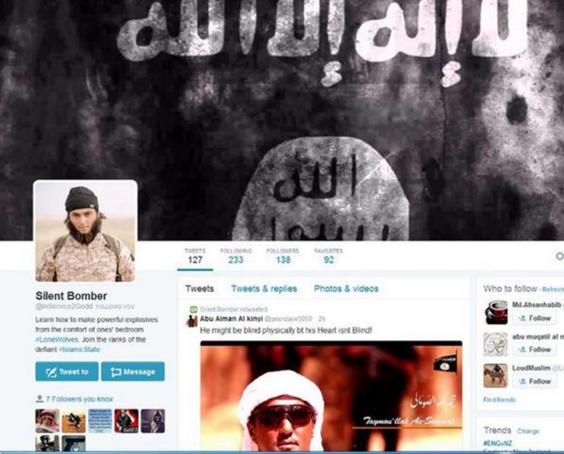 The couple's plot - planned to coincide with the 10th anniversary of the 7/7 attacks on the London underground network which killed 52 people - was foiled when Rehman tweeted asking for advice on possible targets using the user "Silent Bomber". 
An undercover investigator found the tweet which said "Westfield shopping centre or London underground? Any advice would be appreciated greatly" ​and struck up a conversation with Rehman who told him he was preparing for martyrdom. 
Rehman - using explosives paid for by his then wife using payday loans and her wages - even detonated a bomb in his back garaden in prepartion.
He then tweeted pictures saying "test detonation of my keys to paradise :) 35 pounds of HME". 
When British anti-terror police raided Rehman's home in Reading they found a Jihadi John-style hunting knife and chemicals for a massive bomb that was said to be "days away" from completion.
Rehman initially fled the house when police arrived at his door on 28 May but was stopped by police at the local Co-op.
At first he attempted to tell officers there was nothing dangerous in his home but then claimed he had a bomb in the house ready to detonate with the touch of remote controlled button as "nobody gets in the way of [his] jihad".
The couple are believed to have shared a "common interest" in extreme Islamist ideology and Isis. They had repeatedly researched the 7/7  bombings and Rehman had expressed the desire "to play his own part". 
Terror plots foiled by British security since 7/7 attack
Terror plots foiled by British security since 7/7 attack
1/10 'Poppy terror plot'

Nadir Ali Sayed, 21, his cousin Yousaf Shah Syed, 19, and Haseeb Hamayoon, 27, were charged with terrorism offences over an alleged plot to behead a member of public. The trio were arrested in London and High Wycombe, Buckinghamshire on 6 November - three days before Remembrance Sunday

2/10 Heathrow airport arrests

A 19-year-old from Coventry man was arrested at London's Heathrow airport on suspicion of preparing for acts of terrorism in November 2014

3/10 Extradition of Abu Hamza

Radical muslim cleric Abu Hamza was used as an example of the kind of people the Home Office has extradited

Getty

4/10 South East Counter Terrorism Unit arrests

Six people were arrested on suspicion of terrorism offences after a series of dawn raids in the south of England in October 2014. Three men and three women were detained separately in two properties in Portsmouth, one in Farnborough and one in Greenwich following an operation by the South East Counter Terrorism Unit. Counter-terror officers said they had disrupted what was believed to be the early stages of what could have turned into a "significant plot"

5/10 Law student arrest

A law student who was the subject of a controversial secret trial was convicted for possessing a bomb-making manual, it can now be reported. Erol Incedal, 26, is said to have kept the manual on a memory card adhesive-taped to the inside of his iPhone cover. He now faces a retrial starting on 23 February next year after jurors failed to agree whether he was plotting a terrorist attack

PA

6/10 October 2014 arrests

Three men were arrested in central London on 13 October as part of an investigation into Islamist-related terrorism. The arrests come nearly a week after five men were arrested in dawn raids that Whitehall officials said "may have foiled the early stages" of a plan to attack the UK

Peter Macdiarmid/Getty Images

7/10 Anjem Choudary arrest

Anjem Choudary, the radical activist and co-founder of the banned al-Muhajiroun group, was arrested in September 2014 as efforts intensify to disrupt the ideological backers of young British Muslims travelling to fight in foreign conflicts. Mr Choudary was among nine men held on suspicion of supporting a banned terrorist group and encouraging terrorism. The arrests came shortly after Mr Choudary fired off a series of angry tweets after David Cameron called on MPs to back air strikes against Islamic State militants in Syria

Oli Scarff/Getty Images

8/10 North West Counter Terrorism Unit funds seizing

Police seize £250,000 of cash intended to fund Isis at Manchester Airport and north-west ports. Using powers under the Terrorism Act, the money was confiscated by officers from the North West Counter Terrorism Unit

Getty Images

9/10 Tarik Hassane arrest

A medical student who was offered a place at a London university has been named among four men who are being questioned by counter-terror police after a series of raids across the capital. Tarik Hassane, 21, is believed to have been Tasered when he was arrested on suspicion of being involved in a "significant" Islamist terror plot on 7 October

10/10 Abu Qatada removed from UK

Radical preacher Abu Qatada will not be returning to the UK after being cleared of terror charges in Jordan

Reuters
The pair - who lived apart because her parents did not approved of their relationship - turned on each other during the trial and accused each other of being the real extremist. 
The couple married in a secret Islamic ceremony in 2013 after meeting as teenagers despite university graduate Khan's mother warning her she would disowned if she married him.
Rehman was described as members of his own family as a "lowlife idiot" who spent most of his time bingeing on drink and drugs and was "notorious" in the local Muslim community as an extremist. 
Additional reporting by PA
Reuse content