Convicted killer Stuart Horner has continued his rooftop protest at Manchester's Strangeways prison for a third day amid a tense standoff with riot police.
Horner, 35, who was jailed in 2012 for shooting dead his uncle with a sawn-off shotgun, vowed to continue his protest for "40 days and nights" after scaling the roof of HMP Manchester on Sunday afternoon.
Two officers armed with riot shields climbed ladders inside the roof void today, but were unable to reach Horner, who was seen smashing windows and throwing pieces of metal to the ground in scenes that echoed the Strangeways riot of April 1990.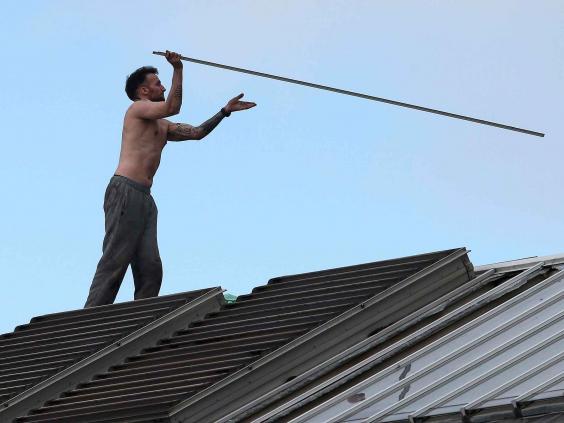 The protest has sparked claims that conditions inside the prison are at 'boiling point' – 25 years after the jail last erupted. Prisoners could be heard shouting and rattling their cell windows.
Horner earlier appeared on the roof wearing a T-shirt scrawled with the words: "It's not 1990. Tell the Government we've all had enough. Sort the whole system."
Crowds of people gathered in the street outside the prison last night for a "protest party". They played music and lit fireworks. Another crowd was starting to gather this afternoon.
A Prison Service spokesman said that staff were negotiating with Horner to "safely resolve the situation".
Reuse content