A police force has been accused of needlessly criminalising rough sleepers by using plain clothes officers to catch people begging on the streets.
Sussex Police last year arrested more than 60 people in Brighton for begging as part of an operation which uses non-uniformed officers to monitor homeless individuals and then move make arrests if they are witnessed asking for money.
The strategy has caused an outcry in the south coast city with critics arguing that fines routinely imposed for begging offences simply increase the financial burden on rough sleepers, many of whom have issues with drug or alcohol abuse.
Demands are also being made for the repeal of the 192-year-old, pre-Victorian law used to arrest beggars, which was introduced tackle "idle and disorderly persons, rogues and vagabonds".
The row will give rise to fresh debate about how police forces deploy their resources in the wake of  25 per cent budget cuts over four years. A senior police chief said last year that officers may no longer attend some burglaries while it emerged that the Leicestershire force it was not fully investigating attempted break-ins at odd-numbered houses as part of a three-month experiment to save money.
Jason Knight, a Brighton businessman who works with homeless people in the city, said: "People are effectively being victimised for sleeping rough. We have a ridiculous situation where homeless people are being arrested for asking for a few pennies, fined by the courts and then put back out on the street. These are vulnerable individuals who are being criminalised. Surely the police have something else they could be doing with undercover officers than this?"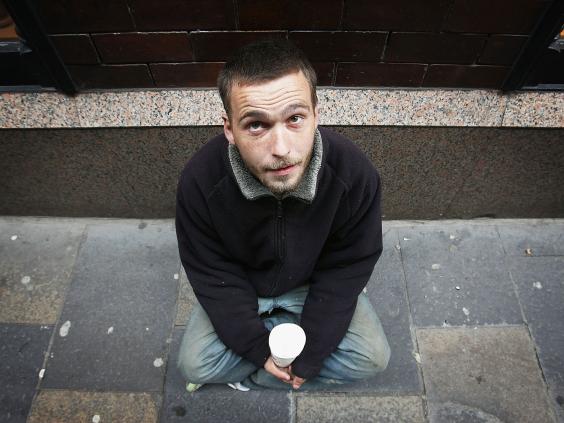 A defence lawyer who routinely deals with cases involving homeless people and individuals with mental health issues in Brighton said he was dealing with an increasing number of begging cases.
Ray Pape said: "It is difficult to see why it is in the public interest to pursue these cases. I am not talking about aggressive begging or harassment but situations where people have asked for a few pence.
"I currently have two cases where the arrest was made by plain clothes officers. In one case it was two officers who stood in close proximity to the individual hoping that they would be asked for some change.
"Is this a good use of public money? We are talking about the cost of officers' time to make and process these arrests, the cost of detention and the cost of prosecution."
Sussex Police said it had arrested 62 people for begging last year as part of a long-running crackdown on the practice. Several other forces have run similar operations, including West Midlands Police which has also used plain clothes officers in Birmingham city centre to deter begging after saying surveys showed it was one of the issues that caused the highest levels of public concern.
The Sussex force acknowledged its use of non-uniformed officers to catch beggars but said it was targeting repeat offenders who had refused assistance and it did not seek to arrest those who were already working with support agencies. 
In a statement, the force said: "We use plain clothes officers to gather evidence against people begging as they are not likely to ask a uniformed officer for money.
UK news in pictures
UK news in pictures
1/19 24 June 2017

Britain's opposition Labour Party leader Jeremy Corbyn addresses revellers from the Pyramid Stage at Worthy Farm in Somerset during the Glastonbury Festival

REUTERS

2/19 23 June 2017

British Prime Minister Theresa May addresses a news conference at the EU summit in Brussels, Belgium, June 23, 2017

Reuters

3/19 22 June 2017

Cosplay fans (L-R) George Massingham, Abbey Forbes and Karolina Goralik travel by tube dressed in Harry Potter themed costumes, after a visit to one the literary franchise's movie filming locations at Leadenhall Market in London, Britain

Reuters

4/19 22 June 2017

Racegoers cheer on their horse on Ladies Day at the Royal Ascot horse racing meet, in Ascot, west of London

Getty

5/19 21 June 2017

A reveller walks among the tipi tents at the Glastonbury Festival of Music and Performing Arts on Worthy Farm near the village of Pilton in Somerset, South West England

Getty

6/19 20 June 2017

A police officer lays some flowers passed over by a member of the public, close to Finsbury Park Mosque in north London, after one man died and eight people were taken to hospital and a person arrested after a rental van struck pedestrian

PA

7/19

The Borough Market bell is seen in Borough Market in central London following its re-opening after the June 3 terror attack

Getty Images

8/19

Two women embrace in Borough Market, which officially re-opens today following the recent attack, in central London

REUTERS/Hannah McKay

9/19

Mayor of London Sadiq Khan attends the re-opening of Borough market in central London following the June 3 terror attack

Getty Images

10/19

People walk through Borough Market in central London following its re-opening after the June 3 terror attack

Getty Images

11/19

News Corp CEO Rupert Murdoch, with one of his daughters, visit Borough Market, which officially re-opened today following the recent attack

REUTERS

12/19

A woman reacts in front of a wall of messages in Borough Market, which officially re-opened today following the recent attack, in central London

REUTERS/Hannah Mckay

13/19

Vivenne Westwood walks the runway at the Vivenne Westwood show during the London Fashion Week Men's June 2017 collections

Getty Images

14/19

Millwall fan and London Bridge hero Roy Larner on 'Good Morning Britain'

Rex

15/19

Richard Arnold, Roy Larner, Piers Morgan and Susanna Reid on 'Good Morning Britain'

Rex

16/19 11 June 2017

England players celebrate after defeating Venezuela 1-0 to win the final of the FIFA U-20 World Cup Korea 2017 at Suwon World Cup Stadium in Suwon, South Korea

AP

17/19 11 June 2017

England players celebrate with the trophy after the final match of the FIFA U-20 World Cup 2017 between Venezuela and England at Suwon World Cup Stadium in Suwon, South Korea

EPA

18/19 11 June 2017

Great Britain's Alistair Brownlee celebrates winning the Elite Men Columbia Threadneedle World Triathlon Leeds

Danny Lawson/PA Wire

19/19 11 June 2017

Two men drink beer outside the Southwark Tavern which reopened for business today next to an entrance to Borough Market which remains closed in London

Getty Images
"If we know someone who has been begging is now engaging with the various programmes and agencies, then we will look for alternative ways to address the anti-social behaviour...It is unlikely that they will be arrested. However, if we see someone begging who has refused help from the agencies, then they can be arrested."
Campaigners said a significant issue was the arcane legislation being used to arrest and prosecute beggars. The 1824 Vagrancy Act, which outlaws activities such as fraudulent palmistry and unlicensed trading by "petty chapman", defines begging as a person "placing himself or herself in any public place, street, highway, court, or passage, to beg or gather alms". 
Mr Pape said: "This a massively outdated piece of legislation and it should be replaced. Begging offences should have a requirement to show some form of harassment."
Charities who work with homeless people said that begging was more closely linked with long-term drug or alcohol addiction problems and many rough sleepers do not beg.
Figures produced by police forces last year showed that only around a fifth of people arrested for begging in 2014 were legally defined as homeless, though others were also likely to be in transitory accommodation such as hostels.
Mike Nicholas, of Thames Reach, one of the largest providers of outreach services in London, said: "We find that the main factor in begging is an addiction to hard drugs such as heroin or crack. Money given to those begging is being spent to satisfy that addiction and ultimately finding its way into the pockets of drug dealers. Homelessness does not necessarily lead to begging but drug addiction does. The way to help these individuals is to help them break the cycle of addiction and get them the care and support they need."
The 1824 Vagrancy Act
The law being used to clamp down on begging in British cities in the 21st century was introduced nine years after the Battle of Waterloo in part to deal with an increasing problem with jobless soldiers discharged following the Napoleonic Wars.
Such is the vintage of the legislation that its original critics included the anti-slavery campaigner William Wilberforce, who complained it was too sweeping and failed to take into account individual circumstances.
It is a view shared by many of the law's contemporary detractors, who say its failure to distinguish between aggressive begging or harassment and so-called passive begging, such as simply sitting in the street, makes it an archaic and overly-blunt legal tool.
The legislation, which includes a legal definition of the term "incorrigible rogue", has been entirely repealed in Scotland and was thought to have become defunct in England.
But a rise in homelessness has seen it return to fashion in law enforcement circles.
Reuse content