The harrowing and tragic details of how a depressed mother killed her disabled twin sons by smothering them with a nappy, before killing their sister and then trying to take her own life, have emerged in court for the first time.
Tania Clarence, 43, ran sobbing from the courtroom after only 20 minutes of evidence during her sentencing hearing at the Old Bailey yesterday, as the horror of listening to the acts she had committed earlier this year became too much to bear.
She had already admitted the manslaughter by diminished responsibility of Olivia, four, and three-year-old Ben and Max at the family home in the south-west London suburb of New Malden over the Easter holidays.
Her three children were found dead in their beds, where they had been tucked in with toys arranged around their heads, in a pose which was compared by prosecutor Zoe Johnson QC to dignitaries lying on a "bier" – the stands on which corpses are placed to lie in state before burial.
All three children had suffered from the muscle-weakening condition SMA type 2, which Clarence and her husband Gary, an investment banker, had found difficult to cope with.
"You cannot understand what it is like every day of your life knowing that your children would die before you," Clarence told doctors before the killings.
The twins had been born prematurely on a family holiday in Portugal. The court heard that such was the debilitating extent of their condition, which prevents child sufferers from standing unaided and leaves them vulnerable to respiratory infections, that the couple would have aborted the pregnancy had they known about it before the birth.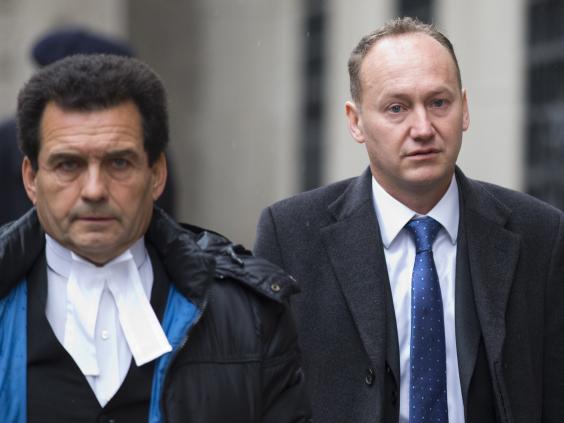 A few days before the children were killed, Mr Clarence went on holiday to the couple's native South Africa with their eight-year-old daughter, who is not disabled. His wife took the decision to end her other children's lives in the early hours of 22 April and gave their nanny the day off for that reason, the court was told.
"She smothered the boys first while they were sleeping using a nappy so they would not smell her," Ms Johnson said. "She found it much harder to kill Olivia, and wrote a letter to her husband in the time between killing the boys and killing Olivia."
The deaths were discovered that evening by the children's nanny, Jade, who entered the house with a friend and a pastor after being alerted by Clarence's mother, who was worried that she had not been able to reach her daughter.
The group found Clarence in her bedroom. After first asking them to leave, the mother told them: "It's too late. It's too late. There's nothing you can do to help them." Noticing blood on her wrist, the nanny's friend, Daniel Magagnin, dialled 999 before entering the twins' bedroom.
"He opened the twins' door and discovered the dead bodies of the twins," Ms Johnson said. "It was such a grotesque sight Mr Magagnin could not bring himself to look for Olivia as he was instructed to do by the emergency operator."
The court heard that while the children's bodies were being discovered, Clarence handed the nanny a letter, which read: "I'm so sorry I had to do this but I could not carry on. I also could not leave the children with Gary. It would have been too much for him.  You have been such an amazing person in our lives over the last few years. Without you I most likely would have done this a lot sooner."
When police arrived, Mr Magagnin was described as being hysterical as he pointed a female police officer towards the bodies of the twins in their bed. "Each boy lay on his bed, on his back, with their eyes open and their mouths open," Ms Johnson said.
"Little cars and toys had been placed by their heads. The covers were neatly tucked in and their arms were on top of the covers at their sides. Mrs Clarence had clearly placed the boys into some sort of pose, as if they were on a bier."
One of the police officers then found Olivia – also in her bed with the covers tucked up to her chin and toys placed around her. Clarence repeatedly told the officers: "I'm sorry. I'm sorry. I killed them."
The court heard that the children had a long history of medical treatment which had taken its toll on the couple. "One cannot underestimate the practical as well as emotional difficulty this family face," a doctor noted in 2011.
Clarence, who had a history of depression, admitted to a psychologist in spring 2012 that she was "struggling with life", and later that year told doctors she did not want to see her children's suffering prolonged.
"If they were in South Africa they would go to the top of a mountain and die," she said at the time.
The court heard that she also repeatedly clashed with doctors over how best to care for the children, as in her view palliative care was better than invasive treatment. "Gary and I do love our children – just not in the way you want us to," she told one physiotherapist.
In 2012, the family was allocated a social worker with expertise in looking after children under five, but she was replaced by a social worker who had been in the job for only six months – an "ill-conceived decision" in hindsight, Ms Johnson said.
Concluding the prosecution's case, Ms Johnson said: "Although Mrs Clarence and her husband believed that the only appropriate care for their children was palliative care, the children had not reached the stage when palliative care was required.
"Tania Clarence's rational belief that she didn't want to prolong her children's lives became distorted into an irrational decision to kill her disabled children, a decision she had formed well in advance of the killings."
She continued: "The circumstances of the killings, the planning and premeditation, the intention to kill three children, the fact that Mrs Clarence had failed to address her own depression, her controlling behaviour and her underlying belief, means that her culpability is not extinguished by reason of her diminished responsibility and that her responsibility remains considerable."
Jim Sturman QC, defending, appealed to Mr Justice Sweeney to impose a hospital order on Clarence. "You are dealing with a case where there is no evidence at all that Mrs Clarence would have harmed a hair on their head but for the illness she suffered," he said.
He also criticised the actions of the "inexperienced social worker" who had replaced the one who had resigned "in disgust" after being moved off their case because she was an "advocate for the family".
The lawyer added that it was "striking" that Mr Clarence had given his unconditional support to his wife throughout.
Mr Justice Sweeney reserved sentencing until Tuesday on what he described as an "extremely difficult case".
Reuse content