A Portsmouth teenager who stabbed three women as revenge for being unable to lose his virginity has been sentenced to 21 years in prison for attempted murder.
Ben Moynihan, who is now 18, of The Ridings, Hampshire, was found guilty by a jury at Winchester Crown Court of the three charges following a week-long trial in January.
Sentencing Moynihan, Mr Justice Jay said he suffered with an autism spectrum disorder and had demonstrated a "gross lack of empathy".
"The offences were planned and premeditated," he said. "The contents of your computers were as chilling as they were disturbing."
Mr Justice Jay also imposed an extended licence of five years to be served on completion of the sentence.
Moynihan, who called himself the "unhappy geezer", left letters for police confessing to his crimes in the run-up to his arrest. In one, left on a police van, he taunted officers for not apprehending him and wrote: "All women needs [sic] to die and hopefully next time I can gouge their eyeballs out."
In another, he wrote: "Every time I stab someone I run home and I like to smell the flesh I ripped out". He concluded the letter by telling police to come and arrest him before he hurt anyone else.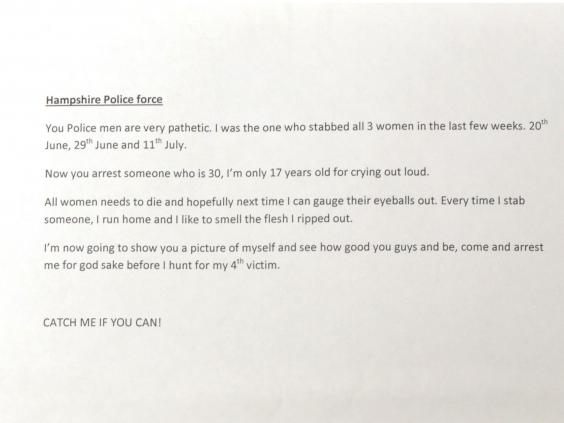 One letter had a symbol from the Tomb Raider game on it. It read: "When women won't talk to you it's heartbreaking, why are they fussy with men nowadays."
He also included a photograph of himself at the bottom of the letters.
The teenager, who was 17 at the time of the attacks, stabbed the three women, aged 20, 45 and 67, with a 4.5-inch kitchen knife, aiming for their hearts, as they walked alone in Portsmouth in June and July last year.
In a video found on his laptop, Moynihan filmed himself describing his frustration at being unable to lose his virginity, saying: "I think every girl is a type of slut, they are fussy with men nowadays, they do not give boys like us a chance.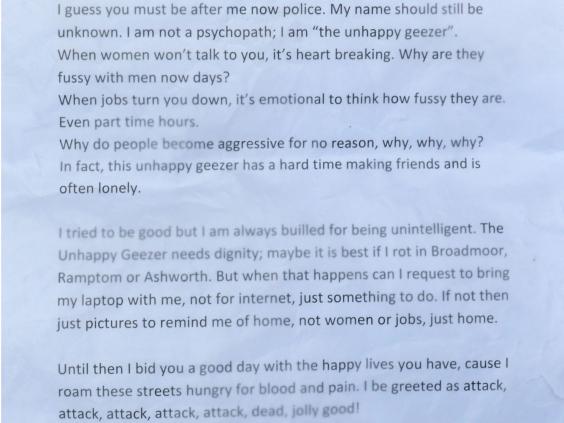 "I am still a virgin, everyone is losing it before me, that's why you are my chosen target. I just can't live in this flat, I have no future here. So women, tell me how we should do this."
He kept a diary detailing the attacks and violent dreams he had of hurting and killing women and compared himself to serial killers.
In a victim impact statement, one of his victims, 67, said she was a confident public speaker but feared she would never be able to do this again.
She said: "My life was completely turned upside-down, I did not ask for this change, it was forced upon me by my attacker."
His first victim, 20, said she struggled with flashbacks and was unable to go outside by herself in the weeks after the attack.
"There is also the physical pain of the injury," she said. "I have been suffering with chest pains which I am receiving treatment for and may be as a result of psychological trauma."
Additional reporting by PA
Reuse content