New guidelines to automatically jail any offenders caught with a knife for the second time could require more than 2,000 extra prison places and cost £43 million per year.
An amendment to the Criminal Justice and Courts Bill from the Conservative MP Nick de Bois, which would bring in sentencing guidelines of mandatory six-month jail terms for repeat adult offenders, is likely to be passed in the Commons on Tuesday after gaining support from backbench Conservative MPs and Labour.
But an analysis of Ministry of Justice figures on the number of people caught with a knife for the second time shows the new law could lead to demand for 2,200 more prison places every year.
If Mr De Bois's amendment passes, the Justice Secretary Chris Grayling is now expected to delay the changes due to the "substantial new pressure" it would put on the prison system.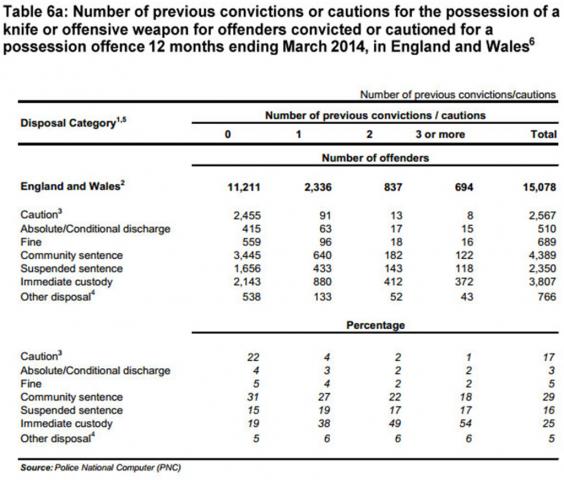 While the figures count incidents rather than individuals, and could therefore include some offenders more than once, they were sent to the Independent from the Ministry of Justice to give "an idea" of the number of people the new law will apply to.
The Ministry of Justice refused to comment on the specifics of the De Bois amendment and on whether the department has an official impact assessment of the proposed changes.
Andrew Neilson, Director of Campaigns at the Howard League for Penal Reform, told the Independent the plans were bound to stretch an already overstretched prison system, saying: "At a time when Chris Grayling is ordering already overcrowded prisons to take yet more people, the last thing politicians should be doing is fettering the discretion of the courts and ensuring that even more people are jailed and failed by a system that already cannot cope with the demand it faces."
The Howard League estimates that if the changes go through roughly 170 16- to 17-year- olds could be sent to prison - leading to a 15 per cent increase in the number of children in custody.
Nick Clegg has publicly criticised the proposed sentencing changes on the basis that they are too expensive. Because of the government split ministers will not vote for Mr De Bois's amendment but the backbench Conservative MPs have reportedly been "encouraged" to back it.
Reuse content