The United Nations will condemn and publicly shame the Government in May for allowing police to use 50,000-volt stun guns on children, as well as stopping and searching toddlers. 
The Government faces a six-hour grilling in Switzerland over the extent of its compliance with the UN Convention on the Rights of the Child, which the UK signed in 1990 and ratified the following year. 
The last time the UK was measured up against the convention, in 2008, the UN said that it wanted England and Wales to treat "Taser guns and AEPs [attenuating energy projectiles] as weapons subject to the applicable rules and restrictions and put an end to the use of all harmful devices on children". British police started using Tasers in 2003. 
Police use of stun guns has increased since that hearing, with 38 per cent more incidents in which they were aimed at children in England and Wales in 2013 than the previous year. Tasers fire two darts, and temporarily disable their targets with a five-second discharge of 50,000 volts that contracts the muscles and bewilders the nervous system. 
A UN source said the UK has been asked to provide data on police Taser use, as well as the number of rubber or plastic bullets that have been fired at children. The source added: "Members do intend to raise the issue, along with stop and search and the appropriate use of force, especially regarding adolescents."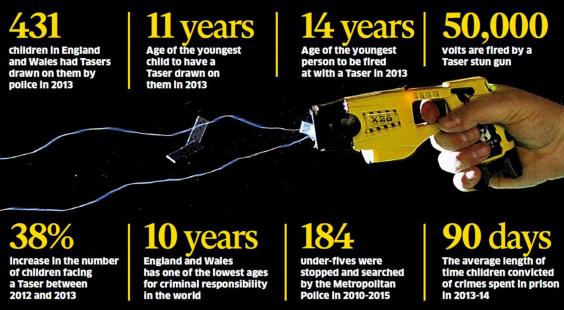 Carla Garnelas, the co-director of the Children's Rights Alliance for England (Crae), said: "The use of Taser on children is a breach of their human rights. UN bodies have repeatedly called for the UK government to ban their use on children, highlighting the serious risk of physical and psychological harm they pose, yet the use of Taser on children continues. We want to see a ban on Taser use on children." 
Police stopped and searched nearly 300 children aged under five in the five years to 2014, meaning officers might have believed toddlers were carrying a knife or involved in terrorism. Typically, though, the searches are undertaken because officers suspect the children have been used by adults to hide weapons, stolen goods, or drugs. 
In separate written evidence to the committee, the UK Children's Commissioners, established in statute during Tony Blair's premiership, said: "The Children's Commissioners are concerned that the UK State Party's response to the global economic downturn, including the imposition of austerity measures and changes to the welfare system, has resulted in a failure to protect the most disadvantaged children and those in especially vulnerable groups from child poverty … The best interests of children were not central to the development of these policies and children's views were not sought. 
"Reductions to household income for poorer children as a result of tax, transfer and social security benefit changes have led to food and fuel poverty, and the sharply increased use of crisis food bank provision by families. In some parts of the UK there is insufficient affordable decent housing which has led to poorer children living in inadequate housing and temporary accommodation." 
UK news in pictures
UK news in pictures
1/30 19 July 2016

Merlin Entertainment's Talking Donkeys are put through their paces in preparation for three days of children's donkey rides, celebrating the start of the summer holidays in London

Mikael Buck

2/30 18 July 2016

David Barber, The Queen's Swan Marker, holds a cygnet, or young swan, during Swan Upping, the annual census of the swan population on the River Thames, in a week long exercise where unmarked mute swans are now counted - rather than eaten - in a tradition exercised by the British Crown for nearly 900 years, at Sunbury

REUTERS

3/30 18 July 2016

A 'Vote LEAVE' battle bus is re-branded outside the Houses of Parliament in Westminster by the environmental campaign group Greenpeace. The bus which was used during the European Union referendum campaign and had the statement "We send the EU £350 million a week let's fund our NHS instead" along the side was covered with thousands of questions for the new Prime Minister Theresa May and her government about what a 'Brexit' might mean for the environment

Getty Images

4/30 17 July 2016

US director Steven Spielberg poses as he arrives to attend the UK premiere of the film "The BFG" in Leicester Square

AFP/Getty Images

5/30 16 July 2016

A Raticate, a character from Pokemon Go, a mobile game that has become a global phenomenon, in front of the gates of Downing Street in London

Getty Images

6/30 16 July 2016

London landmark, The London Eye is illuminated in blue, white and red lights, resembling the colours of the French flag, as Britons express their solidarity following the deadly attack in the southern French city of Nice A gunman smashed a truck into a crowd of revellers celebrating Bastille Day in the French Riviera city of Nice, killing at least 84 people in what President Francois Hollande on Friday called a "terrorist" attack. / AFP / CHRIS J RATCLIFFE (Photo credit should read CHRIS J RATCLIFFE/AFP/Getty Images)

AFP/Getty Images

7/30 15 July 2016

Armed police outside the French Embassy in London, following the death of at least 84 people, including several children, after a terrorist drove a truck through crowds celebrating Bastille Day in Nice

PA

8/30 14 July 2016

Foreign Secretary Boris Johnson addresses staff inside the Foreign Office in London

PA

9/30 13 July 2016

New British Prime Minister Theresa May speaks to the media outside her official residence 10 Downing Street in London

AP

10/30 13 July 2016

David Cameron makes a speech outside 10 Downing Street in London, before leaving for Buckingham Palace for an audience with Queen Elizabeth II to formally resign as Prime Minister

PA

11/30 12 July 2016

Former Queen guitarist and campaigner Brian May poses with people dressed as Badgers during a photocall in London. The event was organised to 'urge' the government to abandon their planned Badger Cull which is to be rolled out in the Autumn

Getty Images

12/30 11 July 2016

Britain's new Conservative Party leader Theresa May speaks to members of the media at The St Stephen's entrance to the Palace of Westminster in London. Theresa May will become the prime minister who leads Britain's into Brexit talks after her only rival in the race to succeed David Cameron pulled out unexpectedly. May was left as the only contender standing after the withdrawal from the leadership race of Andrea Leadsom, who faced criticism for suggesting she was more qualified to be premier because she had children

AFP/Getty

13/30 11 July 2016

Stay Puft Marshmallow Man is seen on the concourse at Waterloo Station in London. Ghostbusters take over Waterloo Station as Stay Puft Marshmallow Man smashes through the concourse during the morning rush-hour

Getty Images for Sony Pictures

14/30 10 July 2016

Demonstrators from the Black Lives Matter movement march through central London, during a demonstration against the killing of black men by police in the US

AFP/Getty Images

15/30 10 July 2016

Members of the British Royal Air Force Aerobatic Team, the Red Arrows, perform ahead of the British Formula One Grand Prix at Silverstone motor racing circuit in Silverstone

AFP/Getty Images

16/30 9 July 2016

Jeremy Corbyn is escorted by police through enthusiastic crowds following his appearance at the 132nd Durham Miners Gala

Getty Images

17/30 8 July 2016

To mark exactly one month until Olympic Games and celebrate Usain Bolt's 9.58 second 100m world record, Virgin Media has created an ambitious installation which transformed the River Thames into a 100m-long video screen, while the Eye itself became a giant stopwatch counting down Bolt's time. Viewers within the London Eye were able to witness Bolt's record-breaking speed, thanks to a 100m-long, floating screen stationed on the river beneath

18/30 7 July 2016

Home Secretary Theresa May makes a statement outside the Palace of Westminste, after she won 199 votes for the Conservative leadership

PA

19/30 6 July 2016

Relatives of military personnel killed during the Iraq War talk at a news conference after listening to Sir John Chilcot present The Iraq Inquiry Report at the Queen Elizabeth II Centre in Westminster

Getty

20/30 6 July 2016

Protesters dressed as former British prime minister Tony Blair hold a demonstration outside the Queen Elizabeth II Conference Centre as they wait for the release of the Chilcot Inquiry in London

EPA

21/30 6 July 2016

Former Prime Minister Tony Blair responds to the Chilcot report

Getty Images

22/30 5 July 2016

Participants march in London as teachers across England stage a 24-hour strike in a long-running dispute with the Government over the "underfunding" of schools

23/30 4 July 2016

A remarkable twelve metre sand sculpture has been unveiled on the coast of Cornwall's Porthminster Beach to celebrate the 10th annual Barefoot Wine Beach Rescue Project globally. In a bid to inspire the nation to keep Britain's beaches 'barefoot friendly', the spectacular artwork has been created as part of the first ever World Beach Rescue Day (WBRD), a global initiative launching on 9 July pioneered by champions of cleaner beaches, Barefoot Wine

24/30 3 July 2016

British Conservative party leadership candidate Andrea Leadsom arrives at the BBC television centre in London to appear on "The Andrew Marr Show" in London

AFP/Getty Images

25/30 2 July 2016

Tens of thousands of people march through central London in a 'March For Europe Event'. The march is in protest at the result of the EU referendum

Getty Images

26/30 1 July 2016

Demonstrators chant as they wave underwear and placards with the words "Liar Liar Pants On Fire" written on them outside the home of former London Mayor Boris Johnson

Getty Images

27/30 30 June 2016

Justice Secretary and leading Brexit campaigner Michael Gove leaves his home in Kensington before announcing his intention to run to be the next Conservative Party leader and UK prime minister

Getty Images

28/30 29 June 2016

Spectators with umbrellas struggle against strong wind as stormy weather delays play at Wimbledon

REUTERS

29/30 28 June 2016

A couple kiss outside the Houses of Parliament during a protest aimed at showing London's solidarity with the European Union following the recent EU referendum

REUTERS

30/30 28 June 2016

Queen Elizabeth II & Prince Philip, Duke Of Edinburgh attend the unveiling of the Robert Quigg VC memorial statue in Bushmills village, Northern Ireland

Getty Images
The Howard League for Penal Reform has also told the committee that England and Wales has one of the lowest ages of criminal responsibility, at 10 years old, and highest level of child incarceration in western Europe. Its written evidence states: "There are grave concerns about the number of children who have taken their own lives in prison, as well as concerns about the increasing use of punitive measures such as solitary confinement and the use of force." 
The criticism comes as the Home Secretary, Theresa May, evaluates a report by Chief Constable David Shaw of West Mercia Police into the quality of data related to Taser use. There are concerns that police forces do not record Taser threats and other uses of force accurately enough, a problem some believe will not be resolved because, they argue, Mr Shaw has not consulted widely enough beyond the police. 
Crae's Ms Garnelas said: "We urgently need to see fully disaggregated national data on Taser use on children. We are very disappointed that we were not invited to feed into Chief Constable David Shaw's review on Taser data." 
Sophie Khan, a solicitor who is legal and policy director at the Police Action Centre, said the Shaw review is "beyond a whitewash". She had previously asked officials for the terms of reference for the review, which she never received. 
A Home Office source said it is a "niche" issue, and a spokesman added: "Taser provides the police with an important tactical option when facing potentially physically violent situations and this government is committed to giving officers the necessary tools to do their job. All officers trained in the use of Taser must consider the vulnerability of the individual, and factors such as age and stature form part of this assessment.
"But just as with sensitive powers like stop and search and mental health detention, the police use of force warrants proper accountability and transparency. That is why the Home Secretary commissioned Chief Constable David Shaw to lead an in-depth review of the publication of Taser data and other use of force by police officers, to ensure these powers are being used appropriately. The review will present options for publishing data on how force is being used by the police, who it is being used on, and what the outcomes are."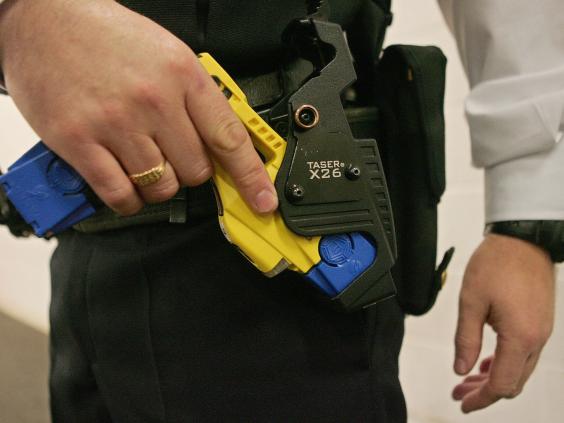 Minor disturbances
A 15-year-old boy with learning difficulties was Tasered by police at his school in Plymouth after reports of an alleged assault on a teacher. Devon and Cornwall Police said at the time of the December 2013 incident that officers arrived to find three boys holding knives. 
Earlier that year a 12-year-old girl holding two knives was Tasered in St Helens, Merseyside. Last year, the Independent Police Complaints Commission found that officers had acted in a "proportionate" way when they Tasered a 17-year-old who was behaving in a threatening manner at her Blackpool home. 
It is thought the youngest person to have a Taser aimed at them was a boy of 10, who had a knife and threatened self-harm, when West Yorkshire police cornered him. The incident is known to have taken place within the past two years. 
Henry Austin
Reuse content