A dramatic confrontation between police and a suspect appearing to brandish two weapons in east London has been caught on camera.
The man had been cornered in a residential road by around a dozen officers armed with batons, when he was seen walking and then running towards them.
A female officer sprayed him in the face with CS gas but it seemed to have little effect and he continued moving towards police until he was shot with a taser.
As he was restrained on the ground, he could be heard repeatedly shouting "I am your king" and continued the chant as he was carried, wearing handcuffs, into a police van.
The tense stand-off on Saturday was filmed from a nearby balcony as residents including young children gathered to watch the unfolding scenes.
Members of the public could be heard shouting at police and asking what the man had done.
"He was trying to attack police officers," one officer was heard telling concerned people.
The person who filmed the altercation told the Evening Standard that he first saw three police officers seeming to run from the man.
"It looked like he was chasing them, not the other way around," he added.
"He was holding this object - it looked like it might be a knife - in his hand. They seemed to be afraid of it whatever it was.
"Then more police cars arrived. They came running up from the road and they were shouting: 'Drop it! Put it down!'"
A spokesperson for the Metropolitan Police said officers in a patrol car had been flagged down in the Hoxton area at around 4.30pm regarding a man "acting suspiciously" who they believed had tried to break into a home.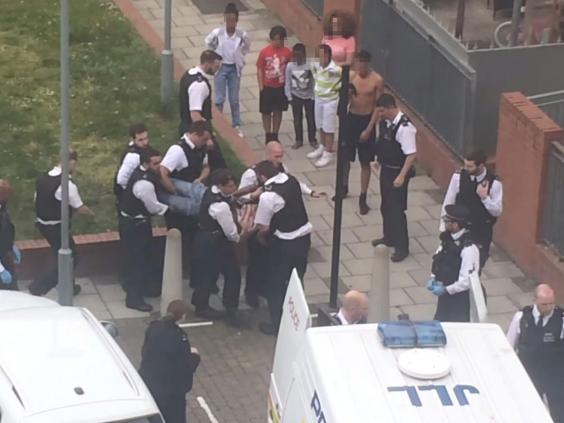 She said police "challenged" a man on the first floor of a home but he jumped out the window and ran from them.
"After a short foot chase by officers the man stopped and turned on officers armed with a metal implement," the spokesperson added.
"Officers withdrew and deployed CS spray to detain him but this had no effect on the man.
"Subsequently a taser was deployed by an officer and the man was detained and arrested on suspicion of attempted burglary and attempted murder."
The 26-year-old suspect was taken to hospital and has been in police custody since being discharged.
Reuse content