Baroness Elizabeth Butler-Sloss has stood down as chairman of the government-ordered inquiry into allegations of child abuse involving senior public figures in the 1980s.
Her surprise decision came after she was put under growing pressure to step aside because her brother, the late Sir Michael Havers, served as Attorney General from 1979 to 1987.
Her panel would have had to investigate whether Sir Michael failed to act on allegations of child abuse involving senior establishment figures. He reportedly tried to prevent the late Tory MP Geoffrey Dickens from using parliamentary privilege to name diplomat Sir Peter Hayman as a paedophile.
Baroness Butler-Sloss said it had become apparent that there was "a widespread perception, particularly among victim and survivor groups, that I am not the right person to chair the inquiry".
She added: "It has also become clear to me that I did not sufficiently consider whether my background and the fact my brother had been Attorney General would cause difficulties.
Video: Reaction to Butler-Sloss decision
"This is a victim-orientated inquiry and those who wish to be heard must have confidence that the members of the panel will pay proper regard to their concerns and give appropriate advice to Government."
Downing Street said Baroness Butler-Sloss reached her decision over the weekend, when she discussed the matter with Theresa May, the Home Secretary. David Cameron was not involved in the talks.
Mrs May said: "I am deeply saddened by Baroness Butler-Sloss's decision to withdraw but understand and respect her reasons. Baroness Butler-Sloss is a woman of the highest integrity and compassion and continues to have an enormous contribution to make to public life. 
"As she has said herself, the work of this inquiry is more important than any individual and an announcement will be made on who will take over the chairmanship and membership of the panel as soon as possible so this important work can move forward."
Although the withdrawal of the 80-year-old peer is a severe embarrassment for the Government, the Prime Minister's spokesman insisted she had been chosen for the right reasons and that no one had questioned her expertise or integrity after she headed an inquiry into child abuse in Cleveland in the 1980s.
It is unclear whether the present government recalled her connection with Lord Havers when she was appointed.
Pressure grew over the weekend amid claims that the retired judge kept allegations about a bishop out of a review of how the Church of England dealt with two priests allegedly involved in paedophilia. Baroness Butler-Sloss reportedly told a victim that she did not want to name the bishop because "the press would love a bishop". Bishop Peter Ball, the former bishop of Lewes and of Gloucester was later charged with indecent assault and misconduct in a public office.
Baroness Butler-Sloss has said she has "never put the reputation of any institution, including the Church of England, above the pursuit of justice for victims" in response to these claims.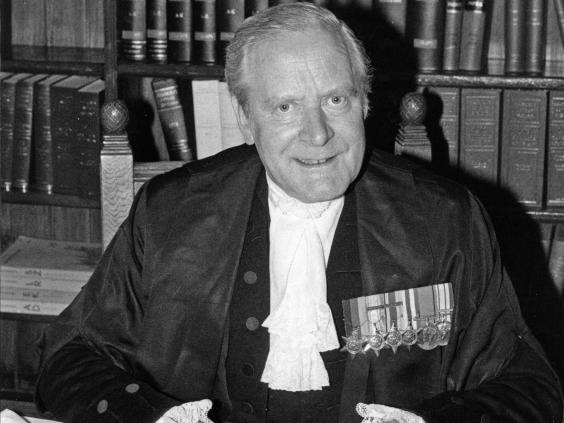 Alison Millar, a lawyer who is representing some of the alleged abuse victims, had compared the appointment to asking a relative of the head of South Yorkshire police to take charge of the Hillsborough inquiry.
She said after the announcement Baroness Butler-Sloss was stepping down: "We are relieved that Lady Butler-Sloss has taken this decision to stand down. This was the only sensible decision to ensure that survivors and the public could feel confident that the inquiry was not going to be jeopardised by accusations of bias. 

"The issue was never the integrity of Lady Butler-Sloss or what she knew of her brother's actions as the chief legal adviser to the Government, it was always the fact that she would ultimately have to judge those actions. 

"This would never have been acceptable for an inquiry which requires not only to be transparent but to be seen as such by those who have in the past been failed by the establishment."
Baroness Butler-Sloss announced her decision to quit hours after the former attorney-general, Vera Baird, urged her to stand down as the chair of the inquiry.
Ms Baird told BBC Radio 4's Today programme: "If she were in a court case presiding over it and her brother were mentioned as someone she may have to investigate, she would of course withdraw due to a conflict of interest.
"The conflict of interest is even bigger here where we have a vulnerable community of people who say that they have been not allowed to get justice.
"It is her task to look into it. It has got to be done by somebody who is an outsider to this, who is completely independent. Without wanting to descend totally to cliche, justice must not only be done but it has to be seen to be done."
Yvette Cooper, the shadow Home Secretary, had refused to endorse the appointment. Ms Cooper said: "I think she is an extremely experienced person who will be very good to do this job, but… she needs the Home Office to take action to make sure they can address these concerns."