An NHS worker who was stabbed to death at Wotton Lawn psychiatric hospital in Gloucester on Wednesday morning has been named by police as health care assistant Sharon Wall.
The 53-year-old from Tuffley, Gloucester, was attacked at around 7:30am at the 88-bed unit which provides care for patients with acute mental health conditions.
Fellow clinicians attended the carer on the scene before she was taken to Gloucestershire Royal Hospital, a spokesman from 2gether NHS Foundation Trust confirmed.
Ms Wall died from her injuries an hour later.
Gloucestershire Police have arrested a 60-year-old man on suspicion of murder, and have been granted a further 36 hours for questioning, it was confirmed on Thursday.
Chief executive of 2gether NHS Foundation Trust Shaun Clee paid tribute to the healthcare assistant, and said she would be "deeply missed" by both colleagues and patients.
"We are all deeply shocked by the tragic incident that occurred on one of our inpatient wards yesterday morning.
"The extremely sad event, which resulted in the death of a highly compassionate and dedicated colleague, has had a profound impact on everyone working in our trust.
"Sharon Wall was a well-respected healthcare assistant and everyone who knew her speaks about her warmth, caring nature and good sense of humour.
"We are still in the early stages of the investigation and continue to assist Gloucestershire Police in their work.
"Above all, our thoughts remain with Sharon's friends and family. On behalf of colleagues across our trust, I extend our most sincere and deepest sympathies."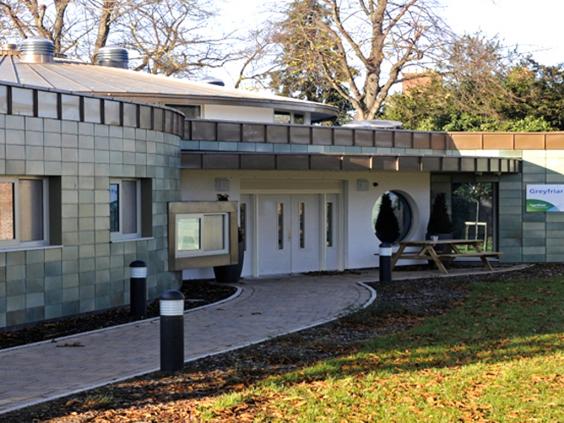 The hospital has four admission wards, a nurse led psychiatric intensive care unit (PICU) and a low secure unit (LSU). Its patients are supported by a variety of healthcare workers including nurses, doctors, psychologists, art therapists, physiotherapists, occupational and sports exercise therapists.
Workers at Gloucestershire Royal Hospital, on the same site as Wotton Lawn, have spoken of their "shock" at the incident.
Denise Luckman, 44, an admin assistant at the endoscopy unit, said the incident was "huge shock to everybody."
"I've worked here for 10 years and nothing like this has ever happened.
"You don't expect to go to work, to care for patients, and to have that happen.
"It has affected the hospital all the way through," she said, adding: "It is on our own doorstep, it has come as a complete shock."
Mrs Luckman said staff across the hospital often worked in different units to help short-staffed wards, including Wotton Lawn.
"All the staff are very subdued," she added. "It just shows that these things can happen."
Others saddened by the Ms Wall's death have paid tribute to her on social media.
"I'm in shock. My thoughts are with your family. RIP lovely lady. I'll remember the times you came to my house years ago we had some good laughs and chinwags," wrote one Facebook user called Tania Daniels.
Hayley Robertson wrote on the page: "Awful to happen to a member of the NHS, so sad. Heard all the sirens on the way to work this morning. Can't believe this has happened right outside where I work - such a tragedy. My thoughts and prayers are with the family."
Additional reporting PA
Reuse content