A 90-year-old war veteran who sneaked away from his care home to attend D-Day celebrations in Normandy has received over 2,500 birthdays from fans and well-wishers.
Stunned Bernard Jordan, who made headlines earlier this month when he turned up in France after being reported missing by The Pines care home in Sussex, said the delivery of so many cards was "overwhelming."
The former Royal Navy officer was heralded for his fortitude, after making the journey to attend the 70th anniversary of the D-Day landings, clad in a grey raincoat with his war medals beneath.
Following the media spotlight and subsequent attention that his cross-channel trip garnered, he has decided that his birthday – today – will be a low-key affair for his friends, family and wife Irene.
"I just can't believe it. I want to thank everyone who sent me a card or a gift. Sadly I can't thank everyone in person so I hope they get this message.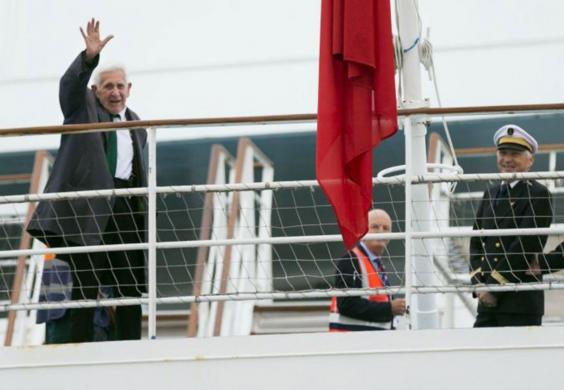 "I'm just one man and I'm nothing special. Anyone would think I'd defeated Hitler on my own.
"There were a lot of other people on the beaches of Normandy that day, this lovely attention is for them really, not me."
A 1940/50s vocal trio, The Candy Girls, who met Mr Jordan aboard the ferry, will also be singing to him today.
Mr Jordan's spectacular return to Britain led to Brighton and Hove's mayor Brian Fitch to recommend the nonagenarian for the Freedom of the City award for his "spirit and determination."
We added to #Bernardjordan many birthday cards and left a copy of our album for him and the residents to enjoy! pic.twitter.com/57trLXiNzO

; TheCandyGirlsUK (@TheCandyGirlsUK) June 17, 2014
Thanks to everyone who has sent good wishes+cards to Bernard Jordan "Keep calm and carry on!" #DDay70 #BernardJordan pic.twitter.com/vXbceEgZXS

; Gracewell Healthcare (@GracewellHealth) June 11, 2014
The former Royal Navy officer had left at around 10.30am on 5 June only telling his wife where he was going. At 7.15pm staff at the home called police to declare him missing.
A younger veteran who'd chatted with Mr Jordan on the ferry over to France then got hold of the home at 10.30pm to let them know that he was safe and well.
Arriving back in Portsmouth on 7 June, following his Brittany Ferries trip, he told reporters that he "had a great time. I'm really pleased I did it."
He also said today that we welcomed Chancellor George Osborne's pledge to keep money earmarked to allow D-Day veterans to continue their annual trip to Normandy.