A father who attempted to get revenge on his teenage daughter after she stole his biscuits had his plan backfire spectacularly.
The unnamed reddit user told fellow users how his teenage daughter would steal his Bahlsen chocolate biscuits. Finally cracking, the aggrieved dad went into his daughter's room and inadvertently found her "stash" of vodka.
"So I emptied the contents of the bottle into an empty bottle I had and replaced it with water and screwed the top back on tightly and slipped it back into her bag," he wrote.
"I chuckled to myself at the thought of the disappointment that she and her friends would be experiencing in a few short hours."
Unfortunately, his plan did not quite work out.
The following morning he inquired after his daughter's night out. "'Oh,' she replied, 'it was weird… we had some vodka but when we drank it, it was water!'"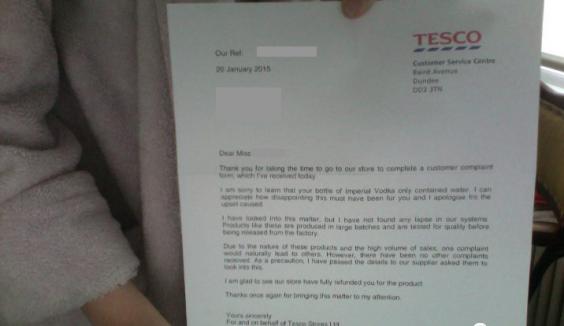 The daughter continued: "'Well,' she said, 'we just took it back to Tescos and they replaced it with a new bottle for us!'" 
After thousands of shares and hundreds of comments, the father eventually posted the letter from a Tesco in Dundee, apparently proving the alleged events did take place.
He told The Independent he was "taken aback" by the response to his post, adding: "I simply tried to write a tongue in cheek and wryly amusing little story poking fun at myself and imagined it would most likely get the 4 or 5 comments that most of my previous posts had. I certainly didn't expect anything like this."
In the letter, dated 20 January 2015, a customer services spokesperson writes: "I am sorry to learn that your bottle of Imperial Vodka only contained water. I can appreciate how disappointing this must have been for you and I apologise for the upset caused."
Reuse content