The oldest employee of McDonald's in Europe has offered some careers advice to young people.
Bill Dudley, who turned 90 last week, said that young people should "get off their backsides" to find a job and kick-start their working lives. Around 743,000 under-25s are unemployed in Britain, according to the Government.
The great-grandfather and Second World War veteran – who started the part-time job nine years ago because he got too bored at home – bemoaned people who "want paying for nothing".
Mr Dudley, from Connah's Quay in North Wales, made the comments today on ITV's Good Morning Britain. He celebrated his birthday with colleagues at the branch in Mold, Flintshire.
He mentioned that he worked in the Navy and as a taxi driver, but his favourite job of all time was at a steel works.
His current job earned him the nickname 'Old McDonald' by his wife, Margaret, who had refused to let him help her with the gardening after he retired from his last job.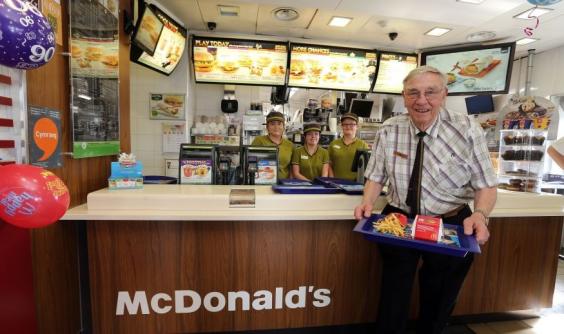 Keen to keep himself busy since he gained so much spare time, Mr Dudley said that he can't see himself stopping anytime soon as he has been working for 78 years.
"Despite working since the age of 12, I still love coming to work.
"The camaraderie is fantastic and I'm really lucky to be surrounded by a great team who are like my family," he had said last week.
Reuse content