With a tunnel snaking 65 metres below the Thames, and a capacity of 1.6 million cubic metres, the proposed new "super sewer", running from West London to Stratford, will be the biggest infrastructure project ever undertaken by the UK water industry.
Whilst regulators have questioned the cost of the £4.2 billion project, Thames Water insists that without it, the Thames will again act as an open sewer, the role which it played more than 150 years ago.
The 1,300 mile network of Victorian sewers and river embankments was built in the 1860s by the engineer Sir Joseph Bazalgette to intercept raw sewage that had previously ended up flushed straight into the Thames.
Politicians bemoaned the "Great Stink" arising from a river in which Londoners regularly bathed and even drank from. Benjamin Disraeli condemned the "Stygian pool" which contributed to a waterborne cholera outbreak that killed 40,000 people, many of whom had drunk river water into which raw sewage had been deposited.
Whilst Bazalgette's sewers are in good condition, they cannot cope with the demands of London's rising population, which is expected to hit 8.6m by 2031, nor the modern city's showering, dish-washing and, possibly, water cannon-spraying needs.
The sewers overflow on a weekly basis, flushing 55 million tonnes of raw sewage – the equivalent of eight billion toilet flushes - straight into the Thames each year.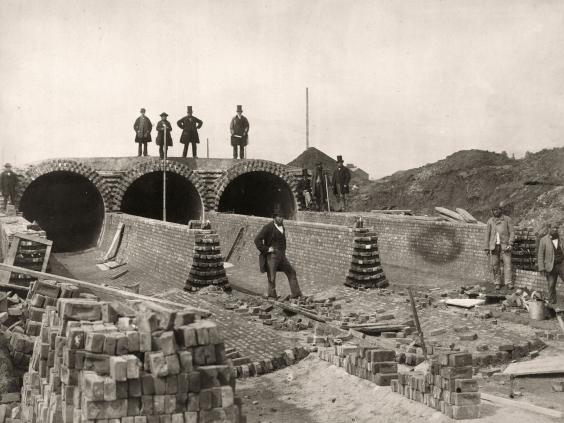 The solution, the 15-mile Thames Tideway Tunnel, would intercept the sewage which flows during heavy rains and divert it to East London for treatment before it is discharged into the river.
The "megaproject" requires a tunnel more than 7m in diameter, comparable to the Channel Tunnel, and which will take 10 years to build and cost £4.2 billion - nearly half the cost of the 2012 Olympics.
From Acton's storm tanks to the Abbey Mills pumping station, the tunnel will connect to each of the combined sewer overflows that are located along the riverbanks, passing underneath the capital's other infrastructure.
There will be three main "drive sites" where tunnel boring machines are lowered into the ground and driven below the riverbed to construct the tunnel from the east, west and central locations.
Innovative engineering in the design phase has already reduced the tunnel from the initial 32km proposed, down to 25km, and reduced the number of construction sites needed from 45 to 24.
Thames Water estimates that household bills will have to rise by £80 a year to finance the sewer. But industry regulator Ofwat last year rejected proposals to impose an eight per cent rise on customer bills, saying the utility was not doing enough to control costs and pursue delinquent customers. This week, Ofwat said the company had failed to justify £331m million in the project's costs.
Thames Water hopes to being preparatory construction work next year, if planning permission is granted, with tunnelling due to begin in 2016 and a targeted completion date of 2023.
Sir Peter Bazalgette, the television producer and Arts Council chair, who is the great-great-grandson of Sir Joseph, supports public investment in the super sewer, saying: "These major public works need to be done."
Reuse content