The City of London has a shiny new financial engine. It's a massive building called 5 Broadgate, a 12-storey "groundscraper" whose four trading floors alone cover almost 67,000 square metres – the equivalent of four football pitches.
This vast money machine will hum into life next year, supercharged with the biggest single concentration of traders in the City – 3,000 of them working for UBS, plus 2,400 management and support staff.
With so many warm bodies seated in front of multi-screen data arrays, the designers had to find an innovative way of controlling the temperatures: cold water will be pumped through the desks to keep them cool.
UBS, the Swiss-based global financial services group which manages assets worth £1.3trn, has paid the best part of £500m for 5 Broadgate, which was designed by Make Architects. The building's fit-out alone cost in the region of £100m. Everything is geared to transactional, technical, and corporate efficiency.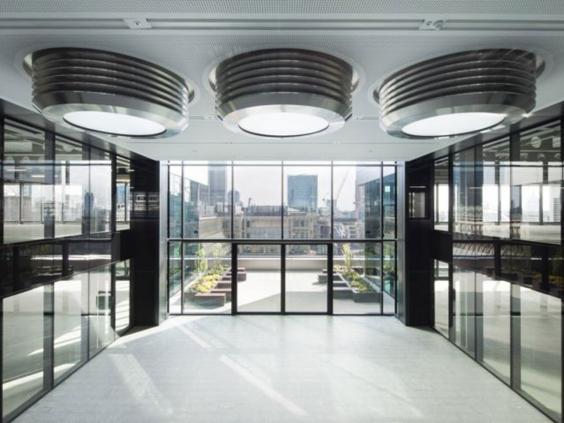 The attention to detail went right down to the design of the washrooms, which were scrutinised by UBS's own Cleaning Academy (such a unit apparently exists) to make sure that fittings would survive traders having behind-the-scenes Incredible Hulk episodes triggered by profit-fuelled bliss or investment-plunging fury.  
Such was the projected size of 5 Broadgate that the project was initially conceived and developed in the secrecy of a small, controlled-access basement room at Make's practice in Fitzrovia. The design process was led by Make's founder, Ken Shuttleworth, whose drawing and visualisation talents have given him the nickname "Ken the Pen".
The City, more than anywhere else in London, craves striking new buildings to pump up the aura of architecturally dramatic change, and create as much lucrative floorspace as possible. If history, as the Arts and Crafts designer William Morris said in 1889, is "perpetual change", the City is the seething epitome of that in London.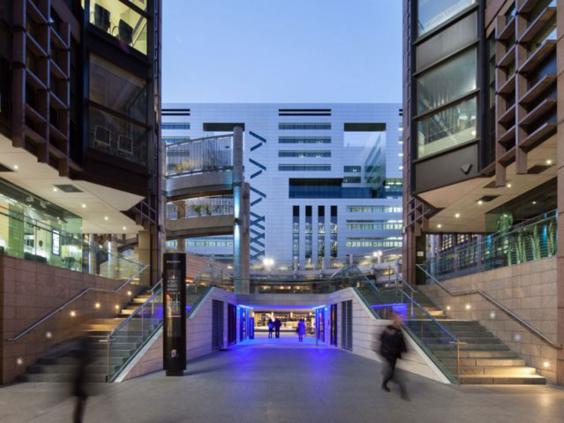 The City's clients and developers – British Land in this case – are usually more than happy to trail preview images of their schemes. But given the intimidating scale of this project – substantially bigger than the City's previous super-groundscraper, the Jean Nouvel-designed 1 New Change "stealth bomber" building next to St Paul's Cathedral – it was decided that some discretion was required.
And so part of the project's strategy, involving the City's then planning supremo Peter Rees, was to ensure a design lock-down – right up until it was submitted for planning approval.
It wasn't just the size of 5 Broadgate that was controversial. It was the fact that, to be built, two existing buildings at the heart of the 32-acre Broadgate estate – London's biggest tableau of financial buildings until Canary Wharf – would have to be demolished. The steel-sheathed "cylinder-block" of 5 Broadgate is completely different to the 1980s postmodern architectural style of the stone-faced buildings around it.
"Architecturally, there's nothing else like this building, anywhere," claims Shuttleworth. That's true in terms of its form, and its perfectly smooth, steel skin, which took months of research and testing to perfect, with full-sized façade panel mock-ups built in Germany and London.
Even from close up, the building's surface has an unearthly, machined look; you half expect to see metal filings lying around the base of the structure.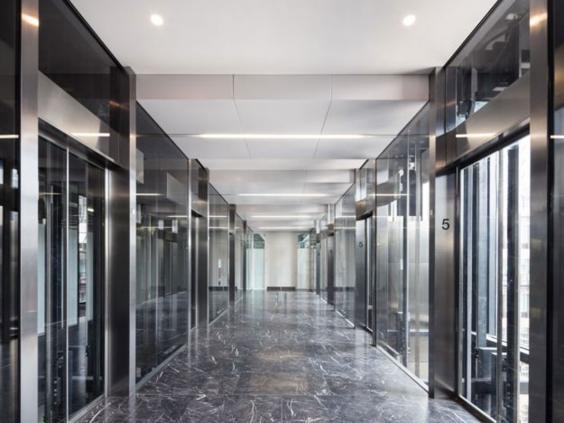 So-called "groundscrapers" date back to the 1930s Merchandise Mart building in Chicago – which covered something like two city blocks and whose 372,000 square metre floor area is almost 50 per cent bigger than the Empire State Building's, and five times more than 5 Broadgate's. The world's largest building is in Chengdu, China: the New Century Global Centre has 1.7 million square metres of floor area.
Shuttleworth says that all of his 40 years' experience in architecture have contributed to the project. "The design genetics of Broadgate go right back to my early experience, as a junior architect working on the highly innovative Willis Building in Ipswich in 1974, and on outstanding later projects such as the Hong Kong & Shanghai Bank headquarters."
Birmingham, where Shuttleworth grew up, was another factor. "As a kid, I loved those little cast-metal cars made by Dinky Toys. The castings for Dinky Toys were made in Birmingham – a really exciting place to be brought up in the 1950s, with its fantastic metal industries."
Reuse content