50 sharks have been spotted circling in a small pool of tidal waters at an RSPB reserve near Selsey, in West Sussex.
Some of the sharks were up to five foot in length, and were a fearsome sight to passers-by who could see their distinctive fins sticking up through the water.
Fortunately, great whites haven't started invading Sussex yet - the sharks spotted at RSPB Medmerry were smooth-hounds, a species of shark found more commonly in offshore coastal waters.
They're relatively common in the seas surrounding the UK, but are rarely seen - it's difficult to spot a single smooth-hound, never mind 50 at once.
Last month, two smooth-hounds were spotted at the reserve, but this latest massive gathering is the biggest yet.
Peter Hughes, an RSPB warden at the reserve said the unusual sighting was "astonishing".
"There were just theses huge fish everywhere in knee-deep water," he said. "We knew in time that Medmerry was going to be a great place for wildlife, but I don't think anyone expected this."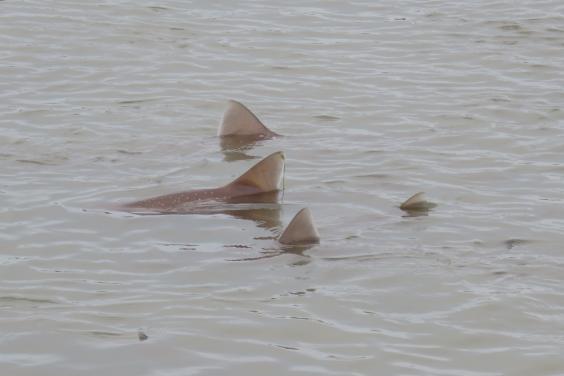 Medmerry was created by the environment agency between 2011 and 2013, when the area was allowed to flood as part of a managed realignment programme. It was done with the intention of protecting nearby homes from flooding, but also created an intertidal area that has become a haven for wildlife.
Unfortunately, shark-spotters might be disappointed if they want to see the shark gathering, as Peter said that they were unsure whether the remarkable spectacle would repeat itself.
Reuse content