It has taken 10 years for PC Tom Woods to be able to talk publicly about what he saw on July 7.
Now aged 34 and a married father-of-two, the Metropolitan Police officer was one of the first to arrive at the horrific scene of the Edgware Road Underground station explosion, where six innocent people were killed and 163 others were injured.
Mr Woods gave first aid to a man with severe burns, carried injured people from the tunnel and searched through the wreckage for other possible bombs. He did this while knowing that lifeless victims lay nearby.
A bomb had exploded on Circle line train number 216, which had just left Edgware Road station heading west for Paddington at 8.50am.
He remembers the "musty and smoky" smell and that it was fairly light because it is not a deep tunnel.
Mr Woods, who was giving his first interview since the explosion, said: "You are walking through an empty train which starts off by being exactly as it was when it left the station that morning.
"Then by the time you stop walking you are looking through a window at the end which is black. It is almost like the world (and) the whole train ended at that point. Beyond that was the blast and everybody who had been seriously injured."
On a personal level, he decided that he would not talk about the devastation he had seen except with colleagues who had been there on the day.
He recalled: "When we came out of the train on one side there was somebody (who had been killed) there right by where we climbed out, somebody we had to step around and that really stuck with me.
"I do not know why that particular one has stuck with me because there were horrific injuries everywhere."
He did not speak to his family about it. "I felt I had seen something horrific and I did not think that I needed to cast that image on to anybody else so I dealt with it in work and on my team."
This temporary fix stopped working when Marylebone station, where he was based, was closed down two years later. He admits this "changed me a little bit" as he was still carrying around the burden of what he had seen.
Not wanting to go into detail, he said: "You don't realise the support you get from all those people who are around you.
"I had personal issues outside of work caused by me and eventually I ended up getting counselling. Everything that I had done came back to that (day)."
He eventually opened up to his family about what happened.
Mr Woods cannot remember large chunks of the life-saving work he did on the day.
He arrived to panic in the ticket hall with commuters rushing around and worked underground to get survivors out alive. He remembers this whole period as being around 20 minutes - in reality it was more like two hours.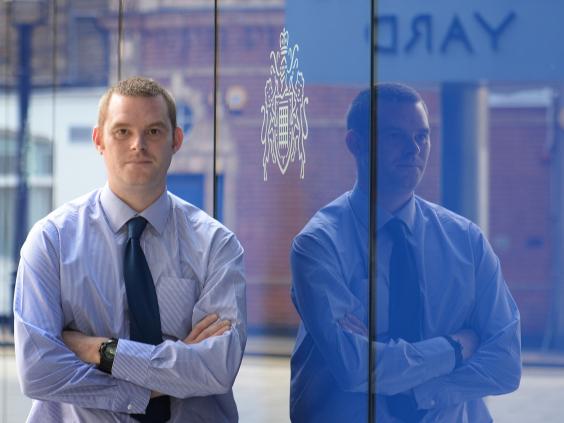 He started searching a train at the station and said he was "quite grateful" when the explosives dog turned up. This involved lifting up every seat in the tube train to ensure nothing had been planted there.
He does remember the unexpected kindness of people in response to the disaster.
A church at the end of the street was opened for everyone who, amid the confusion and turmoil, needed somewhere to go. Some elderly ladies opened a tea room in the corner and M&S sent sandwiches. They also handed out water and clothes to the injured.
Mr Woods, who is now with the Met intelligence unit, will be working on the anniversary.
He said: "I have never been to a memorial, ever. I make sure that I am not in Edgware Road on the 7th - and that is probably the only thing that has changed.
"I am proud of being part of helping people. I think it was an awful day but it is something which needs to be remembered forever. It does not take a specific day for me to remember it."
Press Association
In pictures: The 10th anniversary of the 7/7 London bombings
In pictures: The 10th anniversary of the 7/7 London bombings
1/26 7/7 bombings anniversary

Security staff and workers from Hyde Park observe a minutes silence at the 7/7 memorial in Hyde Park

2/26 7/7 bombings anniversary

People pause for a minutes silence at Kings Cross Underground station in London, as Britain remembers the July 7 attacks amid a welter of warnings about the enduring and changing threat from terrorism a decade on

3/26 7/7 bombings anniversary

Members of staff working within the grounds observe a minutes silence to commemorate the tenth anniversary of the July 7 terrorist attacks at the All England Lawn Tennis and Croquet Club, Wimbledon

4/26 7/7 bombings anniversary

Police officers within the grounds observe a minutes silence to commemorate the tenth anniversary of the July 7 terrorist attacks at the All England Lawn Tennis and Croquet Club, Wimbledon

5/26 7/7 bombings anniversary

Representatives from 7 Company, Coldstream Guards and HQ London District join the national act of remembrance for the 7th July bombings 10th year anniversary beside the Ministry of Defence Main Building in central London and led by Rabbi Major Reuben Livingstone

6/26 7/7 bombings anniversary

People observe a nationwide minute's silence on the 10 year anniversary of the 7/7 London attacks which killed 52 people, facing in the direction of a plaque and flowers laid at the location of where a suicide bomber blew themselves up during the morning rush hour on a bus in Tavistock Square

7/26 7/7 bombings anniversary

George Psaradakis (centre), the driver of the number 30 bus which was blown up in Tavistock Square, looks at floral tributes left close to the scene of the bombings in London

8/26 7/7 bombings anniversary

People stop to observe a minute's silence at Aldgate underground station, in memory of the victims of the July 7 bombings

9/26 7/7 bombings anniversary

Flowers left by the July 7 memorial plaque at Aldgate Station, London, which names those who were killed in the bombings at the station

10/26 7/7 bombings anniversary

Members of various religious groups pray during a service in St Paul's Cathedral, to commemorate the tenth anniversary of the London Bombings in London

11/26 7/7 bombings anniversary

Poppy petals fall from the roof during a service in St Paul's Cathedral, to commemorate the tenth anniversary of the London Bombings in London

PA

12/26 7/7 bombings anniversary

A police officer looks at flowers left at Kings Cross Underground station in London

13/26 7/7 bombings anniversary

Flowers left by the July 7 memorial plaque at Aldgate Station

14/26 7/7 bombings anniversary

Boris Johnson and David Cameron place wreathes at the July 7 memorial in Hyde Park, London

15/26 7/7 bombings anniversary

David Cameron and Boris Johnson take part in a wreath laying ceremony in London's Hyde Park, in memory of the 52 victims of the 7/7 London attacks

16/26 7/7 bombings anniversary

David Cameron and Boris Johnson during a ceremony at the memorial to the victims of the July 7, 2005 London bombings, in Hyde Park

17/26 7/7 bombings anniversary

From left: Paul Crowther, Chief Constable, British Transport Police, Adrian Leppard, Commissioner City of London Police, and Sir Bernard Hogan-Howe, Commissioner of the Metropolitan Police, carry wreathes at the July 7 memorial in Hyde Park

18/26 7/7 bombings anniversary

People look at flowers left in Tavistock Square

19/26 7/7 bombings anniversary

7/7 survivor Gill Hicks (centre) arrives with flowers at Russell Square tube station

20/26 7/7 bombings anniversary

People embrace outside Edgware Road tube station, as Britain remembers the July 7 attacks

21/26 7/7 bombings anniversary

A lady carrying flowers leaves Russell Square tube station

22/26 7/7 bombings anniversary

Faith leaders promote religious unity in central London, as Britain prepares to mark 10th anniversary of the 7/7 London bombings in which 52 people were killed

23/26 7/7 bombings anniversary

Gill Hicks, (L) a survivor of the 7/7 London terror attacks, embraces police constable Andrew Maxwell outside Kings Cross Station in London, during an event to launch a walk by faith leaders promoting religious unity ahead of the anniversary of the attacks

24/26 7/7 bombings anniversary

A memorial dedicated to the 52 people that were killed during the 7/7 terror attacks in London is pictured in London's Hyde Park

25/26 7/7 bombings anniversary

The July 7 memorial in Hyde Park

26/26 7/7 bombings anniversary

A memorial dedicated to the 52 people that were killed during the 7/7 terror attacks in London is cleaned in London's Hyde Park
Reuse content