A survivor of the 7/7 bombings has had a surprise reunion with the policeman who saved her life.
Gill Hicks lost both of her legs when suicide bomber Jermaine Lindsay blew himself up on a busy tube line on July 7, 2005. She was sat next to him.
Ms Hicks was attending a march in remembrance of the 52 victims when PC Andrew Maxwell – who was part of a team which rescued her – went up to her. 
They had not seen each other since the day, and Ms Hicks broke down and hugged PC Maxwell in front of emotional onlookers. She was the last person to be taken out of the train after the bomb.
Hicks, 46, had planned to join a peace march from Kings Cross to Tavistock Square but the pain was too much and she had to drop out.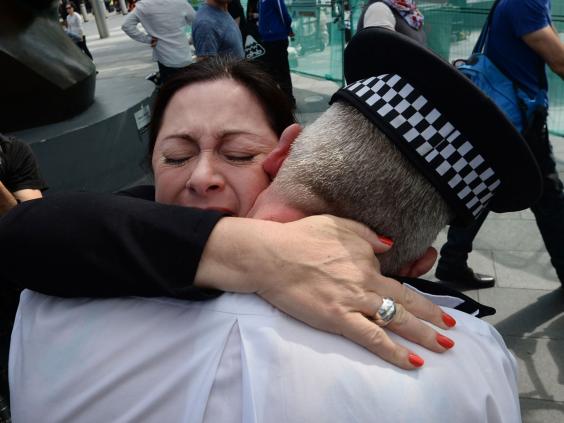 A spokesperson for Ms Hicks said: "She started the walk and showed her support, but she will not be walking the whole thing. She is in an awful lot of pain."
Faith leaders were also present at the march ahead of tomorrow's anniversary. A floral tribute was laid before each leader said a prayer for the victims.
Julie Siddiqi from the Islamic Society of Britain "People who have been affected by terrorism, it's those people who will be in the forefront of our minds as we do the walk.
"It's important that we don't get complacent. There is still work to be done and we are doing what we can but it's about showing solidarity and humanity."
Additional reporting Press Association
In pictures: The 10th anniversary of the 7/7 London bombings
In pictures: The 10th anniversary of the 7/7 London bombings
1/26 7/7 bombings anniversary

Security staff and workers from Hyde Park observe a minutes silence at the 7/7 memorial in Hyde Park

2/26 7/7 bombings anniversary

People pause for a minutes silence at Kings Cross Underground station in London, as Britain remembers the July 7 attacks amid a welter of warnings about the enduring and changing threat from terrorism a decade on

3/26 7/7 bombings anniversary

Members of staff working within the grounds observe a minutes silence to commemorate the tenth anniversary of the July 7 terrorist attacks at the All England Lawn Tennis and Croquet Club, Wimbledon

4/26 7/7 bombings anniversary

Police officers within the grounds observe a minutes silence to commemorate the tenth anniversary of the July 7 terrorist attacks at the All England Lawn Tennis and Croquet Club, Wimbledon

5/26 7/7 bombings anniversary

Representatives from 7 Company, Coldstream Guards and HQ London District join the national act of remembrance for the 7th July bombings 10th year anniversary beside the Ministry of Defence Main Building in central London and led by Rabbi Major Reuben Livingstone

6/26 7/7 bombings anniversary

People observe a nationwide minute's silence on the 10 year anniversary of the 7/7 London attacks which killed 52 people, facing in the direction of a plaque and flowers laid at the location of where a suicide bomber blew themselves up during the morning rush hour on a bus in Tavistock Square

7/26 7/7 bombings anniversary

George Psaradakis (centre), the driver of the number 30 bus which was blown up in Tavistock Square, looks at floral tributes left close to the scene of the bombings in London

8/26 7/7 bombings anniversary

People stop to observe a minute's silence at Aldgate underground station, in memory of the victims of the July 7 bombings

9/26 7/7 bombings anniversary

Flowers left by the July 7 memorial plaque at Aldgate Station, London, which names those who were killed in the bombings at the station

10/26 7/7 bombings anniversary

Members of various religious groups pray during a service in St Paul's Cathedral, to commemorate the tenth anniversary of the London Bombings in London

11/26 7/7 bombings anniversary

Poppy petals fall from the roof during a service in St Paul's Cathedral, to commemorate the tenth anniversary of the London Bombings in London

PA

12/26 7/7 bombings anniversary

A police officer looks at flowers left at Kings Cross Underground station in London

13/26 7/7 bombings anniversary

Flowers left by the July 7 memorial plaque at Aldgate Station

14/26 7/7 bombings anniversary

Boris Johnson and David Cameron place wreathes at the July 7 memorial in Hyde Park, London

15/26 7/7 bombings anniversary

David Cameron and Boris Johnson take part in a wreath laying ceremony in London's Hyde Park, in memory of the 52 victims of the 7/7 London attacks

16/26 7/7 bombings anniversary

David Cameron and Boris Johnson during a ceremony at the memorial to the victims of the July 7, 2005 London bombings, in Hyde Park

17/26 7/7 bombings anniversary

From left: Paul Crowther, Chief Constable, British Transport Police, Adrian Leppard, Commissioner City of London Police, and Sir Bernard Hogan-Howe, Commissioner of the Metropolitan Police, carry wreathes at the July 7 memorial in Hyde Park

18/26 7/7 bombings anniversary

People look at flowers left in Tavistock Square

19/26 7/7 bombings anniversary

7/7 survivor Gill Hicks (centre) arrives with flowers at Russell Square tube station

20/26 7/7 bombings anniversary

People embrace outside Edgware Road tube station, as Britain remembers the July 7 attacks

21/26 7/7 bombings anniversary

A lady carrying flowers leaves Russell Square tube station

22/26 7/7 bombings anniversary

Faith leaders promote religious unity in central London, as Britain prepares to mark 10th anniversary of the 7/7 London bombings in which 52 people were killed

23/26 7/7 bombings anniversary

Gill Hicks, (L) a survivor of the 7/7 London terror attacks, embraces police constable Andrew Maxwell outside Kings Cross Station in London, during an event to launch a walk by faith leaders promoting religious unity ahead of the anniversary of the attacks

24/26 7/7 bombings anniversary

A memorial dedicated to the 52 people that were killed during the 7/7 terror attacks in London is pictured in London's Hyde Park

25/26 7/7 bombings anniversary

The July 7 memorial in Hyde Park

26/26 7/7 bombings anniversary

A memorial dedicated to the 52 people that were killed during the 7/7 terror attacks in London is cleaned in London's Hyde Park
Reuse content