Thousands paid tribute to murdered British aid worker Alan Henning in his home town of Salford yesterday. A minute's silence was held by rugby union fans ahead of the Sale Sharks' game with London Wasps while services were staged in churches and mosques.
Last night Mr Henning's humanitarian deeds were recalled during prayer and reflection at Eccles parish church next door to the minicab firm where the 47-year-old worked. His widow Barbara and their children, Lucy and Adam, joined about 500 people for the service.
Floral tributes and notes of condolence continued to be placed at the foot of Eccles Cross in the town centre as people struggled to come to terms with the murder. Among the objects laid was a packet of nappies, one of the items he was delivering to the  children of Syria when he was kidnapped in 2013.
The Bishop of Manchester, the Rt Rev David Walker, compared the sense of unity in loss to the aftermath of the 1996 IRA bomb which destroyed a large part of Manchester city centre and injured more than 200 people.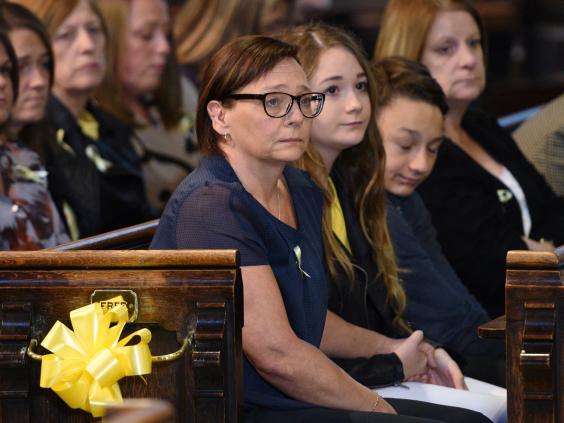 "Within the Greater Manchester area, it's part of our tradition to come together at times of tragedy. This won't divide us, it will simply reaffirm us in our commitment to one another and to the future of the world of which we are a part," he said.
Britain at War: Opinions on the ground
Britain at War: Opinions on the ground
1/8 CAROLINE LUCAS Green Party MP for Brighton Pavillion

"Whatever we decide people will die. Be it directly at the hands of ISIL, whose barbarity seems to know no limits. Or when they are hit by bombs dropped by the US, France or the UK."

Teri Pengilley

2/8 DR ANDREW WHITE Chaplain of St George's Anglican Church in Baghdad

"Isis is an evil, evil force – the only way to control these bigots is to further put at risk Iraqi people."

Susannah Ireland

3/8 DR NAFEEZ AHMED Executive director of the Institute for Policy Research & Development

"We might win some short term battles but we will create more grievances that will empower the IS cause in the long run."

4/8 DAVID DAVIS Former shadow Home Secretary

"The moral case is clear, the practical case is not - what do we do when we stop bombing?"

Getty

5/8 GENERAL JAMES CONWAY Retired US Marine

"I don't think President Obama's plan has a snowball's chance in hell of succeeding."

AFP

6/8 NADIM ZAHAWI Baghdad born Conservative MP

"We need to learn that we can't do nation-building, it has to be up to the local community to decide who they want to govern themselves."

Susannah Ireland

7/8 RICHARD WILLIAMS Former commanding officer of the SAS

"Friday's debate lacked any meaningful reference to the political solution that must be considered in Iraq if these bombs are to mean anything."

8/8 CHRIS DOYLE Director of Council for Arab-British Understanding

"The bigger issue is to actually help Syria, but if you just want to defeat IS then you lose sight of that overall goal."
The city's Muslim leaders have spoken out vehemently against Mr Henning's murder by Isis and many were among those paying tribute to the  taxi driver.
While people expressed their sadness at the loss of Mr Henning, the release of David Bolam was widely welcomed. The British teacher had been held hostage in Libya since May but has returned "safe and well" to his family in the UK.
It was suggested yesterday that money had been handed over to secure his release but the Foreign Office said it had not been involved in the negotiations.
Reuse content