Responding to customer complaints is a delicate matter for any business.
But when the – particularly witty - grievance has almost 30,000 Facebook likes and has been shared 5,700 times you know you have to get it right.
Aldi managed to tread the fine line between humour and mockery when responding to a complaint about one customer's 'nightmare' of finding a plain biscuit in his packet of supposedly chocolate digestives.
And it's reply paid off, gaining just under 42,000 likes of its own.
Darryl Reilly, of County Mayo, Ireland, posted a long-winded gripe about his 'biscuit predicament', explaining that the plain digestive could never deliver the 'foodgasm' of a chocolate one and his morning cuppa had been ruined.
The post went viral, being shared around the world.
Aldi took just over three hours to respond but when it did, it was tasty.
The customer service team offered a replacement pack, with a pack of sugar thrown in, but they went further – leaping to the defence of the plain digestive.
Comparing it to a traffic-free commute, a freshly-made bed and finding £5, they said the humble snack was special and shouldn't be shunned.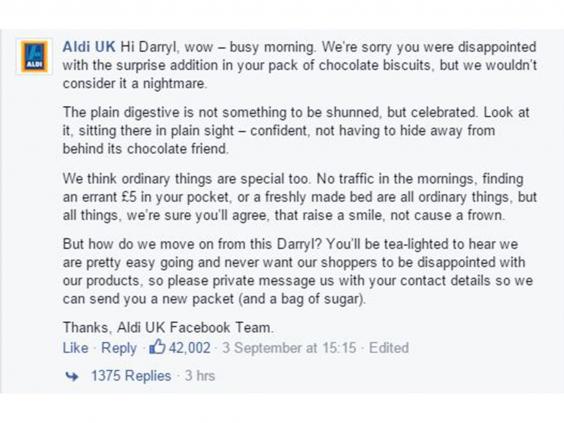 For the price of a pack of biscuits, some sugar and a little time coming up with the right response, Aldi bagged itself a whole lot of goodwill – and free advertising.
Reuse content