An effigy of Scotland's First Minister Alex Salmond was allegedly set alight at the UK's biggest bonfire parade last night, after police announced the statues would not be destroyed following complaints.
Two large models of the ex-SNP leader were destined for the annual bonfire parade in the East Sussex town of Lewes, but Sussex Police last night said they had been withdrawn following a backlash on social media.
Each year, a famous person is set alight during the event, with an effigy of German Chancellor Angela Merkel being sacrificed in 2012.
One giant Humpty Dumpty-like model featured Salmond holding a sign reading "45%" – referring to the percentage of Scots who voted for independence, with the Nessie behind him. A separate piece showed him topless and draped in a Union Jack flag, sitting on a bucket of North Sea oil and flashing his pants from under his kilt.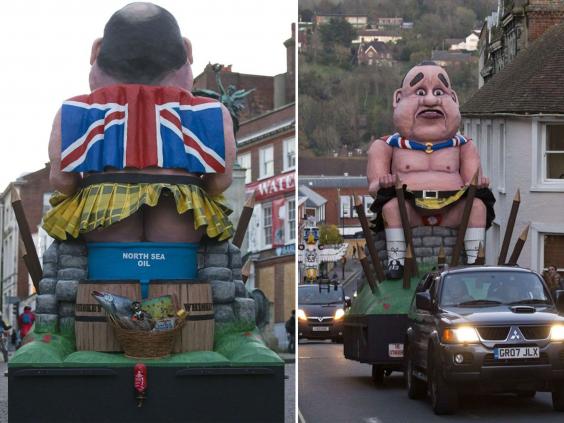 Is burning an effigy of Alex Salmond @EastSussexCC 's way of lovebombing Scotland? #gypes pic.twitter.com/7sLQ2I6RCC

— Kevin Stewart MSP (@KevinStewartMSP) November 5, 2014
Last night, Sussex Police tweeted: "For those enquiring we have been advised that there won't be any burning of the Alex Salmond effigies this evening in Lewes."
Waterloo Bonfire Society, one of the seven organisations which take part in the parade, created the Humpty Dumpty Salmond effigy but said they had "no wish or intention to offend". 
Pictures which appear to have been taken last night show the topless effigy at the centre of a fireworks display, with rockets spinning from the politician's nipples.
Twitter user Michael Story posted the photos, and wrote: "To be absolutely clear: tonight I saw an effigy of Alex Salmond lit by fireworks then blown up at Lewes."
Here's the Alex Salmond effigy ready to be brought to the fire @roreiy #indyref pic.twitter.com/1OesfyZezF

— Michael Story (@MWStory) November 5, 2014
Forgot to mention the bit where Salmond's nipples shot out flames RT @StewartbBrown: pic.twitter.com/ifOO1kb8xZ #indyref #LewesBonfire

— Michael Story (@MWStory) November 6, 2014
To be absolutely clear: tonight I saw an effigy of Alex Salmond lit by fireworks then blown up at Lewes. Before: pic.twitter.com/X09KCZkoWI

— Michael Story (@MWStory) November 6, 2014
Sussex Police is investigating a number of complaints  about the portrayal of Mr Salmond and is "trying to establish whether or not any crime may have been committed".
A spokeswoman for the force said today: "Officers spoke to the bonfire societies on the night to make them aware of the concerns being raised about the effigies of the Scottish First Minister Alex Salmond.
"It was left up to the societies to make a decision about what they did with the effigies."
Television presenter and journalist Piers Morgan tried to soften the blow by tweeting: "Don't take this Lewes bonfire thing too personally AlexSalmond - they burned me too."
Responding to reporters of the effigy last night, Mr Salmond said: "I'm in pretty good company - Angela Merkel got the burning treatment from the East Sussex Conservative council.
"I think their judgment is askew but if they think I'm a threat to the Westminster establishment like Guy Fawkes, they are right," he said.
He added that he was more concerned about Nessie being burned and said it that was "totally outrageous".
Additional reporting by PA
Reuse content