One of the teenage victims of the Alton Towers rollercoaster crash has spoken of the pain of the collision which left him with shattered kneecaps – and the shock when he realised people were taking photographs.
Joe Pugh, 18, broke both knees and lost the use of his finger when The Smiler crashed in June – while his girlfriend, Leah Washington, 17, had to have her left leg amputated above the knee. She also fractured her left hand.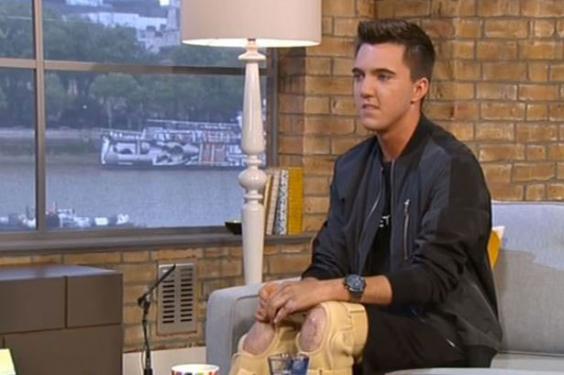 In his first television interview since the crash, he told ITV's This Morning that at the moment of the collision he didn't feel any pain – until he saw people in the crowd nearby taking photographs.
"I could just see this finger bleeding and this finger hanging off. I could just see knees, really," he said.
"I was screaming because I was in pain, but it was more a mental pain than physical. I was just screaming at people to stop taking photographs. It's the day and age we're living in - people just take pictures - but you don't want them taken."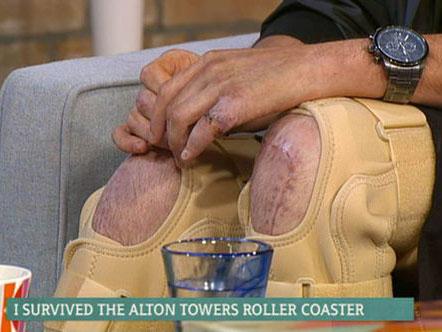 Joe and Leah, who are from Barnsley in South Yorkshire, had only been dating for a month when they went to the theme park, queuing for an hour to get on to The Smiler rollercoaster – which Joe had been on before.
They got on at the front, where staff conducted several safety checks before they began their ride.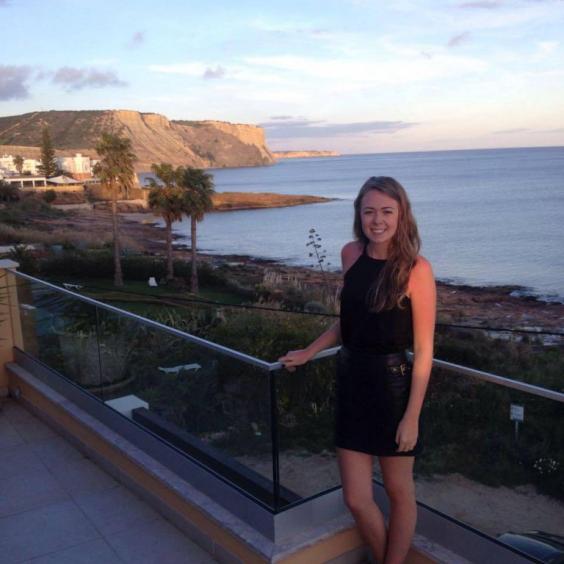 "After the third check they said it was alright to go, but when they got to the top, we were stuck for about 20 minutes. And I said to Leah, "this isn't right, this shouldn't be happening," Joe said.
"Then a voice said over the speaker, "we are going to help you, we are experiencing some technical difficulties. Two minutes later, we just crashed."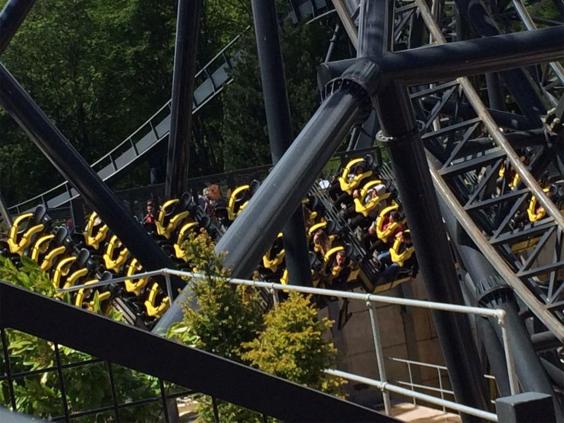 Joe said that in the immediate aftermath of the accident, he had "no idea what had happened". 
"When we went round the first loop I had my hands on the front," he said. "Then I just heard a bang and looked down and I could just see blood spattered on to the carriage. It was horrific."
At that point Joe hadn't realised his girlfriend's injuries were as severe as they were. "All the injuries looked the same," he said.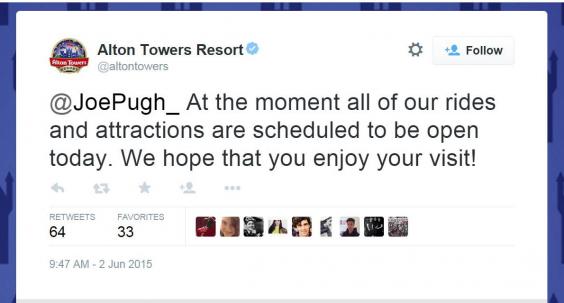 Leah and Joe were on the ride for four-and-a-half hours while emergency services tried to get them down. He said that he couldn't even remember if his girlfriend was conscious for all of that time or not. "It didn't seem that long," he said. "They said it was half-past six, but it felt like 2 o'clock in the afternoon."
When they were finally rescued and attended to by paramedics, Joe told them he didn't want any antibiotics. "I'm petrified of needles," he said. "When I got into the ambulance I just took two Paracetamol."
He admitted that at first, he panicked because he couldn't feel his legs. "When I first went in [to the ambulance], I couldn't feel a thing and I thought, "oh my God, I'm paralysed". But then I felt my toes."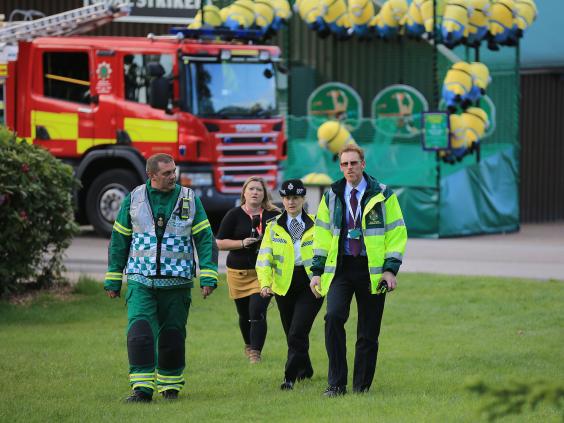 Joe suffered two shattered kneecaps and ligament damage to both his legs. His finger – which he lost – has been reattached and fused into position and will never work again.
But he said he is "determined" to battle a negative prognosis from doctors that he will always struggle with stairs, and will find it tough to travel 40 minutes without stopping. "Yesterday I travelled for three-and-a-half hours and stopped once," he said. "I'm pretty determined."
Incredibly, Joe said that he doesn't feel bitter towards the organisers of the park. "I don't feel angry with Alton Towers," he said. "They've been unreal since the accident – you couldn't thank them enough. When the health and safety checks get released, I might feel a different emotion, but I don't feel angry now because I don't want to blame anyone."
Joe, who is in the middle of university, and had finished studying a month before the accident, said he doesn't even want to delay his studies. "I don't want to take a year out," he said. "I don't want to start again."
And while he said he wanted to "respect Leah's privacy" and not talk about how she felt about her injuries while she wasn't present, he did say that his girlfriend was "doing really well".
Joe walked in to his on-screen interview, though he said that he had arrived at the TV studios in a wheelchair. "I hate using a wheelchair. I don't want any pity," he said. "I like to walk. If I've been out and shopping for half an hour then I've walked, but after that I need my painkillers because I get sore.
"People look at you and smile with a, "I feel sorry for you," smile, but I just want them to say, "How are you?""
Merlin Entertainments, which owns Alton Towers, said in a statement that it accepted "full responsibility" for the crash and it would provide compensation for all 16 people injured.
It also said that the £18m Smiler ride would remain closed "for the foreseeable future", though the park itself is open to visitors. But Joe said he couldn't imagine going back in the near future.
"Maybe in 10 or 15 years I might go back," Joe said, "but at this point, definitely not."
Reuse content