Tesco has become the second retailer to apologise for selling a costume referring to mental health issues, saying it is "really sorry for any offence caused".
The adult bright orange costume was called "Psycho Ward" and had the word "committed" printed on the back.
The supermarket giant Asda were the first to issue an apology this morning for selling a Halloween costume online, billed as "mental patient fancy dress".
The costume, which included clothing covered in mock blood, a mask and imitation meat cleaver, sparked fury after it was spotted on sale.
Asda said it offered "sincere apologies for the offence it has caused". It said it had made a "completely unacceptable" error and would make a "very sizable donation" to Mind, the mental health charity.
A Tesco spokeswoman said: "We're really sorry for any offence this has caused and we are removing this product from sale."
Many took to Twitter to express their disgust at the costume. They included the former footballer Stan Collymore, who had a well-documented battle with depression.
He tweeted: "Dear ASDA, nice stereotype of "Mental patients … Do you actually realise how many people are hanging themselves because of being frightened of the stigma? Wording is CLEAR. MENTAL PATIENT."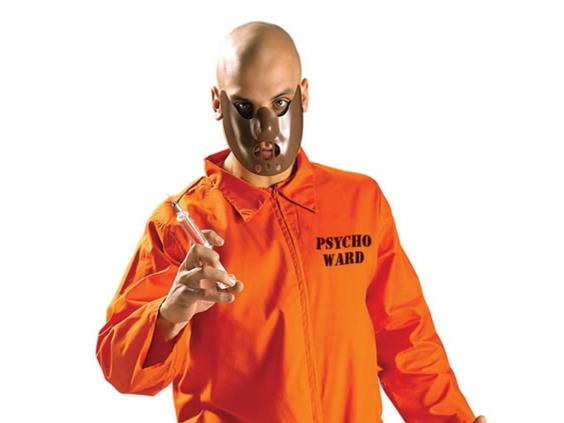 The former Labour spin doctor Alistair Campbell, who has also suffered from the illness, tweeted: "Look what Asda's selling… what possesses these people?"
Katie Dalton of Welsh mental health charity Gofal also wrote on Twitter: "Dear @asda, did you take 1 second to consider how it would affect the 1 in 4 people who experience mental health problems in any given year?"
A statement from the supermarket, owned by Walmart in the US, said: "It should never have been sold and it was withdrawn as soon as it was brought to our attention."
Reuse content