Freshly chalked in block capitals on the blackboard outside, a small but proud symbol of defiance, were the words "WE ARE OPEN".
On the charred floor of the Grand Hall of the Battersea Arts Centre – the venue for early 20th century trade union meetings, for fondly remembered Saturday night dances, boxing nights and Suffragette gatherings – the ravages of Friday night's fire lay in tatters. The building has been a source of civic pride since 1893, the year that what older residents still call Battersea Town Hall was built.
Disaster struck with a decade-long £13.3m restoration of the Grade II* listed building due to finish in 2016 . The Grand Hall had already been almost completely restored to its Victorian glory.
But in this corner of south London it had been decided the show must go on. And so, barely 24 hours after Friday afternoon's devastating fire began, while firefighters were still 'damping down' the Grand Hall and the also damaged Lower Hall, the charity-run centre opened for the performance of two shows.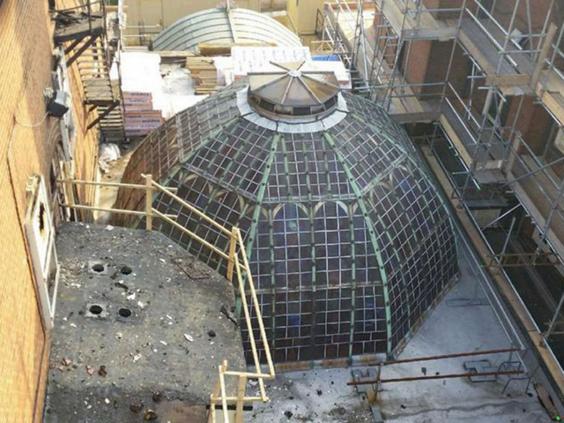 No one had died. The 80 people inside when the fire struck had been evacuated, and thanks to the firefighters, the front two-thirds of the building had been saved. 
Someone even tied a dozen balloons to the blackboard. 
"It is a devastating event," said David Jubb, CEO and artistic director of the centre, snatching five minutes between meetings with fire officers, building contractors and insurers. "But we will create from it. We will prevail.Every single person in this organisation was absolutely determined the show would go on."
It is not the first time the arts centre has faced serious threats to its future. After its days as a town hall ended in 1965, there had been two occasions in the late Sixties and early Seventies when demolition seemed imminent. Both times, local protests stopped the bulldozers. In 2007 Wandsworth Council decided to cut funding and imposed charges of £270,000 a year for rent and running costs. People power reversed that decision too.
It has been called "Britain's most influential theatre" – the place, for example, where the controversial Jerry Springer: The Opera was first unleashed on an unsuspecting public.
Theatre highlights of 2015
Theatre highlights of 2015
1/7 Hamlet - Barbican

The advance sales broke records, but there will be 100 £10 tickets held back for each day's performance of the most hotly anticipated classical production of the year: Benedict Cumberbatch as Shakespeare's brainiest hero, directed by Lyndsey (Chimerica) Turner.

2/7 Bend it Like Beckham - Phoenix Theatre

Gurinder Chadha directs a musical adaptation of her film about a Sikh girl who defies her family for football, scored by Howard Goodall. We're promised a celebratory state-of-the-nation comedy.

3/7 Hard Problem - National Theatre

The Hard Problem is consciousness in Tom Stoppard's first new play for nine years. It's set in a brain science institute and directed  by Nicholas Hytner, who steps down at the National Theatre  after a glorious reign, in April.

NT

4/7 The Hook - Royal & Derngate

To celebrate the Arthur Miller centenary, James Dacre directs a world premiere, adapted by Ron Hutchinson from Miller's FBI-suppressed screenplay about mobsters in the dockyards of 1950s Brooklyn.

Getty Images

5/7 Farinelli and the King - Sam Wanamaker Playhouse

Mark Rylance stars in this fascinating real-life story, dramatised by his wife Claire van Kampen, about Philippe V of Spain and the castrato whose voice cured him of insomnia and despair.

BBC

6/7 Antigone - Barbican and King's Theatre

The visionary Flemish director Ivo van Hove brings us Sophocles's great tragedy in a modern version starring Juliette Binoche.

Reuters

7/7 The Vote -Donmar Warehouse

James Graham aims for a media coup with his drama set in a fictional London polling booth in the last 90 minutes of Election Day 2015. The run culminates in a live broadcast on More4 on the day.

Reuters
Yesterday it felt like much more than a groundbreaking arts venue.In the Scratch Bar, where Mr Jubb was talking, there were fresh daffodils on each table. A staff member had been buying them at Clapham Junction on Saturday, when a passer-by, aware of the fire, insisted on paying for them.
"It is almost like people reacted as if the building were a person, a dear friend," said Mr Jubb.
 The 70-year-old cabbie who brought me to the centre reminisces about dances he attended in the Grand Hall, when he was 16. And on the table opposite Mr Jubb, the memories simply pour out of Olive Goldsmith, 82, and David Bull, 80.
"During the War, I'd come here and queue up for food parcels in the Lower Hall whenever we heard the Yanks had sent some," said Ms Goldsmith, who grew up in the next street to the town hall.
"My father came here for the amateur boxing and his trade union meetings.  You see, we were always a Labour, Socialist borough.  We pioneered working-class people becoming mayors.  When local authorities were run by the middle classes who could afford to take the time off for council meetings, Battersea's mayor was a bus conductor.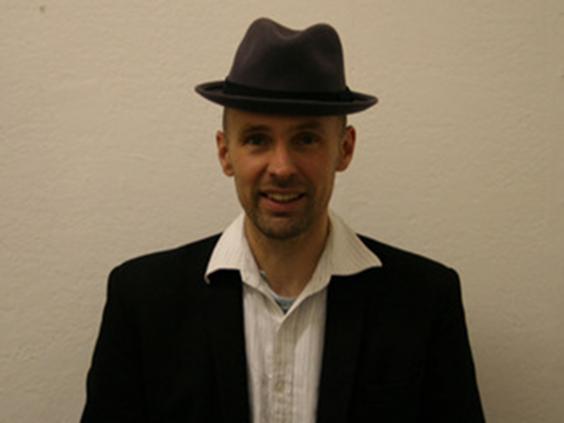 "John Burns, one of the first socialist MPs, was mayor here. And Marie Stopes gave some of her first birth control lectures here – that was controversial in the 1920s. She had cabbages thrown at her…" 
She could also have mentioned how the building was an HQ for trade unionists during the General Strike of 1926, or how Suffragettes Emmeline and Christabel Pankhurst held meetings in the Lower Hall.
Olive and David married after meeting while working in Battersea Borough Council's public health department in 1958. Their duties often took them to the town hall.
They had been "dismayed" by the news of the fire.  Now they were impressed to find business, shepherd's pie and ale served pretty much as usual. It wasn't just those who worked at the centre who were driving such a spirit.
Within 12 hours of the fire becoming public knowledge, an internet fighting fund (don8.to/bac012) had raised £10,000. It was up to £52,000 by yesterday morning.
Staff didn't know whether, in the Lower Hall, the wooden display showing the Battersea Borough motto – non mihi, non tibi, sed nobis, (not for me, not for you, but for us) – had survived.  Clearly, said Mr Jubb, its spirit had. "What is also extraordinary is the sense of hope and optimism here."
The full extent and cost of the damage was still being assessed, he said.  "But in the Grand Hall, the two beautiful gable ends, so symbolic of this building, are still standing. 
"This place will rise from the ashes. It will become stronger."
Reuse content