Belfast is now home to the biggest bridge in the world — made from Meccano, that is.
Engineering students from Queen's University Belfast set the world record for biggest Meccano-based construction with their 100ft bridge crossing the River Lagan.
They used 11,000 pieces of the lightweight metal, and around 70,000 nuts and bolts.
Professor Trevor Whittaker strode across it wearing a harness, as hundreds of people watched on.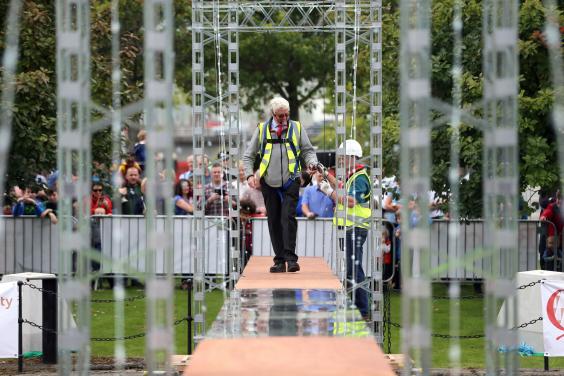 He said: "We are basically training young people, training them to think, training them to dream, but dreaming alone is simply not good enough, you have to take the thing to another stage, you have to deliver at the end of the day."
The year-long Clarendon Dock project was led by Dr Danny McPolin from the school of Planning, Architecture and Civil Engineering and involved a group of third year civil engineering students — plus help from local school children.
Whittaker said many of the young people who had built the bridge had been fascinated by the Meccano toy.
"It is easy to build structures massively strong, with masses of metal in them. Meccano is also metal, it is very light metal, it is a toy.
"A lot of engineers have probably grown to like engineering through playing with toys like Meccano."
The academic, who told onlookers taxpayers had helped fund the project, declared: "What you are investing in is the future of our society, without education, without training young people, without exploiting their talents we simply will not have the structures that we have.
"Something like civil engineering has basically shaped all of civilisation, all society that is around us."
The bridge was then ceremonially opened by Meccano's new Meccanoid Robot.
Reuse content