A strict new regulator will be established in the next 12 months to ensure that crematoria in England and Wales always give bereaved parents their babies' ashes.
More than 700 babies up to six months old had their ashes scattered or buried without their parents' knowledge between 2008 and 2013. In a further 311 cases, no ashes were recovered from the cremation process; the chambers are often ferociously hot when they start up in the mornings, so babies' tiny corpses are often consumed entirely by the flames.
Simon Hughes, the justice minister, has told officials to prepare for a change in the law once a report is published later this month on lost baby ashes at Emstrey crematorium in Shrewsbury.
David Jenkins, who is leading the inquiry, confirmed that he was assessing whether there needed to be a national inspector of crematoria. Scotland has just appointed Robert Swanson, a senior policeman, to become its first inspector of crematoria after a similar scandal and investigation north of the border.
"This is an area of inconsistency between Scotland and England, and so this is one of the things I am looking at," said Mr Jenkins.
Acknowledging that he might no longer be a justice minister after next month's general election, Mr Hughes told civil servants there was likely to be a consultation process and then legislation to create the post.
A national inspector would make sure that crematoria act in accordance with existing rules. It could also insist that babies' remains are guaranteed. For this to be possible babies' cremations may need to take place later in the day when the chambers are not quite so hot.
"I'm very sympathetic to the need to change to a system where in every case of infant deaths ashes are returned to their families," said Mr Hughes.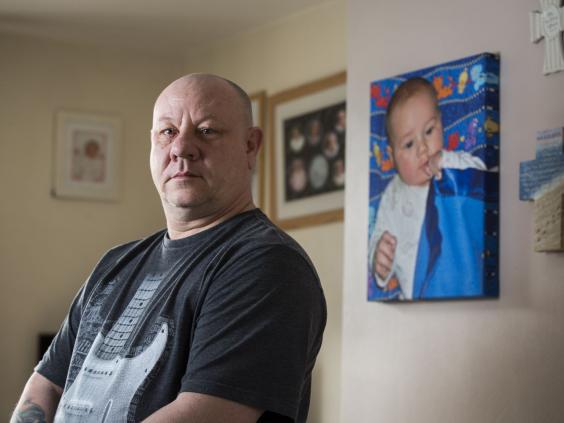 "That is the least people can expect. If we do this through regulations then this could get through in the first year of the next parliament; if primary legislation is necessary there could be a small dedicated bill that goes through in the second half of the parliamentary year.
"I've recommended that me or my successor meet the parents in Shropshire. I'm keen to move quickly and end the risk of this happening again."
Mr Hughes added that the word "ashes" might even have to be redefined in law, to ensure that bodily remains are separated from items like metal.
He added that any changes would have to be made in conjunction with the Department of Health, which is making its own alterations into the way deaths are investigated.
In 2013, about 2,800 children under the age of one died in England and Wales. A further 3,000 babies were stillborn.
Case study: 'My wife didn't want to think of her shut in a box'
Olivia Perkins was giggling before her parents went to bed at their home in Shrewsbury one December night in 2007. The next morning they found their daughter of four and a half months "grey and lifeless". She had suffered sudden infant death syndrome.
Mrs Perkins didn't want a burial. "My wife is claustrophobic, and she didn't want to think of Olivia shut in a little box underground," her husband says, so the couple chose cremation.
Olivia was one of the first of the deceased to be cremated on the morning chosen, and her parents were told there were no remains – a claim they don't believe. Had the cremation not gone ahead as planned, Olivia would have been "left alone in a mortuary over Christmas", a thought the parents could not bear.
Reuse content