An academic who worked for the World Health Organisation killed herself after her husband prevented her from seeing their baby, an inquest has heard.
Felicity Frederiksen, 33, was separated from her daughter after her estranged Danish husband, Henrik, took their daughter, Emilie, to Denmark against her wishes.
An inquest into her death heard that she could not face the prospect of being away from her baby and jumped from a balcony in Copenhagen, leaving suicide notes for her family.
Ms Frederiksen, from Hertfordshire, spoke four languages and was awarded a scholarship to study at Oxford at just 17.
Described by her family as "exceptionally brilliant and talented", she suffered from bipolar disorder, but was said to have been happy until the breakdown of her marriage to Mr Frederiksen.
Senior coroner for Hertfordshire Geoffrey Sullivan told the inquest that Ms Frederiksen's husband had threatened her with legal action to declare her an "incompetent mother", denying access to their child.
The coroner read an email from Ms Frederiksen's father, Oliver Bulmer, which said Mr Frederiksen had "effectively abducted their daughter and coerced her to give up rights to Emilie".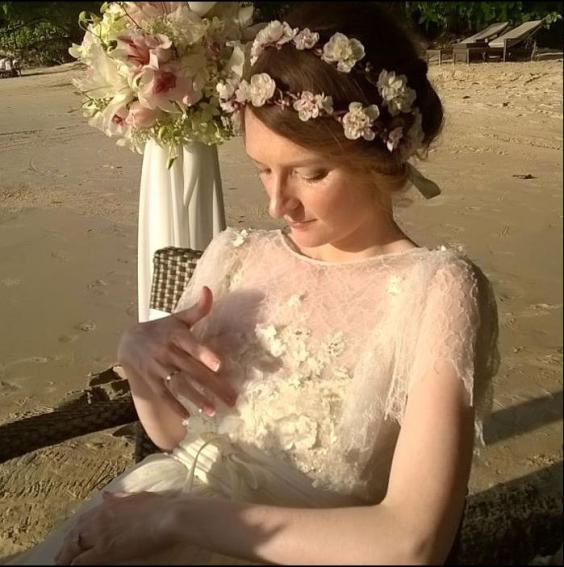 Less than one month before her death, the scholar had posted on Facebook about not being able to see her baby.
She said: "Please come and visit me in Copenhagen this summer as I am so lonely.
"My darling daughter, who has been taken from me, and who I barely get to see, had a bedroom in the flat all ready for her when she is a baby.
"Please help me from wanting to jump off my 8th floor balcony."
She had also described her hopes to stay in Denmark after finishing a period of work, referring to "the country my baby daughter is forced to stay living in".
Ms Frederiksen met her husband via the Tinder dating app while studying in Denmark as part of her sociology PHD at the University of Edinburgh.
UK news in pictures
UK news in pictures
1/19

The Palm House is illuminated as Kew Gardens launch their festive illuminated trail

Getty

2/19

Wolfgang Buttress' Hive Installation is illuminated as Kew Gardens launch their festive illuminated trail

Getty

3/19

The Palm House is illuminated as Kew Gardens launch their festive illuminated trail in London, England. The world-famous Royal Botanic Gardens will be lit by over 60,000 lights and includes eight artworks by British and international artists

Getty

4/19

Launch of the new Design Museum co-hosted by Alexandra Shulman, Sir Terence Conran and Deyan Sudjic in London, United Kingdom

Getty

5/19

Andy Murray of Great Britain lifts the trophy following his victory during the Singles Final against Novak Djokovic of Serbia at the O2 Arena in London, England

Getty

6/19

Storm Angus brought hurricane force winds to southern Britain which brought flooding and power cuts to thousands of homes

Getty

7/19

Mother Jean Leadbeater, father Gordon Leadbeater and sister Kim Leadbeater of late Labour MP Jo Cox, arrive to attend the ongoing trial of Thomas Mair, the man accused of murdering her at the Old Bailey

Getty

8/19

Joe Corre, son of Vivienne Westwood and Malcolm McLaren, burns a God Save The Queen T-Shirt at Buckingham Palace

Getty

9/19

Actor Kevin Spacey and Barcelona footballer Gerard Pique attend the Singles Final between Novak Djokovic of Serbia and Andy Murray of Great Britain at the O2 Arena

Getty

10/19

Queen Elizabeth II lays a wreath during the annual Remembrance Sunday Service at the Cenotaph on Whitehall in London, England

Getty

11/19

The Prince of Wales arrives at the Guards' Chapel in Wellington Barracks, London for a service and to lay a wreath at the Guards' Memorial for the Welsh Guards' Regimental Remembrance Sunday

PA wire

12/19

British Prime Minister Theresa May, Jeremy Corbyn Leader of the Labour Party and Angus Robertson, Deputy Leader of the Scottish National Party with former British Prime Minister's David Cameron, Tony Blair and Sir John Major during the Remembrance Sunday ceremony at the Cenotaph in London, Britain

EPA

13/19

Prime Minister Theresa May, Labour leader Jeremy Corbyn, Liberal Democrats leader Tim Farron, and Westminster Leader of the Scottish National Party Angus Roberston take part in the Remembrance Sunday ceremony at the Cenotaph in Westminster, central London

Reuters

14/19

Veterans wait on Horse Guards Parade for the start of the Remembrance Sunday ceremony at the Cenotaph in Westminster, central London

Reuters

15/19

People across the UK gathered to pay tribute to service personnel who have died during conflicts, as part of the annual Remembrance Sunday ceremonies

ge

16/19

Members of Scotland's armed forces and veterans gather to commemorate and pay respect to the sacrifice of service men and women who fought in the two World Wars and subsequent conflicts in Fort William, Scotland

Getty

17/19

The 689th Lord Mayor of the City of London Andrew Parmley waves from his carriage during The Lord Mayor's Show

Getty

18/19

The Lord Mayor procession passes by St Pauls Cathedral in London

EPA

19/19

Spectators watch as the Lord Mayor of the City of London's carriage arrives outside the Royal Courts of Justice during the Lord Mayor's Show in London, England

Getty
He proposed to her via Skype after she moved back to the UK and was four months pregnant when the pair were married in Malaysia in July 2015.
She had criticised Danish social services for not granting her rights to see Emilie after moving to Copenhagen.
A note she left before her death read: "I am sorry, but life without [my daughter] is too painful. No-one can understand until they have lost a child as I have and been through what I have."
Psychiatrist Dr Mike McPhillips, who had worked with Ms Frederiksen, told the hearing of her "extremely poor self-esteem", noting that she was "extremely passive and submissive in her close relationships".
"She was in isolation in Denmark and having her daughter taken from her, Felicity was clearly a very vulnerable person and in increased risk of suicide.
"I am sorry to note that her marriage was a very unhappy one, the main consolation in it was the birth of her daughter, who she doted on."
A verdict of suicide was given at the inquest, with spinal injuries recorded as the cause of death.
The coroner said: "She was diagnosed really from her teens onwards with depression and poor self-esteem.
"It seems she was in regular contact with her psychiatrist and a very supportive family, who she spoke to regularly, but that in the period leading up to her death her marriage was breaking down and her husband, a Danish national, had taken their daughter to Denmark and was refusing access to her.
"This exacerbated her existing mental health problems, it would seem, leading her to fall from the balcony on her apartment building in Denmark."
Reuse content