A British lorry driver who quit his job to teach English to orphans in Laos has died after mosquito bites on his legs became infected.
David Murray, 39, known as 'Muzz' to friends, contracted typhus and dengue fever while working for the Sae Lao community project in the village of Nathong, in the north of the South-East Asian country.
He was first taken ill on June 5, and died in hospital on June 7, last Sunday, after going into shock, according to his family and friends.
Mr Murray, from Hyndburn, Lancashire, is said to have quit his job as an HGV driver to take up a year-long voluntary placement with Sae Lao, which describes itself as "a community project that aims to improve local lives through sustainable farming and education" .
He had been with the project for three months when he died.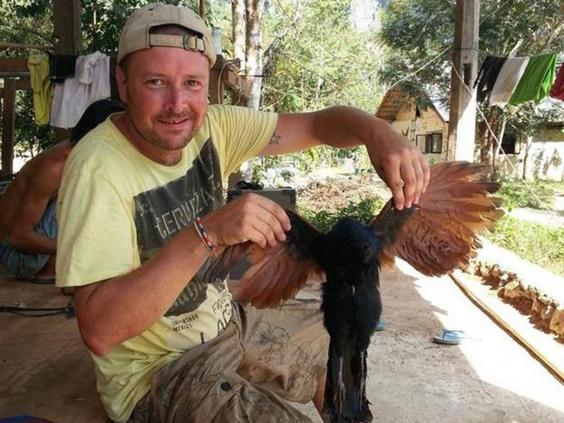 The Lancashire Telegraph reported that Mr Murray's body would be repatriated through Manchester Airport on Wednesday, with a coroner's investigation likely to be launched this week.
Speaking to the paper at their home in Rishton, Lancs., the dead man's parents paid a tearful tribute to their son.
Michael, his father, said: "He was really dedicated. He was giving something back in life, probably more than what we have given back when you think about it.

"He was a saint to the people he was helping in Laos. He was very quiet and did not brag about things, but all this time he has been doing this good work."
His mother Rita added: "We last spoke to him on Skype four days before he died. He was so happy. He had found something good in life, that's our only comfort."
Volunteers at the Sae Lao Project also posted tribute to Mr Murray on the project's Facebook page.
Sengkeo Frichitthavong, founder of the project, posted a detailed account of what happened to Mr Murray after he fell ill. Mr Murray "had some wounds on his legs from mosquito bites that he scratched and they got infected," Mr Frichitthavong wrote.
He was taken to hospital and given medicine before his health deteriorated further and blood tests showed he had typhoid, caused by Rickettsia bacteria, and dengue fever. he was transferred to Mahosot Hospital in Vientiane, where he died from shock surrounded by his friends and fellow volunteers.
Mr Frichitthavong wrote: "What we all would like to remember is that David had been so generous and caring for the three brothers, Khae, Home and Siangnoy, as well as for everybody else at Sae Lao and in Nathong.
"The week before it happened, he gave an amazing karaoke concert when Sae Lao opened its doors to the Nathong villagers."
Reuse content