The officer class of the British military is becoming more white-dominated despite repeated calls from senior figures to boost the numbers of black, Asian and minority ethnic (BAME) recruits. The numbers of non-white officers has fallen by 16 per cent since 2009, official data shows, down from 750 to 630 now.
Even taking into account the overall drop in the size of the armed forces in recent years, the figures still represent an eight per cent fall in black and minority ethnic officers in the space of six years.
The proportion of officers in the Army, Royal Navy and Royal Air Force who are from BAME backgrounds is now just 2.3 per cent – down from 2.5 per cent in 2009.
It is understood there was not a single BAME candidate among Royal Marine officers passing out last year – while just 20 black and 25 Asian officers serve in the Royal Navy, out of a total of around 7,000. Of the army's 13,000 officers, only 100 are Asian and 60 are black. And of the RAF's 8,000 officers, 45 are Asian and 30 black. Around 45 per cent of BAME officers are mixed race. 
The Equalities and Human Rights Commission told The Independent that the racial mix of the British military's leading recruits needs to change and become more representative of the overall population – and fits in with research showing that BAME people are more likely to be disadvantaged in many trades and professions.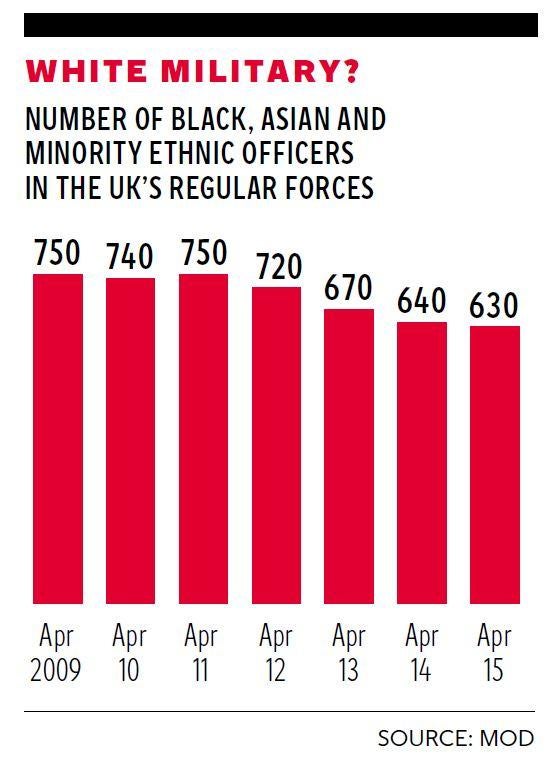 "It is very disappointing that in Britain today there are so few black and Asian men and women serving in the British armed forces," said Rebecca Hilsenrath, the organisation's chief executive.
"We know from our recently published review of equality and human rights in Britain that, despite improvements in educational attainment, people from almost every ethnic minority group experience higher rates of unemployment and receive lower pay than white workers." 
One British-Pakistani former officer applicant recalled a lack of enthusiasm from teachers and cadet officers while he was at school. "There was a great deal of enthusiasm for one of my white British colleagues when he expressed interest in the officer bursary that I did not receive," said the 22-year-old, who did not want to be named. "He was rigorously prepared for the interview and fitness tests, so he knew exactly what to expect. I was not, so I was left in a much weaker position. Unsurprisingly, he passed and I didn't."
A new five-year residence requirement for Commonwealth military applicants has also been blamed for decreasing BAME representation.
Serving BAME officers spoke to The Independent about why they felt BAME people remained underrepresented. Captain Naveed Muhammad, careers officer at 37 Signal Regiment, noted the impact of recent conflicts on recruitment.
"I don't think we should be any doubt that Iraq and Afghanistan were difficult campaigns for society at large or for the Army," he said.
"I've been at engagements where people have said, we don't agree with what the army is doing in Afghanistan, and you're part of that. Therefore we don't agree you should be in the Army." 
Lieutenant-Colonel Nathan Sempala-Ntege, commanding officer of 32 Regiment, Royal Artillery, said: "People in communities where there isn't a history of people going into the Army, might just not have considered it, or might be put off by stereotypes of what they think Army officers are like."
The Defence Secretary, Michael Fallon, announced last September that the Army, Navy and Air Force will have to hire 30 per cent more recruits from an ethnic minority background by the end of the decade.
A Ministry of Defence  spokesman said: "This issue is a priority for the MoD and we will do everything possible to increase the number of new recruits from minority communities."
Reuse content