An apparent anti-EU activist has been filmed spectacularly failing to set fire to a European flag after a rant about "forced mass immigration" eroding British identity.
The man, believed to be a white nationalist affiliated with far-right group the Bolton North West Infidels, posed in front of the flag wearing a balaclava before launching into his speech.
"The European Union is corrupt to the core," he said. "It's here to take away our nationality, our identity, our free speech and our sovereignty.
"Its forced mass immigration is genocide on the British people. Its main aim is to wipe us and our country out. We want no part of it. Get us out now."
Exclaiming "keep Britain British! Rule Britannia!" the man proceeded to attempt to set the flag alight with a cigarette lighter.
But he appears to have forgotten European fire safety regulations and was quickly thwarted by the fire-retardant flag as the flames quickly flickered out.
Undeterred, the man turned back to the flag and attempted to light it again as it remained draped over a wooden fence.
The painstaking efforts continued for two minutes, with the video eventually stopping when a small part of one corner had burnt off.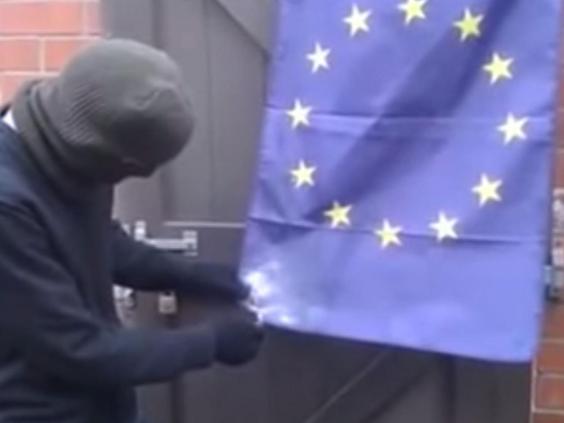 The video was initially posted on the Facebook page of the Bolton North West Infidels this week, but was quickly deleted. Its authenticity could not be confirmed.
The group describes itself as the "voice of white nationalists in the North West", adding: "We will stand with anyone willing to fight the enemies of Britain and for the rights of its indigenous people.
"We are against Islamic jihad, the Islamic takeover of parts of the UK, militant Irish republicanism, Zionism, Immigration, EU membership, Multiculturalism, Communism and the militant left (all sic)."
21 maps and charts which will challenge perceptions of Europe
21 maps and charts which will challenge perceptions of Europe
1/21

Portugal drinks more wine than France

Tindo - Fotolia

2/21

Young Italians, by some distance, are the most likely to live at home with their parents

3/21

Britain is on course to overtake Germany as Europe's most populated country

4/21

Greek workers work the longest hours in the EU

5/21

Estonia has, per capita, more drug-related deaths than anyone else

6/21

The fastest download speeds are to be found in Romania

7/21

Slovenia, Malta and Poland have the smallest gender pay gaps

8/21

France hates its leader more than other European countries

9/21

Eastern and Western Europe are very divided on the issue of gay marriage

10/21

Germany has the most millionaires

11/21

Everyone likes Christmas, apart from France

12/21

Germany accepts by far the most asylum applications

13/21

The UK and France have some of the most positive views of Muslim people

14/21

Europe's largest Muslim population is in Germany

15/21

Danes are the most trusting Europeans, and Cypriots the least

16/21

Finland has the worst economy in the EU

17/21

Italy has cut back its military spending more than any other major European Nato member

18/21

Everyone is sad about the refugee crisis

19/21

People in Spain are also the most likely to live in flats (Brits are most likely to live in houses)

20/21

Spain is the most likely to feel neighbourly

21/21

Luxembourg is home to the highest proportion of foreign nationals
By the time the video was deleted anti-fascist activists had already picked it up and it was shared by the "Exposing racism and intolerance online" group.
One member dubbed it a "NWI public safety film on how EU consumer laws on fire retardant flags are keeping us safe".
Since being picked up by campaign group Hope Not Hate, which labelled the man a "British Nazi", it has been viewed hundreds of thousands of times, sparking countless parodies.
The unidentified man has become known as "Balaclava Flag Gimp" among anti-fascist groups.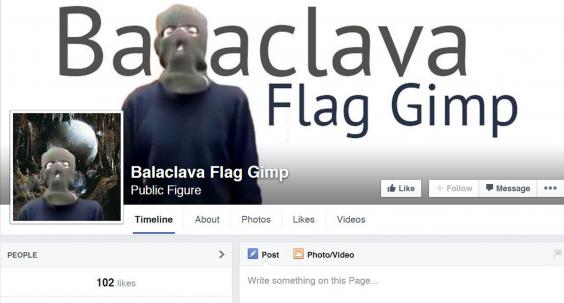 A Facebook page naming him as a "public figure" has been created in his honour to "celebrate the joy" his video brings.
The page has brought together numerous memes and mash-ups featuring the video, including edits mixing in scenes from The Hunger Games and songs including "Burn" by Ellie Goulding and "Firestarter" by The Prodigy.
Other people attempting to burn the European Union flag have had more success.
An unidentified woman set a makeshift flag, made of paper, alight outside the Conservative Party conference in Birmingham last year.
She held the burning symbol aloft in front of television cameras before being led away by security.
Reuse content