The British Red Cross has launched a major fundraising appeal, after the heart-breaking image of a drowned Syrian child prompted thousands of people to contact the charity to help combat the refugee crisis.
The appeal will support the Red Cross's work with refugees and asylum seekers, both in the UK and overseas in countries along the routes refugees are fleeing towards Europe.
It will aim to urgently help "desperate families who have no choice but to risk their lives to flee war and persecution" by providing food, water and medical care.
Money raised from the appeal will be spent by the British Red Cross but also provide equipment to Italian Red Cross doctors, nurses and ambulance staff who are on 24-hour standby to provide medical assistance to refugees arriving in the main ports of southern Italy.
Alex Fraser, head of refugee services for the British Red Cross, said:"As part of a global movement which works with refugees and asylum seekers around the world, the British Red Cross believes the best way to reduce the number of people driven to make the dangerous journey across the Mediterranean Sea (which for many, will continue across Europe) is to offer more safe and legal routes to protection."
"It is time that Europe as a whole accepts this refugee crisis for what it is: a humanitarian disaster on a scale unseen since the Second World War. Responsibility to provide humanitarian support and a place of safety for people fleeing from conflict and persecution must be shared across Europe and we would like to see the UK lead by example by doing its part."
The British Red Cross appeal came as aid charities across Britain said they were inundated with offers of help from the public. Grass-roots groups were also springing up across the country. They included a community group in Folkestone which has raised more than £3,000 to buy blankets for refugees and migrants in Calais and pensioners in Dorset who have offered their spare rooms to refugees.
Mark Goldring, Oxfam GB's chief executive said: "The UK public has been shocked by the suffering of people who have been forced to flee from terrible danger. While the UK government has been generous in providing needed aid to those affected, this must be a wake-up to call welcome the country's fair share of people who desperately need our help."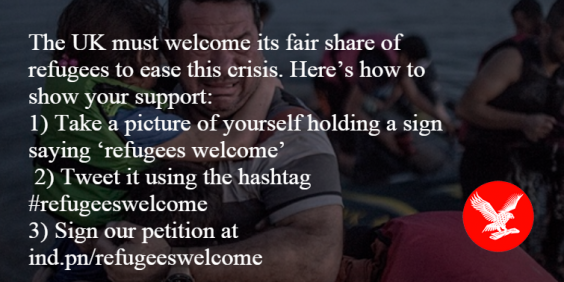 Click here to sign The Independent's petition
Reuse content