Fourteen teenagers have arrived in the UK from Calais as a fast-track system was launched to transfer youngsters from the "Jungle" camp before it is demolished.
The Home Office confirmed a group of vulnerable children, aged 14 to 17, were transferred to Britain on Monday morning.
A spokesman for the department said: "This is the start of the process to transfer as many eligible children as possible before the start of the clearance, as the Home Secretary set out in Parliament."
The young people will be assessed and screened and may be cared for in specialist temporary accommodation for a short period before they are reunited with their loved ones, the Home Office said.
The arrival of the group, made up of youngsters who are said to originate from a variety of war-ravaged countries, including Syria and Sudan, has been welcomed by charities and faith leaders.
One man, who said his younger brother was among the refugees who had come over on Monday, spoke of his relief and joy at the prospect of being reunited with him after more than a decade.
Asif Khan, a 25-year-old chef who has been living in the UK for 11 years having fled Afghanistan, said his brother, Aimal Khan, 14, had been stranded in the Jungle for six months.
Speaking outside the Home Office building in Croydon he told the Press Association: "I really appreciate this. My brother was in Calais for the last six months.
"It was a blessing to receive him from there - I'm really happy.
"His journey was so difficult, it was by walking, by bus to Calais. He gets a new life now, because there are many people who died in Calais."
Dozens more children are expected to arrive this week after a team of British officials were sent to Calais to help French authorities speed up the transfer of minors ahead of the dismantling of the Jungle.
Campaigners including Citizens UK, which said it has reunited 60 children from Calais with relatives in Britain since March, claim to have identified hundreds of children in the camp who have a right to come to the UK – either because they have family ties here under the so-called Dublin regulations, or through the Dubs amendment.
Lord Dubs, whose amendment to the Immigration Act 2016 requires the Government to relocate unaccompanied refugee children from Europe, said: "In the coming days, Citizens UK's Safe Passage team will be working round the clock to ensure that all children with a legal right to sanctuary in the UK are brought to safety.
"This includes the children eligible under the Dubs amendment, for whom there is still no official process in place. No child must be left behind in the chaos of demolition."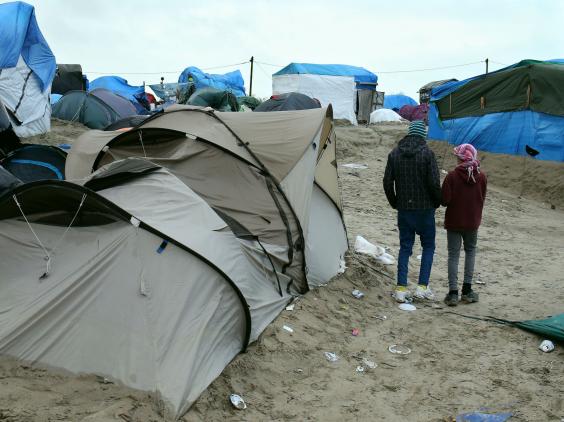 He added: "Looking ahead we must never allow a repeat of Calais. The Government must learn lessons from this situation and realise that it has a duty to make the Dublin mechanism work across Europe, as well as establishing a clear procedure for children without family eligible for sanctuary under the Dubs amendment."
The actress Juliet Stevenson said it was a "proud moment" for Britain, adding that the country had done "the right thing".
Former Archbishop of Canterbury Dr Rowan Williams said he is "delighted" to welcome the children to the UK, but cautioned that this is the first step and more children need help urgently.
UK news in pictures
UK news in pictures
1/20 25 June 2017

More than 100,000 people bowed in prayer in Birmingham's Small Heath park at the start of Eid al-Fitr on Sunday amid heightened security, with armed police present for the first time in the seven-year history of the Celebrate Eid festival

2/20 24 June 2017

Britain's opposition Labour Party leader Jeremy Corbyn addresses revellers from the Pyramid Stage at Worthy Farm in Somerset during the Glastonbury Festival

REUTERS

3/20 23 June 2017

British Prime Minister Theresa May addresses a news conference at the EU summit in Brussels, Belgium, June 23, 2017

Reuters

4/20 22 June 2017

Cosplay fans (L-R) George Massingham, Abbey Forbes and Karolina Goralik travel by tube dressed in Harry Potter themed costumes, after a visit to one the literary franchise's movie filming locations at Leadenhall Market in London, Britain

Reuters

5/20 22 June 2017

Racegoers cheer on their horse on Ladies Day at the Royal Ascot horse racing meet, in Ascot, west of London

Getty

6/20 21 June 2017

A reveller walks among the tipi tents at the Glastonbury Festival of Music and Performing Arts on Worthy Farm near the village of Pilton in Somerset, South West England

Getty

7/20 20 June 2017

A police officer lays some flowers passed over by a member of the public, close to Finsbury Park Mosque in north London, after one man died and eight people were taken to hospital and a person arrested after a rental van struck pedestrian

PA

8/20

The Borough Market bell is seen in Borough Market in central London following its re-opening after the June 3 terror attack

Getty Images

9/20

Two women embrace in Borough Market, which officially re-opens today following the recent attack, in central London

REUTERS/Hannah McKay

10/20

Mayor of London Sadiq Khan attends the re-opening of Borough market in central London following the June 3 terror attack

Getty Images

11/20

People walk through Borough Market in central London following its re-opening after the June 3 terror attack

Getty Images

12/20

News Corp CEO Rupert Murdoch, with one of his daughters, visit Borough Market, which officially re-opened today following the recent attack

REUTERS

13/20

A woman reacts in front of a wall of messages in Borough Market, which officially re-opened today following the recent attack, in central London

REUTERS/Hannah Mckay

14/20

Vivenne Westwood walks the runway at the Vivenne Westwood show during the London Fashion Week Men's June 2017 collections

Getty Images

15/20

Millwall fan and London Bridge hero Roy Larner on 'Good Morning Britain'

Rex

16/20

Richard Arnold, Roy Larner, Piers Morgan and Susanna Reid on 'Good Morning Britain'

Rex

17/20 11 June 2017

England players celebrate after defeating Venezuela 1-0 to win the final of the FIFA U-20 World Cup Korea 2017 at Suwon World Cup Stadium in Suwon, South Korea

AP

18/20 11 June 2017

England players celebrate with the trophy after the final match of the FIFA U-20 World Cup 2017 between Venezuela and England at Suwon World Cup Stadium in Suwon, South Korea

EPA

19/20 11 June 2017

Great Britain's Alistair Brownlee celebrates winning the Elite Men Columbia Threadneedle World Triathlon Leeds

Danny Lawson/PA Wire

20/20 11 June 2017

Two men drink beer outside the Southwark Tavern which reopened for business today next to an entrance to Borough Market which remains closed in London

Getty Images
He said: "We welcome the development. We do want to remind everyone, public and Government, that time is short.
"This is a matter of urgency and we want to see some progress not only on those children who already have the legal right to be here, but on those others who are covered by the Dubs amendment and whose needs can be considered by this country."
The Government has faced criticism over efforts to identify and transfer youngsters through the routes.
Last week Home Secretary Amber Rudd told the Commons that more than 80 unaccompanied children had been accepted for transfer under the Dublin regulation so far this year.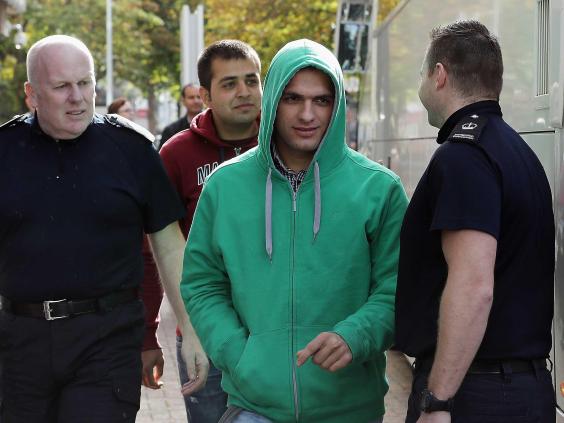 Under the rule, asylum claims must be made in the first safe country a person reaches – but children can have their application transferred to another country if they have family members living there.
The Home Secretary also said that more than 50 children had been taken, largely from Greece, under Lord Dubs' amendment to the Immigration Act.
Press Association
Reuse content