Les just wants to get home without being stopped, fined, stabbed or killed. "It is frightening," says this 56-year-old trucker, guiding his huge Scania lorry towards Calais. "I never know what I'll face there. Am I even going to get home?"
His fears are growing as the crisis continues to escalate at the French port. A huge black plume of smoke is hanging in the air, as striking ferry workers burn tyres and block the roads. Lorries are being held in a queue on the approach to the town, with one estimate suggesting it would take up to nine hours to get on to the Eurotunnel freight train yesterday.
Moving slowly – or stopping – makes the trucks a sitting target for the many men and women who hang around the roadside or break into the terminal itself under cover of darkness in the hope of hitching an illegal ride to England.
"They'll try anything," says Les, who crosses the Channel twice a week and has seen migrants jump on to the backs of lorries, try to force open the cab doors, slash their way through the plastic curtains that cover trailers like his, or even risk death under the giant wheels to hang from the chassis. "They are desperate people, you can see that. I do feel sympathy for them. Unfortunately they are putting us in danger, and destroying our livelihoods."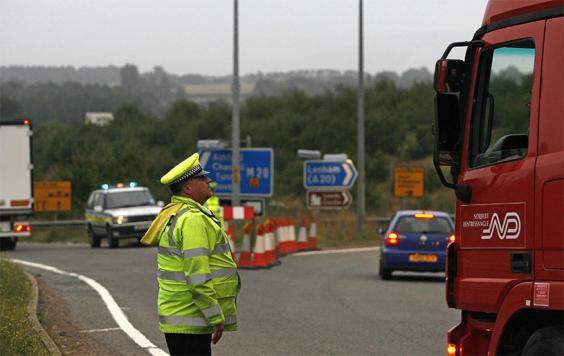 Lately the migrants have been working together in a new way, running down through the terminal in large groups at night to try to board the loaded train at the last moment, as it enters the tunnel.
The truth is that the migrants are far more likely to get hurt. Around 400 of them are known to have made it to England (and been arrested) in the past two months, but nine have died trying. No truckers have died, although Ukip leader Nigel Farage said on Friday: "It is only a matter of time before a British driver gets killed. That's how serious it is."
Les (who doesn't want his surname to be used) is one of many truckers who say their side of the story has been under-reported. "People don't respect truck drivers, they see us as the scum of the earth – but we are risking our lives every time we make this trip, so they can have what they want in the shops."
Les might carry anything from food to medicine to air-conditioning units in his lorry on his weekly trip from Essex to Italy and back. "The other day I had seven pallets of books about Maserati cars, coming back to England."
That's not worth risking injury for, surely? "My lorry is my baby. I don't want anything to happen to it," says this small, portly, dapper man in a grey Fred Perry shirt and shorts, with closely cropped hair. "If I am parked up with goods on board at night I don't sleep well, it's my duty to look after the trailer. But what can you do if they are mob-handed?"
The French police have been overwhelmed at the tunnel, leading haulage companies to demand that David Cameron tells the European Union to force France to send in soldiers. Les agrees, but in truth his troubles begin long before he even gets to Calais.
In pictures: Calais strikes
In pictures: Calais strikes
1/8 Calais strikes

Employees of the MyFerrylink company stage a protest by blocking the A16 highway with a tyre fire in Calais

2/8 Calais strikes

The power struggle between the employees of SeaFrance, owner of the ferry company MyFerrylink, and the owners of the their ships, Eurotunnel, continued with the 2-hour block to the access tunnels under the English Channel by the employees

3/8 Calais strikes

An employee of the MyFerrylink company walks next to the burning tyres

4/8 Calais strikes

Ferry workers block carriageways at the Channel Tunnel junction

5/8 Calais strikes

Employees of the MyFerrylink protest by blocking access to the tunnels under the English Channel

6/8 Calais strikes

Participants of the protest set fire to the tyres

7/8 Calais strikes

Lorries and cars queue on A16 motorway close to the Channel Tunnel terminal access in Calais

8/8 Calais strikes

The Calais ferry workers' dispute had fallen silent during round-table talks between the French government, Eurotunnel and a small local seamen's union and workers' cooperative
Drivers are being told to rest up and refuel in advance so that they can drive the last few hours to the port non-stop, with less chance of stowaways. But the more sophisticated migrants are meeting them at truck rest areas in Belgium. "A friend of mine got gashed in Belgium when he tried to stop them interfering with his trailer," says Les, meaning that his friend was cut with a knife. "Human nature is to get out and defend your truck, but you never know what is going to happen to you."
Les's 620 Scania truck pulls a 45ft Euroliner trailer which has a tough plasticised canvas covering called a curtain, rather than hard sides or a roof. He has seen migrants climb on to the canopy of a petrol station and jump down on to the roof of a trailer like his, slashing it open with sharp knives and lowering themselves in. Others come with equipment that suggests they are part of people-smuggling gangs rather than acting alone, including heavy-duty bolt cutters.
"I know of one trailer where they cut the security cord on the front, and got people in while the driver was asleep then used a heat sealer to put it back together again so you couldn't see what had been done."
There are dire consequences for drivers who get caught with migrants on their lorries, including a fine of £2,000 a person, whether they knew they were there or not.
His boss, Rob Hollyman, managing director of Youngs Transportation and Logistics of Essex, says whole loads can also be lost if there is damage to the trailer. "We're shipping out anything from food stuffs to medicines, but even if the food is untouched, if these Herberts manage to slash the sides, the whole lot has to be condemned."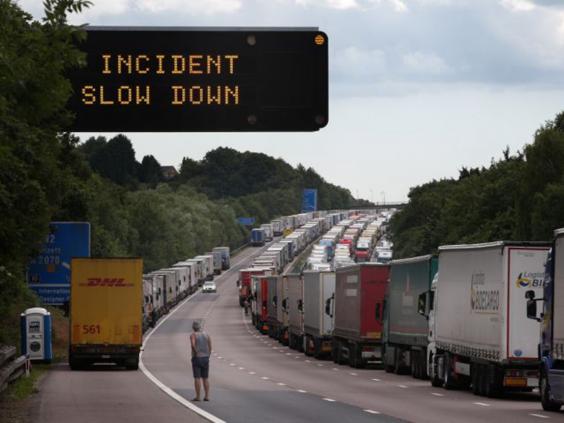 The company is losing £5,000 a week because of the delays on both sides of the Channel, he says. Experts estimate the crisis has cost British business £250m so far. Contrary to reports, however, this is not all the fault of the migrants.
"There has been a perfect storm," says Donald Armour of the Freight Transport Association, identifying four reasons why Calais has crashed. The first is the collapse of the company MyFerryLink, reducing the services available from the port. This has led to former workers protesting at Calais, occupying ships and blocking the roads and causing chaos just at the time when holidaymakers are trying to travel.
The fourth element is that with the authorities overstretched, migrants have suddenly begun  working together as a mass – or a "swarm" as the Prime Minister so dismissively put it – at the mouth of the tunnel. "None of these things are going to go away quickly," admits  Mr Armour. "This is likely to go on all summer."
Mr Hollyman says the French authorities are at fault for allowing migrants to gather as they do. "The drivers are in very real danger and cannot exit their vehicles for fear of being attacked. There is blatant organised crime prevailing in Calais."
The approach to the terminal at Calais unsettles Les. "There are always a lot of people around the lake area there, waiting for you to slow down so they can try their luck."
The worst is yet to come, but first the trucks enter the compound and go through a series of security checks, passing by what looks like a solar panel. It's actually a Passive Millimetre Wave Scanner, which can spot bodies in with the cargo.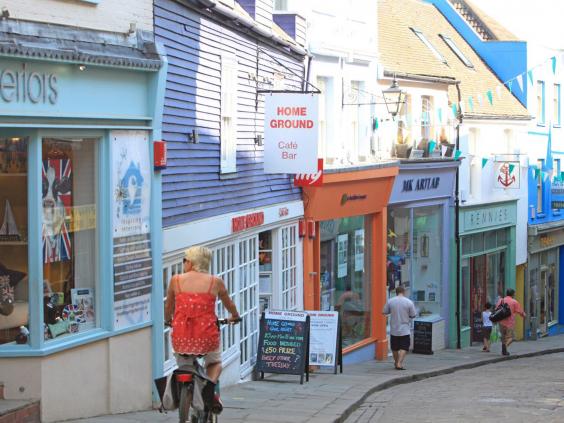 French officials in hi-vis vests also use a handheld carbon dioxide scanner to search for traces of human breath. "They stick a little rod up the side of the trailer so they can see if there is anyone inside," says Les. "I always get it done." French customs officers search for drugs, explosives, guns and anything else that is banned. British passport control and a customs check follow.
"Most trucks have the sniffer dog walk around them there, but a lot of the box vehicles are not being checked," says Les. He means the lorries that have solid sides and a roof, and just two locked doors at the back. "Because there is a seal on the door, they are not bothering to check." But he knows of an Italian lorry that made it all the way to England with a seal apparently intact, only to spill migrants when the door was opened at the depot. "They should be checking every vehicle that comes into our country."
The lengthy process gives him plenty of time to think about the tourists hassled by would-be stowaways as they queue for trains and ferries. "I feel sorry for all them poor people in their cars with their families. We're up in a truck, we can lock the doors, but what are those kids going through? It must be frightening for them. They don't know what the hell is going on."
His sympathy is limited, however. "It's summer. The truck drivers get parked to one side. The tourists are sent through. Every year it's the same. When summer comes I just sit in queues."
The Scania cab is a comfortable place to wait, with black leather seats and even a 24in flat screen television so that he can watch DVDs while in bed in the back. "Not being horrible to my missus, but I get a better sleep in the truck. There are all sorts of noises you hear when you're at home in bed that you don't get in here." They have been a couple for 39 years, but for most of that time he has been on the road. "That's why we are still together," he says, laughing.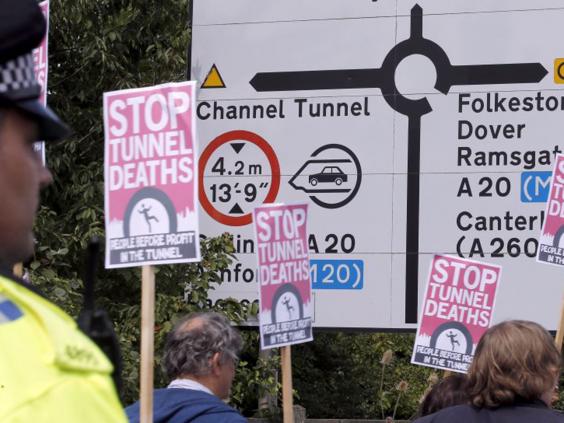 Les leaves Essex on a Tuesday night and usually gets home again on Saturday. The Scania was registered in 2007 and he bought it last year for £32,000. A new one would cost £100,000. "There's about £500 profit a week."
The cab is high and secure, but some drivers run straps from door to door inside so they can't be pulled open. The final – and greatest – challenge comes at the last moment before departure. The gates of the compound are opened and the lorries drive in a slow convoy down to the platform, then on to the train.
The drivers jump down from their cabs, check their trailers and get on a bus that will take them to a carriage at the front. But as the train moves off, the migrants run alongside and attempt to jump on board, in groups of a dozen or 20, in their hundreds.
"That's where you need the army," says Les, dreading the confrontation that is coming once more, even as he drives towards it. "That tunnel needs protecting. They are attacking the train. They are playing with their lives – and ours."
Reuse content