There is so little traffic noise inside Smithy Wood that it would be easy to forget that, in places, you are only a few metres from the six lanes of the M1. Oblivious to the motorway, visitors are drawn to the gnarly oak trees of this 12th-century woodland near Sheffield.
Since monks from Kirkstead Abbey first recorded their coppicing of the wood for charcoal, in 1161, the oaks, elms and sycamore of Smithy Wood have survived nearby open-cast mining, coking plants and the arrival of the M1. But now they face their most serious threat: an application to build a motorway service station right in their midst.
If Extra Motorway Services gets the go-ahead, it plans to spend £40m on a petrol station, shops, food court, 80-bedroom hotel and parking for more than 600 vehicles. More than half of the 20-acre ancient wood would be lost for ever.
This week, though, residents of the nearby Cowley estate will ask a Sheffield City Council planning meeting to protect the wood as a village green.
"It shouldn't be too difficult, in principle. We just need to show that local residents have used these woods for at least 20 years," said Jean Howe, chairwoman of Cowley Residents Action Group (Crag). "We have members who have been walking here for more than 60 years, and most of us come down here two or three times a week – but I'm still not looking forward to the meeting. This is a David versus Goliath battle for us. We are up against big money and lawyers."
If the group is successful, Extra would have to prove that "very special circumstances" exist to allow for development.
Without a country pub or stretch of grass, Smithy Wood certainly doesn't look like a village green, but Crag just has to prove that the wood has been used for "lawful sports and pastimes" for at least 20 years. It is an argument that was used successfully by the residents of Thorn Quay in Essex earlier this year to have a 6ft metal fence taken down, restoring their access to the banks of the river Stour.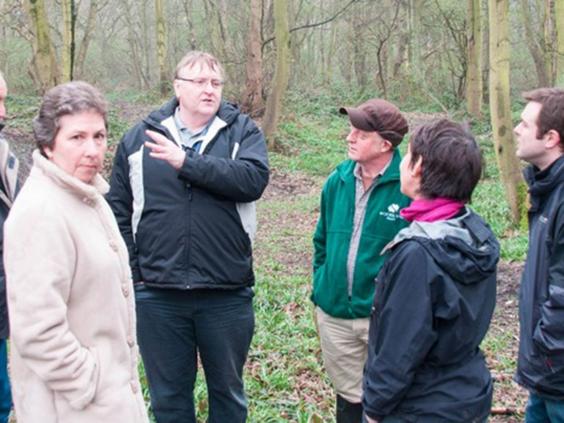 If the group fails, it is still possible that the council may refuse the planning application on other grounds, but Smithy Wood is not the only ancient woodland under threat. According to new figures released today by the Woodland Trust, it is among more than 470 ancient and "irreplaceable" woodlands in Britain "under threat of development".
"It's sad that this community is having to resort to the language of the village green and the Home Counties to save Smithy Wood," said Austin Brady, director of conservation at the charity. "We should start from the premise that ancient woodland is protected."
To the dismay of campaigners, ancient woodlands can be built over thanks to an "incredible loophole" in the National Planning Policy Framework, which says that development can be allowed if it "clearly outweighs the loss".
"This government said it would be the greenest government ever, but this loophole is an example of how it has failed to live up to that early promise. Our ancient woodland is at risk and is seen as an easy target by developers," said Mr Brady.
"Once a habit like Smithy Wood disappears, it is gone for ever. You simply cannot bring them back or reproduce centuries of accumulated human and natural history."
Extra Motorway Services declined to comment, but it has previously said that its scheme would create 350 jobs and promised to plant 60,000 new trees on 39 acres of land near by. However, this promise is seen by campaigners as an attempt to take advantage of a proposed biodiversity offsetting scheme.
Announced by the Department for Environment, Food and Rural Affairs earlier this year, this would permit firms to offset developments by planting new green spaces. The policy is still at a consultation stage.
Mr Brady said of it: "There are no guidelines for how it would work and the truth is that it's just another way of saying a developer is going to trash ancient, irreplaceable woodland and stick up a few trees somewhere else. My fear is that planning authorities may fall for this."
Back at Smithy Wood, Geoff Driver, 75, is worried: "I've been walking here since I was a child. I came here as a Scout, and then came here as a teenager, doing all the things I'm sure teenagers still do when they mess about in woods. I've seen it nibbled away at by developers throughout my lifetime, and sliced in half by the motorway. It would be criminal to see the last of it go now."
A government spokesperson said: "Ancient woodlands are safeguarded and long-standing national planning policy is very clear that development should be avoided."