When David Cameron briefly interrupted his holiday in Cornwall to take charge of the fallout from the murder of James Foley, one of his first tasks was to chair a briefing with police chiefs, the intelligence agencies and the heads of Armed Forces.
According to a Downing Street source, the Prime Minister asked his security team whether there was any new power they needed to combat the threat that Islamist extremism posed to this country. The answer was no.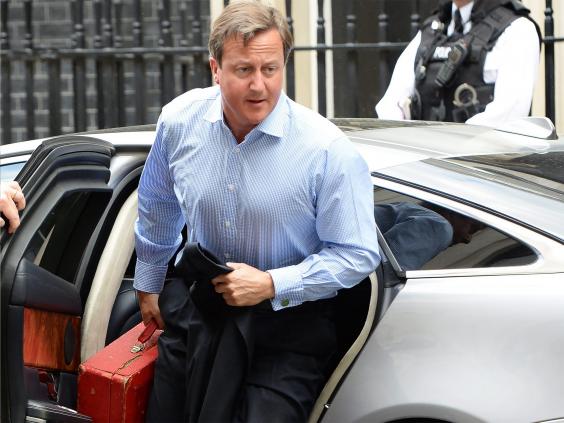 Doubtless Mr Cameron made the offer as he shared the horrors of the public, appalled at the video of a British citizen seemingly decapitating the American journalist somewhere near the Syrian city of Raqqa.
Since the act was broadcast on YouTube, much has been made of the startling figures that place the UK indisputably at the centre of the global battle against Islamist terrorists.
Some 500 Britons are believed to have travelled to Syria and Iraq to join the Isis militants, who call themselves Islamic State – the group which murdered Mr Foley and has killed thousands of other Muslims since they took control of swathes of the two countries earlier this year.
Some believe the numbers to be much higher – and intelligence sources warn more than 200 have already returned to the UK. Only yesterday, an alleged extremist, Asim Ali, from Southall, west London, appeared at the Old Bailey accused of bankrolling jihadists in Syria.
So why do so many disaffected members of Britain's Muslim communities turn to violence? Dr Afzal Ashraf, a consultant at the Royal United Services Institute, points to a historic policy of allowing troublemakers to seek political asylum.
He said: "That has now changed, but the seeds were sown in the late 1980s and 1990s. Some of these were influenced by what they called jihad from Afghanistan, Chechnya and Bosnia.
"We also have significant historical links to Pakistan and Bangladesh, where people have been influenced by the extreme interpretations of Islam propagated by certain Middle East countries. For many years, we were not strong enough in confronting this and allowed the contamination of some of our communities through what I would call 'poor ideological hygiene'."
Despite this, Dr Ashraf believes much progress has been made. The Home Secretary Theresa May has had some success in preventing firebrand clerics from entering the country – and ejecting those already here.
She famously won a long-running legal battle to deport Abu Qatada back to Jordan  and campaigned for the Muslim cleric Sheikh Yusuf al-Qaradawi to be excluded from the country after he had been invited to City Hall by the former London Mayor Ken Livingstone.
Home Office officials also point to the work of the Counter Terrorism Internet Referral Unit which, since 2010, has removed more than 47,000 pieces of terrorist-related content from the internet.
However, the constraints of the British legal system have their limits. The Islamic preacher Zakir Naik, who has claimed "every Muslim should be a terrorist", was banned from Britain – but still managed to address the Oxford Union via a video link.
The Conservative MP Julian Lewis, a member of the Intelligence and Security Committee, believes more should be done. "We were not neutral in this country between Nazi doctrine and democracy," he said. "We should not be neutral between Islamist totalitarianism and democracy."
Much attention has focused on the Muslim Brotherhood – the Sunni group whose spiritual leader is Sheikh Qaradawi from Egypt, where the group's political core was overthrown in a military coup against Mohamed Morsi last year. David Cameron criticised the Brotherhood in a speech in 2008 and the organisation is subject to a review by Sir John Jenkins, the ambassador to Saudi Arabia, although he is expected to conclude that it should not be banned.
The Muslim Brotherhood was founded in Egypt in 1928 by a Muslim schoolteacher called Hassan al-Banna, an admirer of Hitler, who translated Mein Kampf into Arabic and called it My Jihad.
In the context of last week's events in Syria and Iraq, some may find the motto on its website offensive: "Allah is our objective. The Prophet is our leader. The Koran is our law. Jihad is our way. Dying in the way of Allah is our highest hope." But the Muslim Brotherhood does not openly advocate violence in the pursuit of its political goals. Nevertheless, some believe the Government is being complacent over its handling of the group.
In a submission to Sir John's review, the counter-extremism think-tank Quilliam Foundation said: "The Brotherhood remains aligned to more violent and extreme Islamist groups; it is only ever in a position to criticise their tactics rather than their goals. This is problematic because extremism cannot be defeated until the end goals of Islamist groups are undermined and discredited." The organisation did not respond to requests for a comment.
However, Dr Afzal believes the Muslim Brotherhood should not be banned. He said: "Until and unless the Muslim Brotherhood breaks British laws, we cannot and we should not proscribe them. We just have to be extremely vigilant to make sure that they and others do not step outside our legal system. After all, we have laws that prevent people advocating hate, or being racist and anti-Semitic."
This view is consistent with the teachings of Professor Paul Wilkinson, widely acknowledged as Britain's foremost expert on terrorism, who died in 2011. After more than 50 years studying the rise of Islamist terrorism, he concluded: "It is possible for democracies to respond effectively to contemporary terrorism without undermining basic civil liberties and the rule of law, and ... the protection of human rights, far from being an obstacle to counter-terrorism, is a vital part of an effective, long-term democratic response."
Dr Afzal is more hopeful than one might think.
"Ninety per cent of their victims are Muslims. Al-Qa'ida, and now Isis, are showing that the destination that political Islamism is heading towards, the core ideas are so bad, that they will ultimately take you completely away from what the religion is supposed to be all about."