Hundreds of Romanian ex-pats were unable to vote in their country's presidential election last night after scenes of chaos outside the country's embassy in London.
Police were called to manage crowds outside the Romanian Cultural Institute in Belgrave Square, the Romanian consulate in High Street Kensington, and the Brent Civic Centre in Wembley.
The buildings were acting as polling stations for Romanians living in Britain, who were entitled to cast their vote on the country's close-fought presidential election yesterday.
An estimated 2,000 voters in London were unable to get inside to cast their votes after people queued for up to ten hours, according to London's Evening Standard newspaper.
Over 40 police were deployed in Belgrave Square. The scenes are a repeat of the chaos in the first round of the presidential vote two weeks ago.
Monica Luisa Macovei, a Romanian MEP who was herself trying to vote in London yesterday, raised the possibility that the obstruction to voting could have been deliberate.
"There are various types of electoral fraud and people not being allowed to get their cast their vote can be one of them," she said. "For this to happen twice in votes is very serious."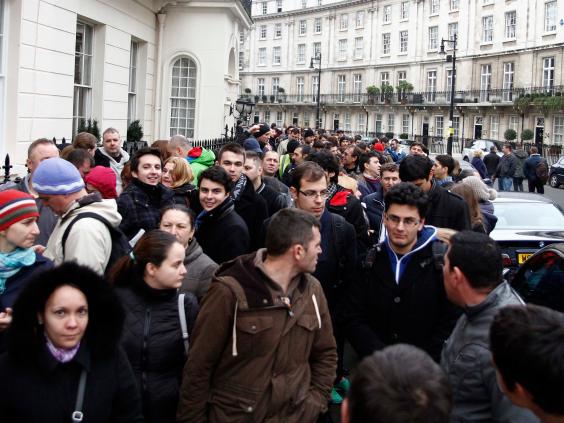 Many people in the queues are reported to have expressed the opinion that the government had engineered the slow process to swing the vote.
The centre-left candidate for the presidency, Victor Ponta, conceded defeat last night at 11pm following exit polls showing his rival Klaus Iohannis had won a slim majority.
Mr Iohannis is the leader of the centre-right National Liberal Party and was running on an anti-corruption ticket.
Mr Ponta is currently the country's prime minister and leads the Social Democratic Party.
Romania's presidency is currently held by Traian Băsescu, who is more closely associated with the centre-right, though he officially governs as an independent.
A spokesperson for the Metropolitan Police said there was no record of any arrests at the incident, and that officers had been deployed as a precaution.
Reuse content