A "child bride" has been shown preparing for her wedding, walking down the aisle and crying in the arms over her adult husband in an unsettling campaign by Unicef.
The United Nations agency is aiming to highlight the terrible reality of child marriage, which affects an estimated 15 million girls every year.
It initially seems to show preparations for a couple's happy day, as the bride-to-be is seen with her back to the camera having her hair and make-up done.
A glimpse of her tiny shoes, a colouring book and teddy bear hint at her true age before her 35-year-old husband lifts the veil to reveal and 11-year-old girl.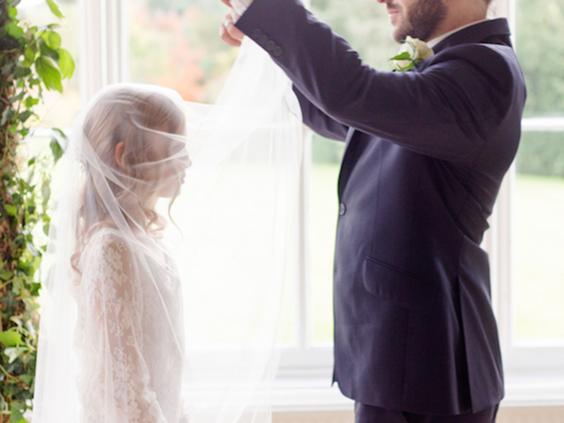 The message "he owns me" is seen on the back of a chair before the video closes with the child crying in her husband's child. 
The Bridal Musings website, which worked on the campaign with Unicef, said it aimed to "spotlight on this grim reality" to mark International Women's Day.
"Weddings are supposed to be joyous and festive occasions, but this one is anything but a fairytale," a spokesperson said.
"About 15 million girls will be married as children this year – their right to a childhood ripped away."
The site said the fictional child bride, Lilly, took the day off school to be married but would not be going back as she tackled the "more pressing matters" of keeping house and rearing children.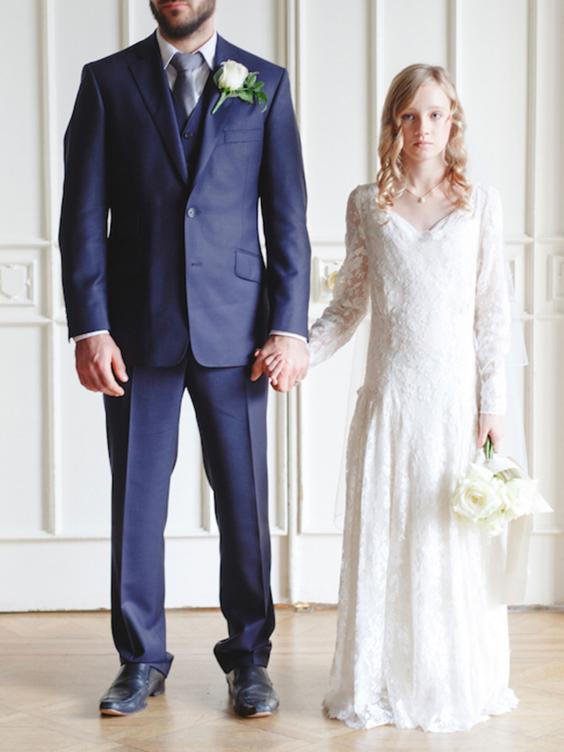 "As wedding bloggers we discuss the love, joy and beauty of weddings on a daily basis but for the millions of young girls who are forced into marriage, a wedding isn't a joyous occasion – it's a violation of their human rights, often marking the end of their education, their dreams for the future and their childhood," it added.
"These children become wives and mothers before they're emotionally or physically ready and without sufficient healthcare provision, complications during pregnancy are all too common, sometimes resulting in the tragic deaths of mothers and babies."
Girls married under the age of 18 are more likely to lack qualifications, experience domestic violence, contract HIV and die of complications during pregnancy and childbirth, according to Unicef.
Meet Thea, Norway's 12-year-old child bride
Meet Thea, Norway's 12-year-old child bride
1/4

A Norwegian campaign highlighting the issue of child marriage has gained global attention after a blog seemingly written by a child bride-to-be went viral

Courtesy of Plan

2/4

The blog, apparently written by 12-year-old girl 'Thea', charts her thoughts and feelings towards her impending marriage to 37-year-old Geir. However, the blog was carefully created by Plan, an international aid organisation working on strengthening the girls' rights, to bring home the issue of child brides

3/4

'Thea' introduces the blog by writing: "My name is Thea and I'm 12 years old and in about one month I will marry," before going on to describe how she is preparing for her nuptials

4/4

Plan's country director Olaf Thommessen expressed how important it was to draw attention to a problem faced by thousands of girls every day. "We really wanted to bring home the issue and by creating a shock factor, we think we have really got peoples' attention" "We have all kinds of people engaging, people who are not usually motivated or involved in these kinds of things – the response has been immense."
The film, entitled "A storybook wedding – except for one thing", was filmed at the grand Nonsuch Mansion in Surrey.
Campaigners said the English countryside setting hoped to make people realise that child marriage is not limited to countries, cultures or religions and affects every region in the world.
"We hope that by casting a bride who may not seem at risk of child marriage and replicating a high-end 'Western' wedding we will provoke conversations on equal rights for girls everywhere," a spokesperson for Unicef said.
"We all agree this video is deeply disturbing, yet 41,000 girls under 18 will be married today - in real life."
The agency has launched a global initiative fighting child marriage, which aims to reach more than 6 million girls in 12 countries where rates of wedding involving under-18s are high.
The UK and EU supported programme aims to increase girls' access to education and health care, educate parents and communities on the dangers of child marriage, increase economic support to families, and strengthen laws enforcing a minimum age of marriage.
"The world has awakened to the damage child marriage causes to individual girls, to their future children, and to their societies," said Unicef Executive Director Anthony Lake.  "This is critical now because if current trends continue, the number of girls and women married as children will reach nearly 1 billion by 2030 – 1 billion childhoods lost, 1 billion futures blighted." 
Reuse content