Sir Chris Hoy has said he fears it could take further deaths on the road before politicians sit up and take action to improve cycling safety.
The six-time Olympic gold medallist said that while Britain was heading in the right direction to reduce dangers any significant change was "not going to be easy" in the current climate.
Almost half the population now own a bike and the surge in cycling's popularity over the last 10 years means more than three million people now cycle at least three times a week while around 750,000 people commute to work on bikes – up from just 90,000 in 2001 according to the most recent census.
One year after retiring from the track, Hoy will be even more responsible for increasing the numbers further having created and established his own range of bikes for children and adults. Speaking exclusively to the Independent on Sunday at Tatton Park in Cheshire as the junior HOY bikes go on sale he said: "There can always be more done to improve safety on the roads. It has become an issue because of the popularity of cycling – in a way it takes headlines and awful accidents to really get the attention of the people that can make these decisions that can improve the environment for cycling.
"I remember (former Olympic champion) Chris Boardman saying change is painful and takes time and it's not going to be an easy process and I think he's absolutely right. To get to the stage where we're like Holland, Denmark or Germany where cycling is integrated into road provision, where there are plans put into place for cycling, where there are bike paths, junctions that are thoughtful for all traffic users, that will take time."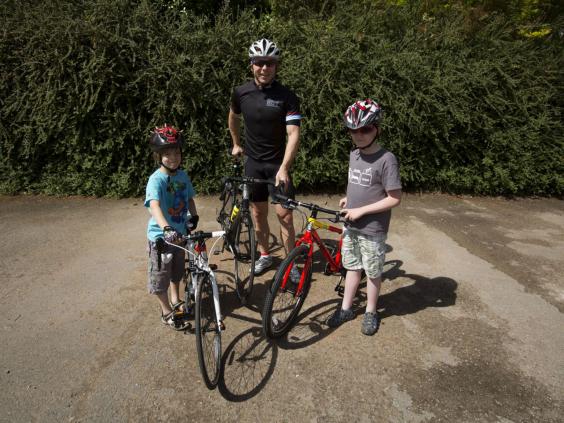 Most recent figures show that in 2012 more than 3,200 cyclists were seriously injured on the road with 122 fatalities, including 13 children, a five-year high. Figures for last year are expected in the coming weeks and cycling safety groups will be hoping Hoy's message resonates in the corridors of power.
He said: "When the people in power realise the benefits of cycling in terms of reducing congestion and improving the health of the nation it seems like an obvious thing to do – but then I'm a cyclist. At the end of the day you want everyone – cyclists and drivers – to get from A to B as safely as possible.
"Just the very fact that it's being discussed in the national press is a good start - we are getting somewhere but there is still a massive way to go. We are a very congested small island, but all the more reason to putting cycling at the forefront. We can reduce the number of other vehicles on the road and get more bikes on the road."
Three years ago during quiet moments at a training camp in Perth, Australia, Hoy first began sketching the ideas for a bike range and business that now takes up so much of his time his wife Sarra has taken year out from the law firm where she specialises in personal injury claims to help run the company.
Having signed a deal with Evans Cycles, Britain's biggest cycling retailer, the couple's hard work and expertise could prove very lucrative: last week Boardman and his business partners shared a multi-million pound pay-out from Halfords after the £20m sale of the bicycle brand he created. Whatever the potential financial temptations on the horizon Hoy has ambitions, much like he fulfilled on the track, to succeed all over the world.
He said: "The business is filling a massive hole in my life – if you don't have something you are passionate about and can get your teeth into when you've been a professional sportsman for a number of years you can struggle. Lots of athletes have talked about that.
"Realistically I'm in this for the long haul. If someone came along and offered you a ridiculous amount of money you'd be stupid not to [think about selling] but then with that you could set up a new business. I like to think in 10 years' time I'll still be doing this and the range will have become one of the biggest brands in the UK and we'll have gone worldwide by that point."
Another new journey he has embarked on surprised many earlier this year when the Scot announced he was joining Nissan to compete in the seven-weekend British GT Championship series this year. He aims to compete in the Le Mans 24-hour race in 2016.
"It definitely helps scratch a slight competitive itch but it's not a replacement for cycling – I take it very seriously in the car but when I'm away from the car I can switch off and relax. With the bike racing it occupies your mind 24/7, your dreams, everything, every decision you make but with the car it's so much fun and an amazing buzz."
Should Hoy need reminding of the need to maintain a ruthless streak in striving for his new goals he need only cast his mind back to the 16 years he spent working with Sir Dave Brailsford, the former British Cycling performance director now Team Sky general manager, who is expected to live up to his reputation later this month when he announces his Tour de France line up. The third of Britain's cycling knights, Bradley Wiggins, is not expected to make the list.
"Everyone's disappointed. Everyone would love to see Bradley racing in the UK in the Tour but I suppose what we don't know is what goes on behind the scene with managers and inter-team relationships. Dave must have decided the best chance of winning the Tour was with someone other than Bradley, which seems amazing when you think about it: how can you leave out someone with his pedigree and performance?
"But there's always method in Dave's madness. It's not to say he couldn't win it with Bradley, absolutely not, all teams would be crying out for someone like Bradley on their team but Dave has made that call with Chris Froome and the team around Chris that he feels can best support him to win the tour. It is a shame for the fans but sport is ruthless. If Chris Froome is in yellow on the last day on the Champs Elyssee I think people will forget that and say it was the right call to make."
The temptation to stay a professional until next month's Commonwealth Games in Glasgow was strong but the Scot realised it would have been too much to ask of his body. Instead the next generation of track stars will race in The Sir Chris Hoy velodrome – Scotland's first indoor cycling arena.
"You normally get these things posthumously so to get it when you're still around," he laughs. Although the journey that made him Britain's most successful Olympian is now over, several new ones are just beginning.