Stop someone in the street and ask them to name something about Slough, and you are likely to hear "David Brent" or a poem describing bombs dropping on it muttered in response.
From today, however, The Office and Sir John Betjeman may not be the only famous associations connected with the Berkshire town as it emerges as a fully fledged eco-warrior.
Around the corner from the trading estate made famous in Ricky Gervais's sitcom lies a rather unique machine that is turning sewage into high-grade phosphorous fertiliser – and its owners claim the giant funnel holds the key to securing future global food supplies.
On the eve of the official launch of the £2m nutrient-recovery reactor, the first of its kind in Europe, The Independent was given a sneak preview of it at Thames Water's sewage treatment works.
Betjeman may have written of "the mess they call a town" in his 10-stanza poem, but it is actually the unique properties of the mess from Slough that is the reason why the fertiliser machine is located here. Thanks to food and pharmaceutical industries nearby – Mars and GlaxoSmithKline are just up the road – Slough sewage, or "the unique vintage of wastewater," as Thames Water put it, is particularly ripe for phosphorus recovery.
Piers Clark, the water company's commercial director and the brains behind the project, beams as we gaze over what can only be described as a steaming pile of sludge. "That is sludge cake," he says proudly. "It's taken away and used as a soil conditioner or landfill and the liquid that comes off the sludge from drying it is then pumped into our reactor to make the crystalline fertiliser pellets."
The reactor itself is housed in what appears to be a giant shed that contains the funnel, or Pearl Reactor to give it its proper name. Ostara, a University of Vancouver spin-out company, is the Canadian firm that makes the machine. Thames Water has an agreement to pay a monthly fee over 20 years for treatment capacity.
After a touch of magnesium is added and the pH adjusted a little, the sludge liquid is pumped into the upflow reactor. White "pearls" are created then harvested and dumped into small vats, and bagged as "Crystal Green".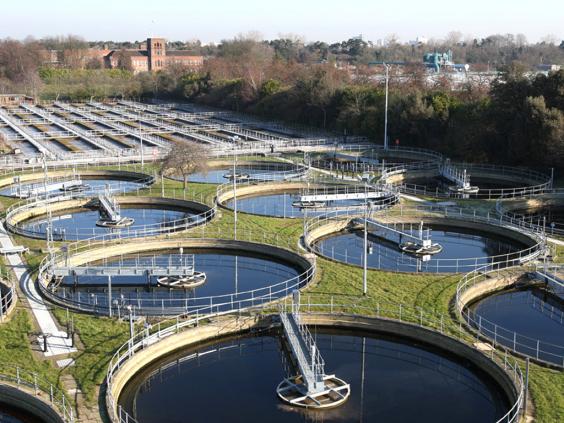 "It's cleaner than anything else on the market," says Mr Clark, thrusting his arm into one large bag to grab some pearls, "and greener, too – without the level of contaminants traditional fertiliser contains like heavy metals content. There's no odour either."
It is a remarkably simple process and may not look exciting, but to farmers this is long-lasting Viagra for crops: phosphorous-rich fertiliser they cannot buy elsewhere. The secret is in its slow nutrient release, up to 200 days according to Ostara's website, making it the most efficient fertiliser of its kind in the world.
Fertiliser contains nitrogen, phosphorus and potassium. With this new process, the traditional phosphorus is replaced with Crystal Green, leaving farmers with ultra-pure fertiliser for their crops or turf. Business is booming in the US, where Ostara already has seven sites up and running.
But how much is a bag of Crystal Green? "Better ask our man from Ostara," says Mr Clark – but he can't say either. "It depends on the time of the year," he says. "It's about supply and demand."
The UK currently imports all its phosphate fertiliser – 138,000 tons of it – largely from China and the US. Although the Slough project will only be able to produce 150 tons a year, he believes that there are another "half dozen" potential sewage treatment works around the Thames Water region alone where the process would be commercially viable. Greenkeepers and gardeners are also expected to be queuing up for it.
As the extraction process removes the ammonia and phosphorus that can cause struvite, a rock-like substance that clogs the sewage pipes, Thames Water is also making extra savings. "With this new facility, we expect to save up to £200,000 a year, so it will help keep our customers' bills down," says Mr Clark. "Until now that money was spent on chemical dosing to clear the struvite."
Given that Thames Water has 14 million customers, individuals are unlikely to notice any relief, but the company claims that any savings in operational costs can only benefit consumers overall.
The time when phosphorus will start to become increasingly scarce and expensive is expected to arrive around 2033. Scientists warn that unless alternative methods of extraction are found, the knock-on effects on the global food supply due to the expected hike in costs will be damaging.
Rosanna Kleeman, a PhD student studying the Slough nutrient-recovery facility, joins us for the walkabout. "The price of phosphate has risen 500 per cent since 2007 and there's no way of telling how it will change in the future," she says. "Phosphorus recovery from waste can help alleviate reliance on imported phosphate and reduce vulnerability to fluctuating prices."
Peter Melchett, policy director at the Soil Association, added: "Without fertilisation from phosphorus, wheat crop yields will fall by more than half... Sustainable alternative sources of phosphorus, like this reactor are vital if we are to keep pace with this demand."
Wandering back past the sludge cake, Mr Clark finishes our tour with a warning. "Life on this planet could well take a bit of a nosedive if phosphorus runs out. Every living thing requires it and it will be our grandchildren or great-grandchildren that bear the brunt of those effects."
The mess they call a town: Slough's stars
The Office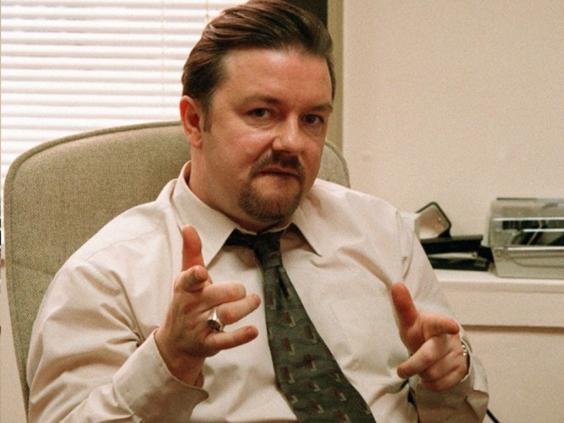 Ricky Gervais and Stephen Merchant's sitcom arguably put Slough on the map after introducing David Brent (above) to the world. Set in the Slough branch of the fictional Wernham Hogg paper company, it went on for two series of six episodes and two Christmas specials.
Slough (poem)
Sir John Betjeman's less than flattering ode to Slough appeared in his 1937 collection Continual Dew. Its opening line – "Come, friendly bombs, and fall on Slough!" – is a reference to the fact that the town was used as a dump for war surplus and its trading estate with 850 factories was used as a model for other towns.
William Herschel
Although born in Germany, the astronomer spent most of his life in Slough. He became famous for discovering Uranus and two of its moons – Titania and Oberon – as well as two moons of Saturn.