For once, the long-time host of University Challenge has been left stumped after he "accidentally" inheriting a stately home worth millions of pounds. But now Bamber Gascoigne has vowed to restore the country pile which dates back to the 11th century.
The broadcaster, now 80, said it was "completely unexpected" that he was to inherit West Horsley Place from his elderly aunt Mary, Duchess of Roxburghe, and he only found out when he was contacted by her solicitor.
He added that his aunt, who died in June last year aged 99, had expressed the thought that he would sell the home  in Surrey because of the work required to restore it.
But Gascoigne, who hosted University Challenge from its inception in 1962 until 1987, told The Sunday Telegraph that he had "decided to take up the challenge of carrying out the essential work to the house to ensure that can withstand what may lie ahead over the course of its future."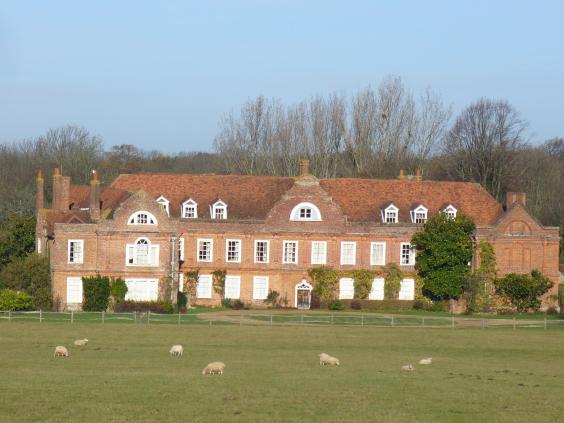 Based on 11th-century foundations with Tudor beams with a red-brick Georgian façade the home has a long and distinguished history. Henry VIII once visited for a 35-course lunch and Charles I's secretary of state Sir Edward Nicholas used it as a depository for his papers. It is said that the embalmed head of Sir Walter Raleigh was kept there by his wife after he died.
The Duchess of Roxburghe, described by Gascoigne as "tremendously imperious, very dignified and very good at being the lady of the manor," inherited the home in 1973 from her father the Marquis of Crewe, who bought it in 1931.
Born Mary Evelyn Hungerford Crewe-Milnes in 1915, the Duchess was known as one of the great beauties of her age. Her Westminster Abbey wedding at 19 to the dashing Duke of Roxburghe was broadcast in cinemas across the country.
But he unexpectedly had his butler deliver divorce papers on a silver breakfast platter in 1953. Under Scottish common law, he then tried to evict her from Floors Castle, his 100-room ducal seat overlooking the Tweed, near Kelso.
Britain's 10 most expensive homes
Britain's 10 most expensive homes
1/10 1. £50m for a new-build flat in Westminster

Princes Gate, London, SW7

2/10 2. £46m for a flat in Belgravia, London

Chesham Place, London, SW1X

3/10 3. £27.9m for a terraced house in Kensington

Thornwood Gardens, London, W8

4/10 4. £26.5m for a flat in Westminster

Princes Gate, London, SW7

5/10 5. £24.5m for a penthouse flat in Westminster

Montpelier Walk, London, SW7

6/10 6. £24m for a flat in Westminster

Trevor Square, London, SW7

7/10 7. £24m for a detached house in Kensington/Chelsea

Holland Villas Road, London, W14

8/10 8. £21,750,000 for a detached house in Barnet

Winnington Road, London, N2

9/10 9. £21.5m for a flat in Westminster

One Hyde Park, Knightsbridge, London, SW1X

10/10 10. £20.3m for a flat in Westminster

Eaton Square, London, SW1W
The Duchess resisted his campaign for six weeks until the marital dispute was eventually settled out of court and the Duchess departed.
After moving into West Horsley Place she shut off most of the house, living in a more manageable five rooms, locking up countless treasures which have only recently been discovered by Gascoigne and his wife Christina.
Among them are a diamond tiara which could fetch more than £300,000, the Duchess's engagement ring, thought to be worth up to £12,000, as well silverware and 19th-century French furniture.
The item will now be auctioned to finance restoration work on the home, which is thought to be worth millions despite its dilapidated state.
 "Stopping it getting worse is the most important thing," said Gascoigne, who added that he had also discovered countless personal letters from 20th- century writers and politicians, including the former Prime Minister Herbert Asquith.  
"One would hope that in the future somebody with a sense of responsibility buys it and restores it all," he said. "That's what's lovely about having accidentally inherited it. It's so completely charming and beautiful and delightful."
Reuse content