A 32-year-old woman has become the sixth cyclist to die in London this year after a crash with a lorry.
She was riding through Camberwell, south London, during Thursday morning's rush hour when her bike collided with a Co-operative lorry near a junction.
Paramedics and an air ambulance were on the scene within minutes at around 8am and she was taken to a hospital in a critical condition.
A spokesperson for the Metropolitan Police said she died on Thursday evening.
Whole of Camberwell cordoned off. Looks serious. Probably another dead cyclist. @london_cycling pic.twitter.com/nc0jkg3QWV

— Russell Thorn (@russellthorn) May 28, 2015
The woman has not yet been formally identified but her family has been informed. A post-mortem will take place in due course to establish the cause of death.
Photos of the aftermath of the accident showed the mangled bike lying partly on the pavement on a corner opposite a branch of Costa coffee.
The driver of the lorry, who stopped metres away down a side road, was not arrested.
A witness described the junction, between Denmark Hill and Orpheus Street, as "absolutely terrifying".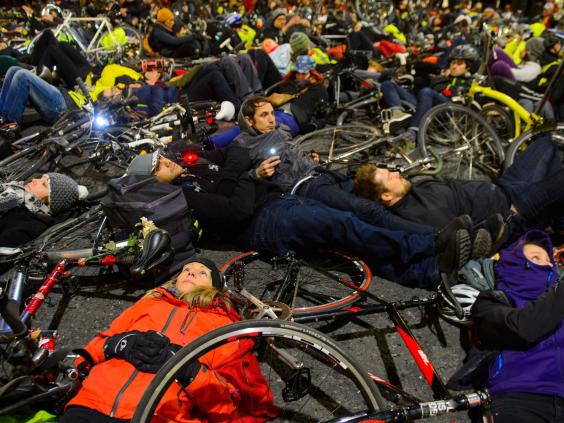 A spokesperson for The Co-operative Food said: "We are extremely sorry to hear about the death of a cyclist who was involved in an accident with one of our delivery vehicles and our thoughts are with her family and friends.
"We are co-operating fully with the police who are investigating."
It was the sixth fatal cycling accident in the capital since the start of this year, all of which have involved lorries.
In April, renowned designer Moira Gemmill, who was overseeing renovations at Windsor Castle, was killed in an accident near Lambeth Bridge.
London's injured cyclists
London's injured cyclists
1/10 Lycra-wearing road warrior

Structural engineer Will Linton, 25, was knocked off his bike by a driver opening a car door on him. The result was a broken collar bone, weeks of pain and numerous operations to put it right and reduce the discolouration and scarring.

Fiona Garden

2/10 Bearing the scars

Wills says: "Cycling in London is safe, I've just been unlucky. There is a risk that the graphic nature of my injuries could put people off, but that's not the point. I got back on my bike as soon as I could, and thankfully now the scars are fading."

Fiona Garden

3/10 Maya Ross suffered a head injury

Neil Grayshon's book Cycling Shouldn't Hurt is just as much a campaign project as it is a commercial book deal

Fiona Garden

4/10 A close-up of Maya's scar

Grayshon aims to how "the human scale and reality of what happens when London's almost criminal infrastructure lets cyclists down"

Fiona Garden

5/10 Daniel Wolman injured his knee in an accident

Grayshon says his project isn't intended to put people off cycling

Fiona Garden

6/10 Walking wounded

A close-up of Daniel Wolman's injured knee

Fiona Garden

7/10 Albert Beale was left bruised by a cycling accident

The project is continuing its search for subjects at this weekend's Spin London cycling exhibition (spinldn.com)

Fiona Garden

8/10 Black and blue

Albert Beale reveals his bruises

Fiona Garden

9/10 Marcel Smith had to use crutches after his accident

The book will be debuted with a mass participation protest ride to deliver copies to London Mayor Boris Johnson and the leaders of London's local authorities

Fiona Garden

10/10 Call to arms

Marcel Smith reveals his gruesome injuries

Fiona Garden
A French-born mother-of-two, Claire Hitier-Abadie, died in an accident with a Crossrail lorry as she rode a cycle-hire "Boris bike" through central London in February.
Another female cyclist, in her 50s, died in Walton-on-Thames in Surrey on Thursday morning in a crash involving a car, van and tanker.
Police are appealing for anyone who witnessed Thursday's crash or the events leading up to it to call the Serious Collision Investigation Unit on 020 8285 1574.
Additional reporting by PA
Reuse content