A veteran who was found at the D-Day commemorations in Normandy after disappearing from his care home is on his way back to the UK.
Bernard Jordan, 89, turned up on the sands of Normandy after being reported missing from The Pines care home in Hove, Sussex.
The former Royal Navy officer said he made the journey to see the "first class show" – and planned to do so again next year.
Mr Jordan told ITV: "Because I wanted to go to this show here that was on today, that was the main reason I came over here.
"It's a first class show because I have been here last year and I have been here obviously this time and I'm going to - touch wood I'm still with us - and I will be 91 then, but if I am still about I shall try next year's as well."
Asked if he would be in trouble with the care home he added: "I might be, but I hope not."
To mark the 70th anniversary of D-Day we wanted to share this incredible 'then and now' photo of Bernard #Hove #DDay pic.twitter.com/pQrc1FnXFY

sh; Gracewell Healthcare (@GracewellHealth) June 6, 2014
The pensioner, a former mayor of Hove, left The Pines at around 10.30am on Thursday morning clad in a grey rain coat with a jacket bearing his war medals underneath
Sussex police received a call from the nursing home at around 7.15pm that evening to say that Mr Jordan had not been seen since.
Following a fruitless search, the care home received a call from a younger veteran at about 10.30pm to say that he had met the missing pensioner on a coach on the way to France and that they were safe and well in a hotel in Ouistreham, France.
D-Day landings 70th anniversary: 20 facts about 'Operation Overlord'
D-Day landings 70th anniversary: 20 facts about 'Operation Overlord'
1/20 Troops from the 48th Royal Marines at Saint-Aubin-sur-mer on Juno Beach, Normandy, France, during the D-Day landings, 1944

Many soldiers landing on the beaches were wearing pyjamas under their battle dress. Lieutenant Herbert Jalland, of the Durham Light Infantry, said he and his battalion at Gold Beach wore them to stop backpacks chafing.

2/20 American craft of all styles pictured at Omaha Beach, Normandy, during the first stages of the Allied invasion in 1944

Writer J.D. Salinger was one of thousands of US soldiers landing at Omaha Beach. As well as provisions and weapons, he was carrying six chapters of his unfinished novel Catcher in the Rye in his backpack.

3/20 Royal Marine Commandos moving off the Normandy Beaches during the advance inland from "Sword" beach. The five beaches were known by their codenames, Sword, Gold, Juno, Omaha and Utah.

2,700 soldiers from the UK were either killed, wounded, went missing or were captured during the D-Day landings. Meanwhile, in the Houses of Commons, MPs debated changing the term "charladies" to "cleaners".

4/20 Royal Marine Commandos moving off the Normandy Beaches during the advance inland from "Sword" beach on 6 June 1944

During the drop at the first liberated village, Sainte-Mere-Eglise, American paratrooper John Steele's parachute got caught on the church spire. For two hours, Steele hung there playing dead before being taken prisoner by the Germans. Today, a dummy paratrooper hangs from the spire in his honour.

5/20 U.S. troops disembark from landing crafts during D-Day 06 June 1944 after Allied forces stormed the Normandy beaches.

Lieutenant James Doohan of the Winnipeg Rifles was saved by his silver cigarette case when he was shot in the chest on D-Day. It did not stop the shot to his hand that caused him to lose a finger. Doohan went on to playScotty in Star Trek. While on camera, he always tried to hide his injured hand.

6/20 Aerial view taken 6 June 1944 of the Allied Naval forces engaged in the Overlord operation of landing while Allied forces storm the Normandy beaches on D-Day

While the term "D-Day" is most closely linked to the Normandy landings, it in fact means the day on which a military operation begins – allowing the date for an operation to change without military planners having to change all the dates in their plan. The day before D-Day was D-1 and the day after was D+1.

7/20 British troops on their way to Normandy to take part in the D-Day landings

D-Day was originally planned for June 5 1944, but it was delayed by stormy weather. Thanks to intelligence operations to misdirect the Germans, even Hitler believed the "real" invasion was to come at Pas-de-Calais down the coast and the Normandy landings were merely a cover.

8/20 American troops stand by with stores on Omaha Beach after the D-day landings

Scottish meteorologist Group Captain James Stagg was appointed chief meteorological adviser to Eisenhower and persuaded him to delay the launch to allow for better weather. This decision saved the lives of thousands of soldiers although rough seas still hampered landings and the RAF struggled to bomb German fortifications through cloud cover.

9/20 British soldiers joke as they read a tourist guide about France aboard a landing craft while Allied forces storm the Normandy beaches on D-Day

As Allied troops pushed inland, the BBC broadcasts a message from Gen Eisenhower to the people of Normandy: 'The lives of many of you depend on the speed with which you obey. Leave your towns at once – stay off the roads – go on foot and take nothing with you that is difficult to carry. Do not gather in groups which may be mistaken for enemy troops.'

10/20 U.S. Army paratroopers of the 101st Airborne Division drive a captured German Kubelwagen on D-Day at the junction of Rue Holgate and RN13 in Carentan, France, 1944

In order to maintain the secrecy of the plan and build-up to D-Day, strategists used a series of code names and acronyms. "D-Day" meant the date of the operation, while "H-Hour" was the time. "Bolero" signified the build-up in Britain. "Operation Overlord" was the the name for the overall invasion plan, and "Operation Neptune" was the name of the seaborne invasion. "Ham and Jam" were the signals indicating the bridges at Benouville and Ranville were secured by Allied forces.

11/20 The body of a German soldier lies in the main square of Place Du Marche after the town was taken by U.S. troops who landed at nearby Omaha Beach in Trevieres, France, 1944

The first news report of the D-Day landings came from Gustav, an RAF homing pigeon released by the Reuters news agency correspondent Montague Taylor. Four pigeons, including Gustav, and one dog - an Alsatian called Brian - received the PDSA Dickin Medal for their life-saving actions.

12/20 U.S. Army troops make a battle plan in a farmyard amid cattle, which were killed by artillery bursts, near the D-Day landing zone of Utah Beach in Les Dunes de Varreville, France, 1944

Andree Auvray, now 88, was a fearful and heavily pregnant 18-year-old before the D-day landings. In an attempt to escape being killed by a bomb, she and her new husband slept in a ditch at her farm while keeping a small suitcase of baby clothes in case she gave birth in the trench. She gave birth 13 days later, in her dining room and her farm was transformed into a makeshift hospital for wounded civilians.

13/20 British Prime Minister Winston Churchill (L) walking with General Bernard Law Montgomery near the Rhine river in Germany during an advance by Allied troops on 23 March 1945.

Winston Churchill did not tell Parliament of the events in Normandy until midday on 6 June 1944. 'What a plan!' he said. 'This vast operation is undoubtedly the most complicated and difficult that has ever taken place.'

14/20 German Marshal Erwin Rommel (R) inspecting the 'Atlantic wall' in France, built to repel the landing of British and American forces during World War II.

On the morning of D-Day, Rommel was blissfully unaware of the invasion and was absent from his HQ at La Roche-Guyon, near Paris. He had returned home to Herrlingen in south-west Germany to celebrate his wife Lucie's 50th birthday. He was later linked to a conspiracy to assassinate Hitler and forced to commit suicide.

15/20 Admiral Carleton F. Bryant (L) and USS Texas Commander Charles Baker being given the shell that struck the battleship.

During the Battle of Cherbourg, the shell crashed through the port bow directly below the and entered the stateroom of Warrant Officer M.A. Clark, but failed to explode. It was later disarmed and brought aboard as a lucky charm.

16/20 An couple watch a Canadian soldier with a bulldozer working in the ruins of a house in the rue de Bayeux on 10 July 1944. The church towers in the background have survived the Allied bombing intact in Caen, France

The devastating raids on Caen and other towns and villages in Normandy are still problematic for the French. Some feel the suffering of civilians has not been properly taken into account. Around 3,000 died on D-Day.

17/20 A large number of German prisoners on Juno Beach of Bernieres sur Mer guarded by British soldiers from the 2nd Army.

Richard Dimbleby, the father of BBC journalists David and Jonathan, led the team of BBC war correspondents who reported on D-Day and the liberation of north-west Europe. He was the corporation's first war reporter and the first correspondent to enter Bergen-Belsen concentration camp.

18/20 German prisoners are gathered and an American flag is deployed for signalling on Omaha Beach.

One of the flagship vessels of the naval operation was HMS Belfast. The vibrations of the ship's gunfire during D-Day were so powerful that they cracked the crew's toilets. She is now one of only three remaining vessels from the bombardment fleet.

19/20 A French armoured column passing through the small French town of St Mere Eglise on D-Day, gets a warm welcome from the inhabitants, 1944

The exact timings of the landings were decided using tide-prediction machines. By 1944, British mathematician Arthur Thomas Doodson had identified the exact time the landings should take place (H-Hour) and that D-Day should fall between 5 and 7 June.

20/20 A group of American soldiers stand at the village fountain in Sainte-Marie-du-Mont on 12 June 1944.

News of D-Day raised hopes for a swift end to the Second World War. When word reached POW camp Colditz, via an illegal radio hidden in an attic, prisoner Cenek Chaloupka vowed that if the war wasn't over by December he'd run round the courtyard naked. On Christmas Eve 1944, Chaloupka ran round it in sub-zero temperatures. Twice.
Brittany Ferries said Mr Jordan was returning to the UK on Friday night and it had laid on a cabin, meals and a car back to The Pines.
Ship's liaison officer Sonia Pittam, who met Mr Jordan on his outward journey to France, said: "I knew he was a game old boy.
"He certainly has his wits about him, he didn't say much about the landings, just how pleased he was to be on board and couldn't believe how everyone was looking after them (veterans) and all the people waving on the route to the harbour entrance.
"He kept saying, 'All this for us'."
Police officers said they have spoke to the veteran and would have a chat with him upon his return "to check he is ok".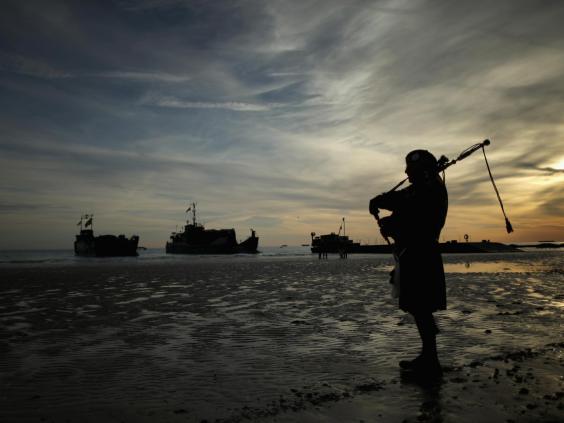 Susan Knowles, Mr Jordan's niece, told Sky News that her uncle had a history of visiting events he wasn't expected at.
She said: "Last time I saw him would be at a family funeral that he made his way down to again, and we were all quite amazed that he'd made his way to Bournemouth to this family funeral, on the train, on his own.
"He sort of just came walking up and we were quite surprised to see him there, because of his age and that, we didn't expect him to be there.
"If he's determined to do something he will."
Although it was reported that staff had told the veteran he could not attend the 70th anniversary of the landings that changed the course of the Second World War, a spokesman for the home said it was "definitely not the case" that the veteran was banned from attending the D-Day commemorations.
In a statement, Peter Curtis, chief executive of Gracewell Healthcare, which runs The Pines, said: "Mr Jordan has full capacity, which means that he can come and go from the home as he pleases, which he does on most days. At no stage was he banned from going to the commemorations.
"In fact, staff at the home tried to get Mr Jordan on to an accredited tour with the Royal British Legion but, due to the last-minute nature of the request, this was not possible.
"Mr Jordan was reported missing to the police yesterday evening as a matter of caution because he did not return from his normal trip to town and when he left had not told us he was still intent on trying to get to Normandy.
"At Gracewell Healthcare we celebrate the individuality of our residents' lives and are in awe of the part Mr Jordan played in the D-Day invasion 70 years ago."
The Gracewell Healthcare blog says Mr Jordan has lived in Hove his "whole life" and has lived at The Pines since January, adding: "He served in the Second World War in the Royal Navy and upon returning married his sweetheart, Irene, and began his professional calling.
"Bernard looks back on his career modestly and believed he was very fortunate to serve his community."
Mr Jordan told the blog: "I was able to take my chance, serve the people of my town and do a job I loved. I am very proud of what I was able to do.
"For anyone who is interested in becoming mayor, you must be prepared to work hard."
He was mayor of Hove from 1995 to 1996, the blog said.
The highlight of his working life was meeting Margaret Thatcher, according to the blog post.
Mr Jordan was among more than 650 ex-servicemen believed to have travelled to commemorate the invasion, described as the largest in military history.
This year's D-Day commemorations were particularly poignant as it will likely be the final time the remaining veterans, who are now in their 80s and 90s, gather together to recall the day that "changed the world".
Additional reporting by Press Association
Reuse content